Are you looking for an easy-to-make sauce to spice up your Valentine's Day dishes? 🌶 You are in the right place! This Garlic Habanero Hot Sauce, also known as my "HOT DATE" sauce, is what you need! And yes, the pun is intended! 😎
A combination of spicy and slightly sweet ingredients, which goes very well with different dishes, from your breakfast avocado and egg toast to a Vegetarian Mexican Fajita Casserole, to your chicken (or plant-based) nuggets and an Asian Tofu Stir Fry. But be aware: my garlic habanero hot sauce is…..very hot! This is why you might want to dilute the ingredients with more water, depending on your tolerance to heat and how hot your habaneros are!
My homemade habanero hot sauce recipe makes for around 25 ounces or 5 hot sauce bottles. (I used these super cute 5 oz hot sauce bottles!). But don't worry: you can either refrigerate it or store it in a dark, cool place. By doing that, it should last for around three months, but always check its freshness before consuming it. The sauce will get hotter and more flavorful after a couple of days of rest. 🛌
What is Inside my Garlic Habanero Hot Sauce?
My garlic habanero hot sauce is made with just 5 basic ingredients. All of them are both plant-based and gluten-free and are also very easy to find at your local supermarket.
Habanero peppers: I opted for orange peppers (I have a very large habanero plant on my balcony), but green or red peppers will work as well. These have a very tangy and almost "floral" flavor;
Jalapeño peppers: milder than the habanero ones, the Jalapeño peppers have a "crisper" taste, much closer to green bell pepper.
Date syrup: I love to use date syrup to contrast the spiciness of the peppers. However, if you don't have one at hand, you can also blend a couple of dates – ideally, Medjool – with some water. Add then the date paste to the other ingredients. In this case, you might have to adjust the quantity of water needed to "thin out" the sauce.
Garlic: have you ever thought about using a couple of garlic cloves (in this recipe, 8 🤣) to add a special touch to your hot sauce? Here I opted for some peeled raw garlic, but you can also use some garlic powder for a milder, less pungent taste. I would not advise skipping it altogether!
Vinegar (white and apple cider): the vinegar is essential not only to balance out the different flavors in the sauce (check this article about my perfect dressing formula to learn why), but also to prolong its "life". According to popular knowledge, the vinegar should allow for keeping the habanero hot sauce unrefrigerated for a couple of months!

Obviously, we would also need some room-temperature water to be able to blend our homemade hot sauce and dilute the spiciness of the habanero. Plus, a couple of finely sliced veggies (here I opted for carrot and onion) for some extra flavor!
How to Cook with My Garlic Habanero Hot Sauce?
My Garlic Habanero Sauce is very versatile and can be used in a multitude of dishes. However, I highly suggest testing your tolerance to the sauce before cooking with it. All you have to do is taste it on a piece of bread or on a carrot stick. In addition, start drizzling it over your food very slowly, as you don't want to overpower the flavors of the other ingredients.
Having said that, these are a couple of ways you can use my Hot Date Sauce in your dishes.
Spicy cocktails: this hot date sauce is great to spice up your cocktails! Try adding a tiny splash of it to my Watermelon Sangria, or to your favorite Spicy Margarita recipe.
Dressings and vinaigrettes: as I have explained in my Homemade Dressings Magic Formula, a good dressing should have a well-pronounced spicy component. My hot date habanero sauce is perfect to add some heat to a classic lemon vinaigrette, or a more elaborate wild berries and balsamic vinegar dressing.
Dips: add a couple of teaspoons of this hot sauce to your favorite dip. And be ready to spice things up! I personally love to add it to my Beet Hummus, or Oil-Free Curry Hummus. (This hot sauce is naturally oil-free as well!).
Mexican-inspired dishes: if you say spicy, you say Mexican food! How about drizzling this hot date habanero sauce over your Fish Tacos, Vegetarian Mexican Fajita Cornbread Casserole, or Spicy White Chicken Chili? Sounds -and tastes- delicious!
Eggs: eggs often have a very neutral, plain taste. Why not enhance it with some hot sauce? I don't always pour a couple of splashes of habanero hot sauce over my egg and avocado toast, but I can safely say that it never tastes as good as when I do.
Marinades: lemon juice and habanero hot sauce for my favorite marinade recipe. Perfect with this Air Fryer Crispy Buffalo Cauliflower!
Soups: this might be a no-brainer for some of you, but I love a good old drizzle of hot sauce over my soups, especially if these contain lots of spices and herbs.
I hope you like this recipe! If you do, don't forget to comment and share it with your family and friends and comment this post. In the meanwhile, let's connect on my socials (all the links are down below)! And enjoy your hot date 😉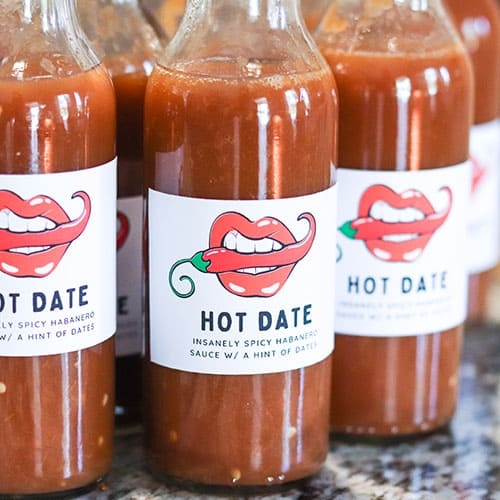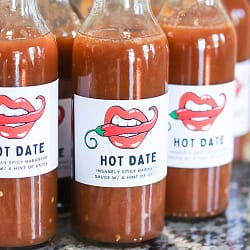 Garlic Habanero Hot Sauce
Yum
Are you looking for an easy-to-make sauce to spice up your dishes? 🌶 You are in the right place! This Garlic Habanero Hot Sauce, also known as my "HOT DATE" sauce, is what you need! And yes, the pun is intended! 😎
Instructions
Combine all the ingredients together in a pot. Bring it to a boil. Reduce the heat and allow to simmer for around 30 minutes.

Remove the pot from the heat and allow it to cool.

Once cool, transfer to a blender and puree.

Add additional water and blend, until you've reached your desired flavor and heat. Salt as needed when adding the water.

Transfer to an airtight container or use a funnel to pour the hot sauce into the hot sauce bottles.

Store the hot sauce in the fridge. The sauce will get hotter and more flavorful after a couple of days.
Notes


Nutrition
Nutrition Facts
Garlic Habanero Hot Sauce
Amount per Serving
% Daily Value*
* Percent Daily Values are based on a 2000 calorie diet.