One of my latest recipes: a tasty and healthy vegetarian alternative – Vegetarian Mexican Fajita Cornbread Casserole! I made it with Cinco De Mayo in mind, which is tomorrow. Perfect for your Tex-Mex dinners (here is another great Mexican recipe), this dish is also ridiculously easy to make and packed with both plant and animal proteins!
How to make THE Perfect Vegetarian Mexican Fajita
Cooking a good Fajita that is healthy but at the same time does not lack taste is not always easy. Here are some tips for an unforgettable Mexican cornbread casserole.
1. Choose your protein sources 🥚
First of all, choose carefully your protein sources. Opt for animal and plant proteins that are low in fats and high in fiber. In this way, you will not only make sure to give your body the right amount of proteins it needs but also fuel your body with all the micro-and macronutrients it needs. Here I used a combination of both animal (Cheddar cheese and eggs) and plant (Pinto and Black beans) proteins.
2. Add a good source of healthy fats 🥑
Second, add a good source of healthy fats to your Mexican cornbread casserole. Here I opted for cold-press avocado oil, which is rich in antioxidants and Vitamin E. At the same time, try to avoid adding unnecessary fats, such as elaborate sauces and too much cheese (for instance, for this recipe I decided to add just a couple of spoons of shredded cheddar cheese -or a Mexican cheese blend- per serving). You may omit the cheese if desired.
3. Create your Mexican seasoning 🌮
Third, create your special Mexican taco seasoning! This will not only add a lot of flavor to the dish but will also save you some money, which is always good! You just need to mix some Chili powder, cumin, Cayenne pepper, paprika, onion, and garlic powder (you can find the exact proportions in the box down below).
4. Go heavy on the toppings! 🌿
Finally, boost the taste of this dish with some cilantro, green chilies, sour cream, lime, and/or guac! Here you have THE perfect Mexican fajita cornbread casserole!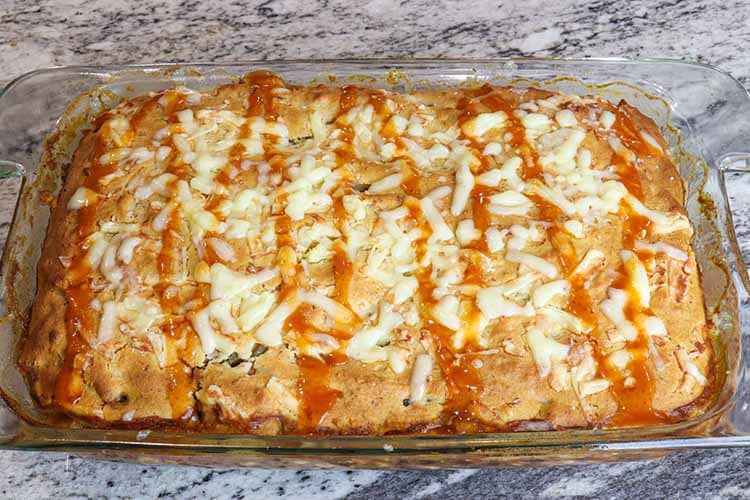 Social Buzz

Ingredient Selection Tips
Avocado Oil
Opt for cold-pressed avocado oil, as it generally is fresher and tastier. The oil should also have a rich green shade. It is also important to store cold-pressed oils properly and make sure that they are never directly exposed to sunlight. For this reason, buy cold-pressed oils that are packed in darker bottles.
Mushrooms
Opt for mushrooms that are firm, with a smooth and fresh outer skin. In addition, a rich smell is a good indicator that the mushrooms have recently been harvested. If stored in the refrigerator, mushrooms can last up to seven days.
Noteworthy Health Benefits
Avocado Oil
Avocado oil contains both oleic acid and omega-9 monosaturated fatty acid. These have powerful benefits to eye health, and may even assist in reducing cholesterol and improving heart health. Adding avocado oil to your diet can also help to increase the absorption of fat-soluble vitamins, such as vitamins A, D, E, and K.
If you want to know more about the amazing benefits of avocados, here is an article for you! Top 5 Benefits of Avocado For Women's Health -and Why Should Men Eat it Too!
Beans
Beans are legumes rich in protein, and fiber, and are also a good source of B vitamins. Because of their low glycemic index, beans do not cause excessive blood spikes after meals. Moreover, beans help to grow healthy gut bacteria and can even reduce LDL cholesterol levels.
Corn
Corn is a great source of carbs and fibers and it is naturally gluten-free. It contains carotenoids, which are responsible for improving eye health. Corn is also a good source of antioxidants, which are valuable in promoting heart health and in boosting the immune system.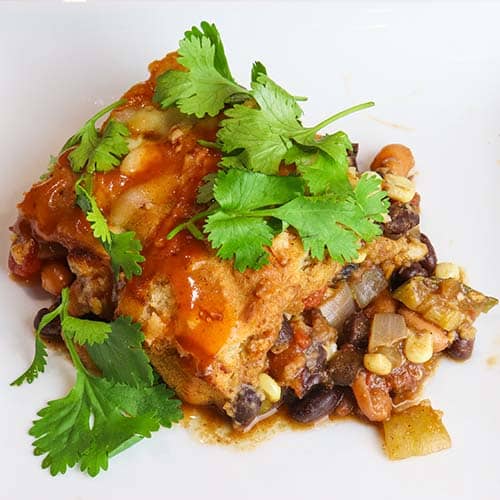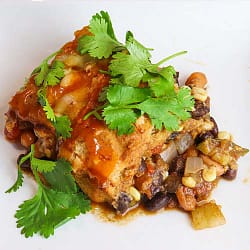 Vegetarian Mexican Fajita Cornbread Casserole
Yum
Vegetarian Mexican Fajita Cornbread Casserole: this dish is super easy to make, high in protein, and perfect for your Tex Mex dinners!
Ingredients
Instructions
Preheat the oven to 400° F.

Grease a 13×9 inches casserole pan and set it aside.

Heat a large pan over medium-highheat with some avocado oil.

Cook the fajita veggies, putting in first those that take longer to cook.

Toss in the cooked corn, beans, seasonings, and Rotel.

Cook until everything is hot, and the seasonings are fragrant.

Spoon the mixture into the casserole dish (or a lined baking dish), smoothing it into an even layer. It should reach about 2/3 of the casserole dish. If you have any extra, save for burritos or a Mexican scramble later!

Mix the dry cornbread ingredients in a large mixing bowl.

Create a well in the dry ingredients and pour in the wet ingredients.

Mix until well combined, trying to remove any clumps.

Carefully pour and smooth the cornbread batter over the veggie and bean mixture in the casserole dish.

Sprinkle half the grated cheese over the casserole, and place in the oven.

Cook 20 minutes, remove from the oven and add the remaining cheese.

Place back in the oven and cook until a toothpick comes out of the center clean, and the top is golden. This took me about an additional 10 minutes. Then remove it from the oven.

(Optional) Zig-zag some tomato enchilada sauce across the top.

Cut into 8 slices. If desidered, serve with fresh cilantro and/or avocad. Enjoy!
Notes


Nutrition
Nutrition Facts
Vegetarian Mexican Fajita Cornbread Casserole
Amount per Serving
% Daily Value*
* Percent Daily Values are based on a 2000 calorie diet.
❤️❤️Read About Me for details about my health journey; and, make sure you remember to sign up for my Newsletter and follow me on social❤️❤️!

Supporting me is appreciated as I create content to support your health journey.