I don't know about you, but sushi is certainly on my list of favorite foods. 🍣 If I could, I would certainly eat it every day! Luckily, I came up with a high-protein sushi recipe. This is not only healthier and lighter than the sushi you would normally eat at your favorite restaurant, but it is also super quick and simple to make!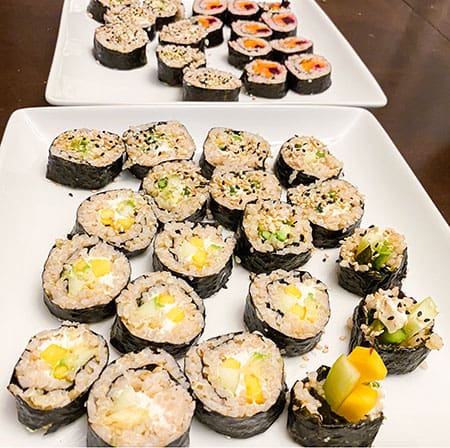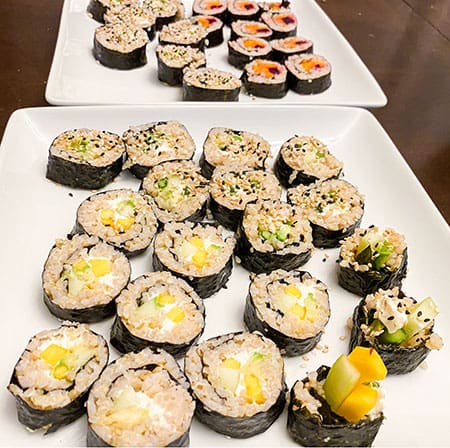 The basic ingredients of this high-protein sushi are short-grain brown rice, rice vinegar, nori sheets, your veggies of choice, and a source of low-fat protein (plus a couple of optional ingredients). That's it! At this point, you might wonder where sugar is commonly used for prepping sushi rice. Well, the good news is that you don't need it! By using the right type of brown rice and vinegar you will be able to make completely sugar-free rice sushi.
Plus, these light and healthy sushi rolls are lower in carbs and way higher in protein than your regular sushi. The trick here is to limit the amount of rice in each roll and substitute it with more veggies and a good source of lean protein. After all, choosing the best ingredients and their quantities are two of the greatest perks of prepping your own sushi rolls instead of buying them! The third one is that rolling your own sushi is an exciting activity for a family or friend gathering. 🎉 Here is a video on how to roll sushi (even without a bamboo mat)!
After reading all of this, I am sure you cannot wait to prep this high-protein sushi yourself! Here are the best ingredients to use, and a couple of extra tricks!
High-protein sushi: the best ingredients!
Choosing the best ingredients is key for prepping some light and healthy sushi. Here are my favorite ones, as well as some suggestions for amping up the protein content of your rolls.
1. Skip the sugar in your sushi rice and choose the best Nori sheets 🍙
Who says that your sushi rice should be filled with sugar and other unhealthy stuff?! I love this light and healthy sushi rice recipe as it contains only rice, rice vinegar, and salt. The result is sticky and firm rice, very easy to mold with the nori sheets. Equally important, I opted for short-grain brown rice. This is higher in fiber than the white one. This way, you will be able to feel fuller and satiated for longer even with a lower quantity of rice. Short grain makes it easier for the rice to mold into the sushi roll.
Additionally, I opted for these premium quality nori sheets, super easy to use and rich in iodine.
2. Don't forget your veggies 🍅
When it comes to fruit and veggies, cucumbers, beets, asparagus, sweet potatoes, carrots, avocado, and mango are great options! I love to fill my rolls with lots of colorful veggies, as they allow me to eat more for fewer calories.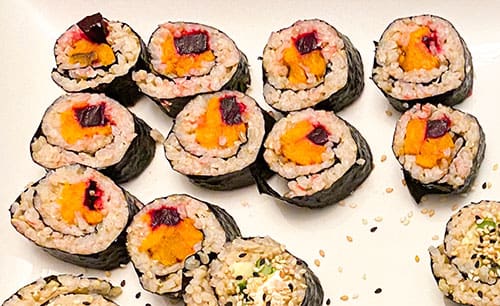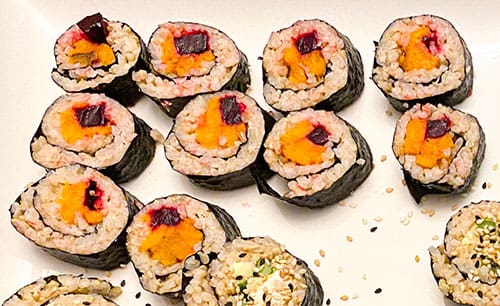 3. Choose a source of lean protein 🐟
Goes without saying that protein is the star of this high-protein sushi! My suggestion here is to opt for a source of lean, low-fat protein. Among my favorite ones are tempeh, tofu, canned salmon or tuna, steamed shrimp or crab, or sushi-grade fish (i.e. safe for raw consumption, this is important). Alternatively, light cream cheese (such as neufetchel) or finely sliced egg frittata can work as well.
4. The best garnishes 🧄
What are the best garnishes? Among them are fermented foods, such as kimchi, or pickled ginger (I love this one from Ginger People). These are rich in pre and probiotics, which can help balance the bacteria in our gut and promote a healthier digestive system. If, instead, you are opting for the classic soy sauce, choose if possible, a low-sodium one. Lastly, wasabi powder is another great healthy option.
High-protein Sushi: the best accessories 🥢
Finally, here are some of the best accessories for making your own high-protein sushi rolls at home! 🍣 Obviously, you can easily replicate my recipe even without them (here is a YouTube video that explains step-by-step how to roll the sushi without a bamboo mat).
With this in mind, you are ready to make your own high-protein sushi rolls at home! In case you try it, let me know how it went down below in the comments. Finally, don't forget to follow my socials for new healthy recipes. All the links are down below! 💗
Social Buzz