Are you ready to feel like you are already on vacation? 🌴 Try this Hibiscus margarita mocktail 🌺🍸! A completely caffeine-free, and alcohol-free drink, naturally sweetened and made with a combination of awesome and healthy ingredients.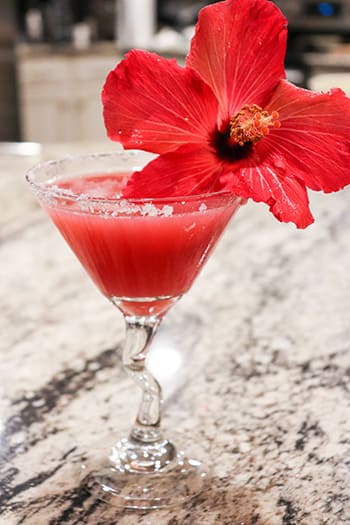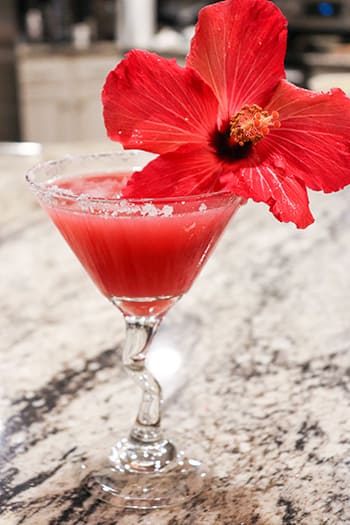 If you are new here, you might not know that at the beginning of the year, I decided to challenge myself and cut alcohol out of my diet for the entire month of January. 🍻❌(If you want to know more about why I did it, and what are the benefits of cutting alcohol out of your diet, check my Benefits of Dry January article). Since then, I've been able to maintain this resolution, and I'm going to keep it going! I feel so much better and have been able to work on bettering other aspects of myself as a result.
When people ask me how I did it, my answer is very simple. I found healthier, alcohol-free alternatives to my favorite drinks. Or mocktails, as I like to call them 🍸! I've also really gotten into drinking herbal teas and NA beers. I love sipping them as a way to wind down at the end of a hectic workday, or also as a Saturday treat.
Among my favorite mocktail recipes is certainly this naturally sweetened hibiscus margarita, ready in less than 10 minutes using only plant-based ingredients. Grab your shaker and let's discover how to make a delicious mocktail margarita at home! 🌺
Hibiscus Margarita Mocktail: the beneficial ingredients
My mocktail margarita is not only super delicious but also contains lots of beneficial ingredients that can help support your long-term health and make you feel more energized and alive! 🌞
Among them are:
Hibiscus tea. The seeds, petals, and leaves of this flower have been used for centuries in traditional medicine, and the reasons for this are manifold. First of all, the hibiscus plant is rich in antioxidants such as beta-carotene, vitamin C, and anthocyanin. All of them are very powerful in fighting the oxidative stress caused by free radicals. In addition, hibiscus decoctions have also shown to be pretty effective in lowering inflammation in the body and decreasing blood pressure levels. As far as the best hibiscus tea for this recipe, I highly suggest this one.
Lemon and lime juice. Besides being incredible natural detoxifiers, lemon, and lime juice can be used as a natural remedy to speed up our digestion and boost our immune system. The merit of this goes to the citric acid vitamin C contained in the juice. This has been shown to boost gastric acid secretion, a digestive fluid produced in the stomach that enables your body to break down and digest food. Moreover, the vitamin C contained in citrus fruits plays a crucial role in the formation of collagen. This protein supports the skin and prevents it from any damage. If you want to learn more about the amazing benefits of lemon juice, click here.
Aquafaba. Aquafaba, i.e. the juice of canned chickpeas or white beans, is a great alternative to egg white for healthier cocktails. Aquafaba is rich in folate, zinc, phosphorous, and healthy fats, such as linoleic and oleic acids. These are healthy fats that can promote cardiovascular health and balance hormone production.
Agave nectar. Agave nectar is an excellent natural sweetener. It is rich in vitamins C and B, as well as precious antioxidants, which can help fight oxidative stress. In addition, unlike honey, it is naturally plant-based and allergy-friendly. Lastly, It's much sweeter than sugar, so you can use less of it for the same effect!

Now that you know everything about the beneficial ingredients I used in this hibiscus margarita recipe, let's have a look at some tips for making a bomb margarita mocktail!
Hibiscus Margarita Mocktail: some tips for a bomb margarita mocktail!
Are you ready to make a bomb margarita mocktail? Here are some tips for you! 💣
Aquafaba for the foam. Aquafaba, i.e. the liquid from chickpea or bean cans, is a great natural emulsifier. This is why I love to use it to create the typical delicious foam on top of the margarita. The more you will shake it, the foamier your drink will be!
Make your own sour mix. Making your own sour mix, instead of opting for store-bought ones, allows you to have better control over the ingredients in it. In particular, you can substitute harmful sugar and artificial sweeteners for more natural alternatives, such as agave blend, or date syrup.
Use the right ratio between hibiscus tea and sour mix. Finding the right balance between the sourness of the sugar-free mix and the sweetness of the tea is the key to a great cocktail. I highly suggest using a 2:1 ratio of tea to the sour mix, but you can slightly vary this proportion if you feel like a sweeter or more sour drink.
Don't skimp on the ice. Ice cubes are essential for a creamier, smoother drink. My suggestion is to fill the shaker up to half with the ice cubes. Then add the sour mix and hibiscus tea.
Don't forget the salt on the rim. I love covering the rim of my glass with some rock salt, as this helps balance out the flavors in the drink. An alternative to this is adding a couple of grains of pink salt on top of the drink.
What are you waiting for tying this amazing margarita mocktail? 🍸If you loved this recipe, please comment and share it. Links to my socials are down below 💗
Social Buzz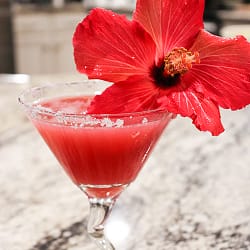 Hibiscus Margarita Mocktail
Yum
Are you ready to feel like you are already on vacation? 🌴 Try this Hibiscus margarita mocktail 🍸! A completely caffeine-free and alcohol-free drink, made with a combination of natural and healthy ingredients.
Instructions
For the sour mix
Add all of the sour mix ingredients to a mason jar.

Shake vigorously to combine.

Refrigerate until you make your mocktail.
To salt the rim of the glass:
Put out two small plates or shallow bowls that your glass can fit in.

Add a little water to one and rock salt to the other.

Place the rim of the glass in the bowl of water. Lift it and shake off the additional water.

Roll the rim of the glass in the rock salt until it is coated to your liking.
To assemble everything:
Add the chilled hibiscus tea and sour mix to a shaker bottle partly filled with ice (I usually opt for a 2:1 ratio of tea to sour mix, but you can play with these amounts).

Add a dash of orange juice.

Put the lid on and shake the shaker bottle vigorously with the ice. The more you shake, the foamier the aquafaba in the sour will make the drink!

Pour the concoction into your glass. Add a dash of club soda.

Garnish with a hibiscus flower, and enjoy! 🍸
Notes


Nutrition
Nutrition Facts
Hibiscus Margarita Mocktail
Amount per Serving
% Daily Value*
* Percent Daily Values are based on a 2000 calorie diet.