My kids absolutely love those store-bought packets of ramen noodles, but they are for the most part forbidden in my house due to their questionable ingredients. I was curious if I could make some healthy ramen that the kids would gladly eat! I made other recipes a couple of times and modified them to be more appealing to my tastes and here it is – a whole grain, plant-based ramen noodles recipe. The picture shows it spicy and vegan with tofu, but I am sure this will also be great with chicken or beef. Also, our kids like Sriracha and can take a little heat. Feel free to omit the Sriracha if your kids are sensitive to spicy foods.
Why This Spicy Ramen Noodle Recipe is the Best
These spicy ramen noodles are awesome because they are both very healthy and super delicious! I highly suggest finding a whole grain ramen noodles because they will have a higher content of fiber thus lowering the insulin response to the carbohydrates and making you feel fuller. I ordered brown rice and millet noodles on Amazon, these are also gluten-free and they taste just like regular ramen noodles! Depending on whether you put meat or tofu in it, they are either completely or mostly plant based and full of fiber from the vegetables and the noodles. The health benefits of these spicy ramen noodles in no way have a linear correlation with palatability – they are both the healthiest ramen noodles as well as the tastiest!
How to Prepare & Cook
To start, I like to marinate the tofu cubes, diced chicken, or beef in Sriracha and soy sauce. This is especially beneficial for the tofu to let it soak up some flavor. Again, you can omit if you do not want this to be spicy. If you are using meat, you will need to cook it in a skillet. Set it aside while you prepare the rest of the recipe. Heat the sesame oil in a large pot on medium-high heat. If you want a completely unprocessed meal, swap the oil for a little bit of vegetable broth. You'll add the mushroom, bell pepper, and bok choy to the pot and saute until the vegetables begin to soften. Then you will add the diced green onion, fresh garlic, and fresh ginger and saute a couple more minutes. You'll then add the rest of the ingredients except the tofu/meat, bring to a boil and then let simmer for ten minutes. Finally, you will raise the heat and add the ramen noodles and meat/tofu and then cook a few minutes until noodles are soft. Serve with diced green onions and more sriracha to make it spicier. I could eat sriracha on sriracha myself… wait isn't that what it says on the bottle?
Serving Suggestions
In addition to the garnish, you should serve this authentically with chopsticks. This is especially hilarious to watch your kids try and do. Okay, you might give in and give them a fork and a spoon. Otherwise, the food ends up everywhere but in their mouths! If your kids are anything like ours, they will be more than up for the challenge. For the rest of us, chopsticks also benefit you by making you eat slower. It takes about 20 minutes for the mind to realize you are full!
Also a note on kids and vegetables. If you have a picky child you are more than welcome to omit some of the vegetables. I suggest however that you introduce more and more to them multiple times. The more you introduce a vegetable cooked different ways, the more likely they are to give it a try. Tell them to eat at least a couple of the different types of vegetables in the ramen. This gives kids some choice which makes them feel empowered thus they are more likely to continue trying vegetables 😊. It has been working with my son!
Let me know in the comments if you like this recipe! If you do, you will probably love my Asian Tofu Stir Fry! Follow me and sign up for my newsletter so you don't miss any awesome plant-based recipes! ❤️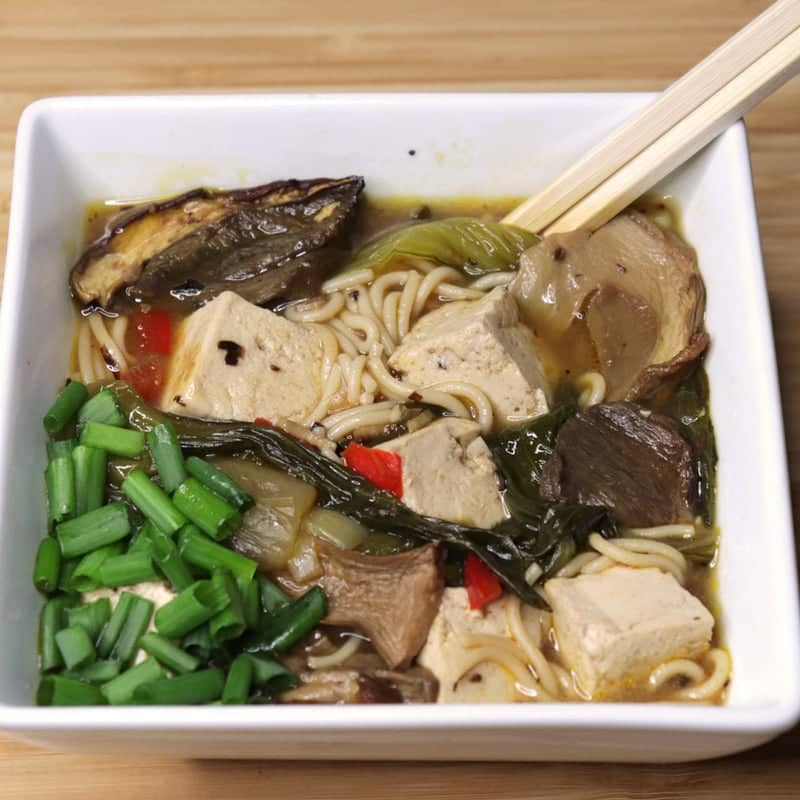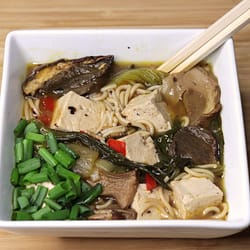 Spicy Ramen Noodles
Yum
A delicious and kid friendly whole grain, Vegan / plant-based spicy ramen noodles recipe with mushrooms, bokchoy, bellpepper, and more! High fiber, gluten-free, healthy and delicious!
Instructions
Marinate the tofu cubes in sriracha and 2 tbsp of soy sauce (skip this step if you are watching your sodium intake or do not want any spicy ingredients). Set aside.

Heat the sesame oil in a large pot on medium-high heat.

Add the mushrooms, bell pepper, and bok choy to the pot and saute until vegetables begin to soften (about 5 minutes).

Add the green onion, garlic and ginger to the pot and saute for 2 minutes.

Add the vegetable broth, water, soy sauce, miso paste and maple syrup and bring to a boil, mixing well until everything is combined, then reduce heat to low, cover & let simmer for 10 minutes.

Raise the heat to medium, then add the tofu and ramen noodles, letting cook for 2-3 minutes until the noodles are soft.

Serve with diced green onions and sriracha (if you want to make it more spicy)
Nutrition
Nutrition Facts
Spicy Ramen Noodles
Amount per Serving
% Daily Value*
* Percent Daily Values are based on a 2000 calorie diet.