Have you got a bunch of vegetables in your fridge that you want to use up to make a healthy meal? You don't always have to use specific types of vegetables in every stir fry. What moreover gives a stir fry that Asian taste is what is in the sauce. Sometimes I use bok choy, chestnuts, and baby corn but I don't always have that on hand. Squash also isn't very traditional to add into an Asian tofu stir fry, but it tastes great!
This Asian Tofu Stir Fry is Awesome
Stir fries are always amazing if you make them with a light sauce and brown over white rice because they are packed with nutrition from the vegetables and whole grains. This sauce recipe is also pretty healthy, especially with the fresh ginger. Ginger can reduce inflammation, nausea and has a ton of other benefits.
For a lighter, even less processed recipe, you can skip the sesame oil and put a little vegetable broth in the pan to cook with. Note, this prevents you from being able to fry the tofu. You can also swap the tofu for chicken, beef, or shrimp for a partially plant-based version. No tofu on hand? No problem. This is also great as a simple vegetable stir fry! Like it even hotter? Garnish with some more sriracha!
If you have a large wok you can double the recipe for plenty of tasty leftovers. Also, go ahead and eat this Asian tofu stir fry with chopsticks! 🥢It is both fun and slows down your eating so your brain has time to register that you are full.
Please let me know what you think of this recipe in the comments and the kinds of vegetables you threw in it! If you like this recipe, check out my similar recipe for Spicy Ramen Noodles. 😋
Want to know more about the amazing benefits of tofu? Here is an article for you! All About Tofu! + High-Protein Tofu Recipes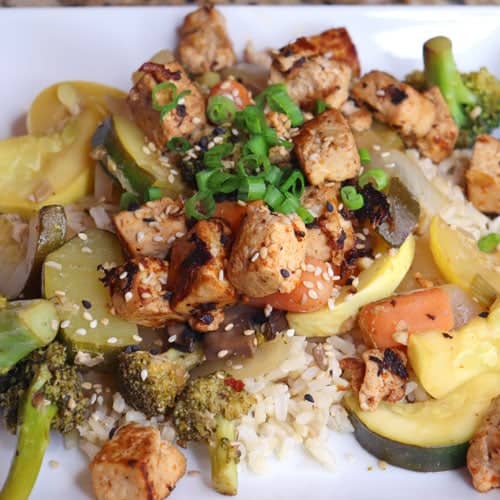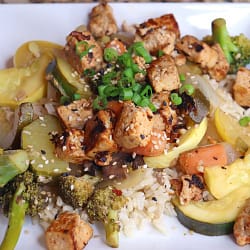 Amazing Asian Tofu Stir Fry
Yum
This Vegan Asian tofu stir fry demonstrates that you can use all kinds of vegetables to make a delicious Asian stir fry! No baby corn? No problem! Use up your extra vegetables to make this healthy plant-based dinner / lunch!
Instructions
Prepare the cup of brown rice according to package instructions.

Wrap the tofu in a dish towel, then place a plate on top. Let drain for 10-15 minutes, then remove the plate, unwrap the tofu, and slice into cubes.

In a medium bowl, mix together the sauce ingredients: 2 cloves minced garlic, ginger, honey, Sriracha, crushed red pepper, lime juice, and soy sauce. Set aside.

In a wok or large frying pan, heat the sesame oil over medium heat. Add the tofu and pan fry for 5-7 minutes, stirring occasionally.

Remove the tofu and put into the bowl of sauce to marinate while the vegetables cook.

Add the broccoli and carrots to the pan. Cook for a few couple minutes.

Add the onion, mushrooms, zucchini, yellow squash, and garlic. Cook until tender or desired texture. If vegetables are cooking slow, it helps to put a lid on the pan.

Turn the pan down low and add the sauce and tofu into the pan. Stir with the vegetables and heat a couple minutes until the sauce is hot.

Serve over the brown rice. Garnish with chopped onions and sesame seeds. Enjoy!
Nutrition
Nutrition Facts
Amazing Asian Tofu Stir Fry
Amount per Serving
% Daily Value*
* Percent Daily Values are based on a 2000 calorie diet.
❤️❤️Read About Me for details about my health journey; and, make sure you remember to sign up for my Newsletter and follow me on social❤️❤️!

Supporting me is appreciated as I create content to support your health journey.