I've tried some air fryer recipes lately that I just haven't been impressed with. With recipes I have tried, the breading doesn't stick well and the end result isn't super crispy. Well, my friends, this air fryer Crispy Buffalo Cauliflower is not only crispy, but it is also healthy and completely plant-based / vegan!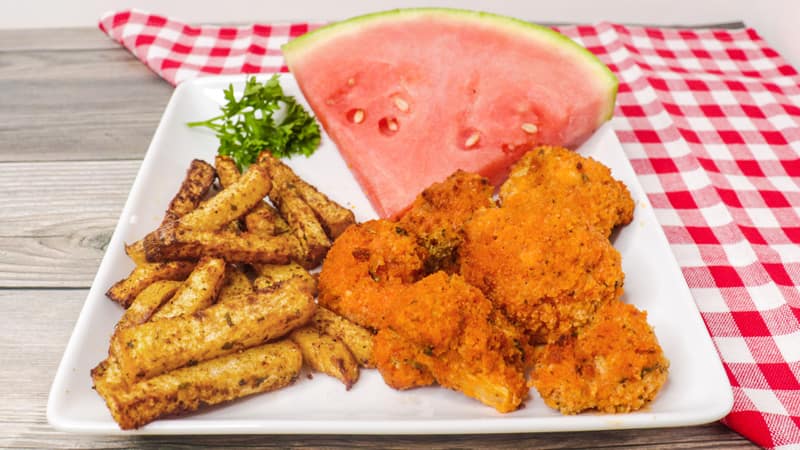 Now the trick to making healthy "fried" food is to buy an Air Fryer (the one linked is the one I have). Before I decided to purchase it, I heard about how awesome the air fryer was. Fried food, without oil … Awesome! It wasn't until we got my boyfriend's mother one for Christmas and had the opportunity to play with it that I knew I had to have one. We have not regretted that purchase in the least bit!
I know there are some other recipes out there for air fried buffalo cauliflower, but I guarantee this one is the crispiest! The buffalo sauce is my version of the original. Buffalo sauce usually has butter in it, but since my diet is totally plant-based I tried it with avocado oil and it was delicious. Adding oil to the dish might be removing the "healthy" factor of not actually frying the cauliflower, but at least avocado oil has some healthy fats **shrug**. If you want to avoid oil altogether, you can put the hot sauce alone on them (they will be super spicy), BBQ sauce, or some other oil-free wing sauce.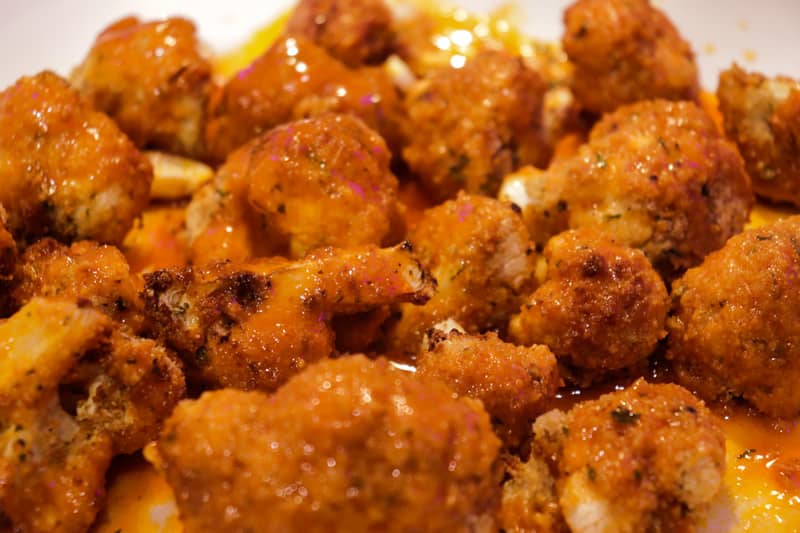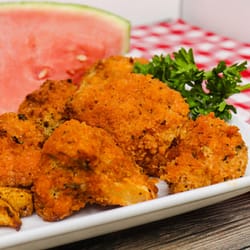 Air Fryer Crispy Buffalo Cauliflower
Yum
This crispy buffalo cauliflower is better and crispier than any other air fried buffalo cauliflower recipe you will find!
Instructions
Rinse and break and cut up the cauliflower into bite-sized florettes.

With three wide and shallow bowls, set up an assembly line for breading the cauliflower.

Add the flour to the first bowl and almond milk to the second bowl.

In the third bowl, mix all of the breading ingredients.

Start breading the cauliflower and set on a dish. One or a handful at a time, toss the cauliflower in the flour.

Remove cauliflower from flour and place in the bowl to coat with the almond milk.

Remove cauliflower from the almond milk bowl and toss with the breading. I usually set it in that bowl, roll the caulflower around, pile some of the breading on it.

Preaheat air fryer to 375 degrees.

Add cauliflower and cook for 15 minutes, shaking contents intermittently for even coverage.

Meanwhile, mix the buffalo ingredients and when the cauliflower is finished air frying, toss the cauliflower in the buffalo sauce.

If you are vegetarian, this would be great with blue cheese or ranch. Serve and enjoy!
Nutrition
Nutrition Facts
Air Fryer Crispy Buffalo Cauliflower
Amount per Serving
% Daily Value*
* Percent Daily Values are based on a 2000 calorie diet.
❤️❤️Read About Me for details about my health journey; and, make sure you remember to sign up for my Newsletter and follow me on social❤️❤️!

Supporting me is appreciated as I create content to support your health journey.


Enable Notifications
OK
No thanks