Valentine's Day is finally here! 💗💗 And I LOVE to celebrate this day, both with my partner, my kids, and my girlfriends. One thing I really treasure is cooking them some nice, healthy meals, and making them feel taken care of. (Yes, food is truly my love language! 🍒). Today, I am sharing with you 12 Healthy Valentine's Day Recipes, plus lots of ideas for fun couple activities and healthy gifts for your loved ones (and also for you)! 🎁
All the recipes are simple, nourishing, made with whole ingredients, and super quick to make. Plus, they all are a fun way to involve your partner and kids in the kitchen! Whether you're looking for a healthy breakfast recipe to eat in bed, a healthy pasta dish for you and your partner, or a decadent dessert for the whole family– this post is for you! And if this is not enough, all the recipes are plant-based or vegetarian, and most of them include gluten-free options as well!
In the end, you will also find lots of ideas for fun couple (and family) activities and healthy gift ideas to warm the hearts of your loved ones! Are you ready to fully immerse yourself in the spirit of Valentine's Day? Then keep reading this post! 💘
12 Healthy Valentine's Day Recipes to Treat Your Loved Ones!
Let's start with my favorite Healthy Valentine's Day Recipes, all super nourishing and truly delicious. From breakfast to dinner, I got you covered on this special day!
1. Strawberry Rhubarb Baked Oats 🍓
My first healthy Valentine's day breakfast recipe is this healthy Strawberry Rhubarb Breakfast Vegan Baked Oats: gluten-free, fully plant-based, and super easy and quick to make! Plus, it is low in fats and calories and has no added sugar. This a great way to start this special day on the right foot!

2. Healthy Banana Split 🍌
Loved by kids and adults, my version of the timeless banana split is a great way to treat your loved ones with a nourishing and balanced breakfast. Plus, this vegetarian recipe is entirely gluten-free and can be easily made vegan!

3. Chocolate Cherry Almond Smoothie 🍒
My last healthy Valentine's Day breakfast idea is this Chocolate Cherry Almond Smoothie: plant-based, high in protein, creamy, and super nourishing! What are you waiting to treat yourself and your loved ones with this rich and decadent smoothie?

4. Beet Hummus 🌺
This pink beet hummus is the perfect appetizer for a romantic Valentine's dinner. Delicious, healthy, and easy to make, everyone will love this hummus (yes, also your kids)!

5. Pear and Gorgonzola Salad with Spinach and Pomegranate Vinaigrette 🍐
This Pear and Gorgonzola Salad is a true bomb of colors, textures, and flavors. 🥗 Light, energizing, and filling this salad is a great way to start your romantic night on the right foot!
6. Eggplant Parmesan Bites 🍆
A healthier version of the traditional Italian eggplant parmesan, these eggplant bites are the perfect plant-based appetizer to start your Valentine's night!

7. Creamy Lemon and Zucchini Pasta 🍋
A great Valentine's day pasta recipe: light, creamy, and nourishing, what else would you want more on this special night? My Creamy Lemon Zucchini Pasta is also plant-based and filled with lots of veggies!

8. Vegan Lasagna with Tofu Ricotta and Veggies 🥕
What better recipe than this Vegan Lasagna with Tofu Ricotta and Veggies for your heavenly Valentine's Day dinner? One of my favorite healthy recipes ever!
9. Creamy Kale Gnocchi 🥦
Another great healthy Valentine's Day pasta recipe, this Creamy Kale Gnocchi will make your mouth water! Ready to eat one of the best dishes of your life? (No, I am not exaggerating!).

10. Double Chocolate Crostata 🍫
Two layers of chocolate on a fragrant base: this Double Chocolate Crostata is one of my favorite healthy Valentine's Day dessert recipes. Moreover, it's vegan, gluten-free, and ready in less than an hour!

11. Chocolate Peanut Butter No-Bake Cookies 🍪
Gluten-free, plant-based, and no-bake, these Chocolate Peanut Butter Cookies are another of my favorite healthy Valentine's day dessert recipes. Involve your kids and partner in their preparation for a great bonding activity!

12. Watermelon Sangria 🍹
End the night with a refreshing and toning homemade Watermelon sangria! Just four ingredients for a fun and "spicy" drink, that you can make with or without alcohol (substitutions are in the post).
Healthy Activities for Couples (and Families)!
Valentine's Day is certainly made for drinking, and eating… but also for spending some quality time with your loved ones! Here are some ideas for fun activities to do with your family, friends, or significant other, that will help develop a stronger and healthier bond! Clearly, they all are in true Caitlin's style, i.e. fun, fit, and healthy! 🏃‍♀️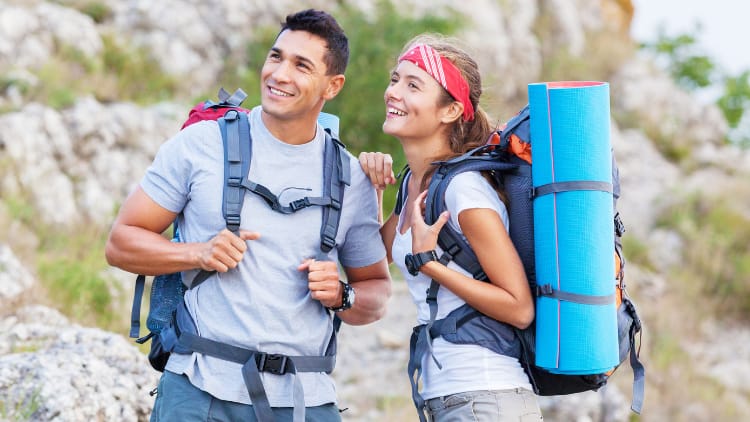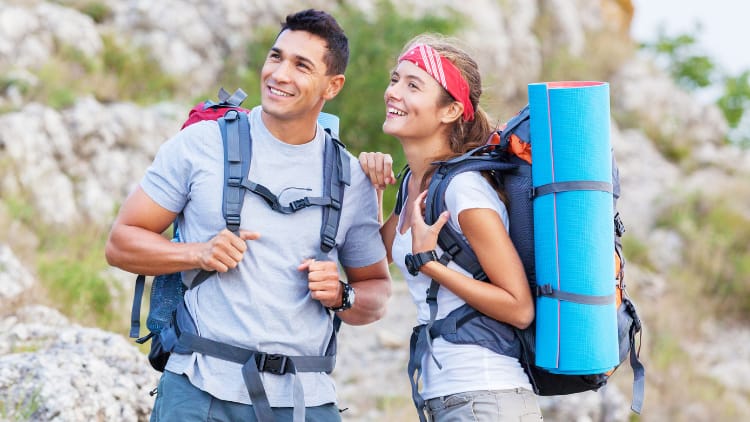 Try a new restaurant, to break the routine and spice up things 🍜
Go on a hike and explore new places. Being more adventurous will help strengthen your relationship and feel like you can overcome any obstacle together 🗻
Meditate or read a book together. This can be the perfect opportunity to destress and unwind while enjoying each other's company. 🧘‍♀️📚
Cook together. Try my recipes above for an alternative evening with your partner or kids! 🍳
Write a letter to your significant other. This could be the perfect opportunity to let all of your feelings and emotions out to paper and express what you might have been holding inside for too long. 💌
Listen to a podcast or workshop. Growing and evolving together is one of the healthiest activities you can do to strengthen your relationship and reignite the spark! 🎧
Play board games! Keeping the child inside you alive is key to never taking things too seriously. Laughing and having fun together is the magic formula for any long-lasting relationship.
Healthy Valentine's Day Gifts for You and Your Partner
Who says that you can only buy flowers, jewels, and chocolate for Valentine's Day? Here are 5 ideas for Health and Wellness Gifts for your partner and – why not – for yourself!

In conclusion, I wish you to spend a Valentine's Day filled with love – for others and, most importantly, for yourself! 💗 Hope you have found my recipes and suggestions interesting. If you try any of them, please let me know down below in the comments. Also, don't forget to catch up on my socials (all the links are down below).