Here I am with an Italian-inspired recipe: Creamy Kale Gnocchi with Mushrooms and Beans! As always, this recipe is not only delicious, but it is also super healthy and loaded with lots of precious nutrients. I'm willing to say it's better than Jamie Oliver's Kale Gnocchi recipe 😉.
Moreover, through this recipe, my intention is to show you how uncomplicated and effortless making healthier food choices could be. I just made some easy food swaps to the traditional gnocchi recipe and came up with this amazing dish that will feed not only your body but also your soul (here is another delicious Italian-inspired healthy pasta recipe).
How to make a healthier Creamy Kale Gnocchi recipe?
Here are some of my tips on how to make a healthier, yet super tasty, Gnocchi recipe.
First of all, "beef up" the traditional potatoes and white flour gnocchi with some healthy and vitamin-packed kale. Kale contains a high amount of fiber, reducing the sugar spike from the gnocci, and are a great way to incorporate more green leafy veggies into our diet. Besides, kale gnocchi are also generally gluten-free, and thus they make a traditional recipe suitable also for celiac or gluten intolerant people.
Second, make sure to include all the macro-nutrients into the dish. Carbs from the gnocchi, healthy fats from the olive oil and, last but not less important, protein from the kidney beans. Indeed, often traditional recipes lack in protein, and exceed in refined fats and carbs. Moreover, my recipe is also rich in minerals and vitamins from the veggies I added to the gnocchi.
Third, you don't need to use an excessive amount of fatty cheese to have a creamy and tasty sauce for your gnocchi. Here is an example of a lighter, yet delicious sauce, made with flour, milk, and only a small amount of grated Parmesan cheese. For a fully plant-based dish, you can use soy milk and vegan grated cheese or, alternatively, you can blend the flour and milk with some soaked cashews.
Finally, use some spices and herbs to spice up your dish. Here, I opted for parsley, rosemary and red pepper flakes. For little to no calories, you will have a lot of flavor in return.
Social Buzz

Ingredient Selection Tips
Kale
Choose kale with fresh, curly, and green leaves, and that have a pleasant light scent. Older kale leaves have a slightly stronger odor and may present yellow or brown traces along their edges.
Mushrooms
Opt for mushrooms that are firm to the touch, and have a pleasant smell. In addition, their surface should be dry and meaty. If properly stored in the refrigerator, fresh mushrooms can last for several days.
Noteworthy Health Benefits
Kale
Kale is an amazing superfood. This green vegetable is indeed a great source of vitamin A, C, B6, and K. It also contains minerals like copper, calcium, potassium, and magnesium. Because of all of these nutrients, kale has excellent anti-inflammatory and antioxidant properties.
Besides, the vitamin C contained in it is a water-soluble antioxidant, necessary for the synthesis of collagen. Collagen in turn makes the hair and nails stronger, and the skin more firm and glowing. Kale is also a great source of vitamins A and K, which assist in protecting eye health and reducing the risk of heart disease.
Want to know more about the amazing benefits of kale? Here is an article for you! The Top 5 Health Benefits of Kale, and Why You Should Eat it Every Day!
Mushrooms
Mushrooms are a good source of fiber, antioxidants, and proteins. They are also poor in calories and fats and low in sodium. Mushrooms are then rich in B group vitamin, riboflavin, niacin, and pantothenic acid. These minerals and vitamins help promote heart and skin health. Similarly, copper and potassium help in creating red blood cells, and in maintaining a healthy heart, muscles, bones, and nerves.
Parsley
Parsley is a good source of vitamin K, C, and A, which are important for bone health and eye protection. It is also a good source of B vitamins and folates, which may improve heart health and reduce the risk of heart diseases.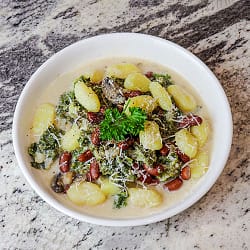 Kale Gnocchi
Yum
Here I am with an Italian-inspired recipe: Creamy Kale Gnocchi with Mushrooms and Beans! As always, this recipe is not only delicious but it is also super healthy and loaded with lots of precious nutrients.
Instructions
Bring water to a boil with a pinch of salt. Add the gnocchi and cook for three minutes, or until they float.

Heat the pan over medium with 1-2 tablespoons olive oil.

Add the diced shallot, minced garlic, and sliced mushrooms to the pan. Saute until the shallot is translucent.

Deglaze the pan with some white wine.

Add the kale and cook for a couple minutes, or until it starts to wilt. Add more olive oil if the wine has evaporated.

Meanwhile, mix the milk, flour, and grated parmesan in a small bowl.

Turn the heat down to low.

Stir in the milk mixture and bring to light simmer (be careful not to overheat the milk).

Add all the seasonings and the parsley. Simmer for a few minutes.

Add the gnocchi and the beans to the pan. Simmer until everything is hot.

Stir in the lemon juice and zest. Be careful not to curdle the milk.
Notes


Nutrition
Nutrition Facts
Kale Gnocchi
Amount per Serving
% Daily Value*
* Percent Daily Values are based on a 2000 calorie diet.
❤️❤️Read About Me for details about my health journey; and, make sure you remember to sign up for my Newsletter and follow me on social❤️❤️!

Supporting me is appreciated as I create content to support your health journey.