Surprise your partner this Valentine's Day💘with this incredible Double Chocolate Crostata! 🍫 Vegan, gluten-free, and super simple to make, this vegan chocolate cake will easily become your favorite dessert recipe ever! 💗
This vegan chocolate crostata consists of two layers of pure chocolate deliciousness, on a fragrant crostata base. All of them are made with easily available, healthy ingredients.
For the base, I opted for coconut and oat flour (always check if it's gluten-free, as some brands might process it along with other non-gluten-free flours), but you can totally swap it with almond flour or any gluten-free flours of your linking. Just keep in mind that coconut flour is more absorbent.
For the first chocolate layer, I used this vegan chocolate spread. However, you can substitute it with some melted vegan chocolate (around 3-4 large squares), or – if you have some time – you can even make it at home (I love this recipe). Then, the third layer (my favorite 😍), a moist and gooey chocolate batter, made with just four ingredients (flour, cacao powder, oat milk, and oat flour).
Does this vegan chocolate crostata recipe sound good to you? I bet it does! Plus, it's ready in less than 50 minutes. I highly suggest eating it while still warm, so that you can enjoy it at its best – soft and warm!
P.S.: make it together with your partner as a fun couple activity! 👩‍❤️‍💋‍👩 (Here is an article with plenty of ideas on what to eat on this special day, plus fun activities to make together with your partner!).
Some PRO Tips for a Mouthwatering Vegan Chocolate Crostata
Here are some pro tips I always follow when making this gluten-free vegan chocolate cake (but they are also applicable to any other crostata recipe).
1. Use room-temperature vegan butter. 🧈
Using room-temperature butter (especially for the base of the crostata) will make it easier to knead and mix all the ingredients together and obtain a smooth, soft dough.
2. Let the dough sit it in the fridge for at least half an hour. 🕰
This step is optional, but highly suggested! Cooling the dough will help you roll it more easily, which is maybe the trickiest part when making a crostata.
3. Melt the spread for a couple of seconds in the microwave before layering it on the base of the crostata.
Just a couple of seconds in the microwave on medium-high power (or even a couple of minutes on the window sill if it's a sunny day) is enough for allowing you to layer your vegan chocolate spread more easily all over the crostata base.
4. Add a couple of tablespoons of milk if the chocolate batter is too thick. 🍫
The upper layer of the crostata (the chocolate batter) should be soft and gooey. This is why I highly suggest making sure that the batter is easily pourable and doesn't have any lumps. Adding a couple more tablespoons of milk will help you avoid that!
5. Perform the toothpick test!
When testing to see if the crostata is well cooked, toothpicks are the go-to tool. All you have to do is insert a wooden toothpick near the center of the cake. (Don't go too deep, as the chocolate spread layer at the bottom should be, obviously, moist and soft). If the toothpick comes out clean, the cake is done!
Here are all my tips for an incredible vegan Chocolate crostata. And if you liked this recipe, stay tuned for a Valentine's Day special post… and meanwhile, let's connect on my socials. All the links are down below! 💗

Social Buzz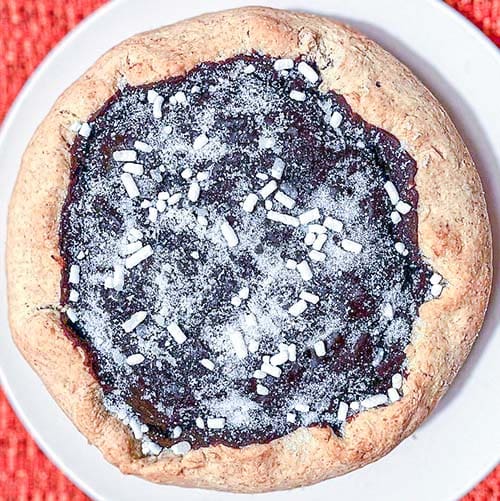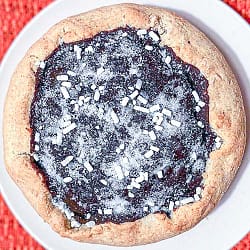 Chocolate Crostata
Yum
Surprise your partner this Valentine's Day💘with this incredible Double Chocolate Crostata! 🍫 Vegan, gluten-free, and super simple to make, this vegan chocolate cake will easily become your favorite dessert recipe ever! 💗
Instructions
For the base:
Mix together the wet ingredients, and then add the solid ones. The resulting dough should be firm and smooth.

Let it sit in the fridge for about half an hour, and then roll it out on a lined baking pan, using a rolling pin if needed. Don't forget to leave a 1/2 inches edge on the sides.
For the filling:
Cover the base with a generous amount of vegan hazelnut chocolate spread (or melted chocolate).

Proceed to create the second chocolate layer: mix all the ingredients in a bowl (flour, sugar, baking powder, plant-based milk, cocoa, and oil) adding oat flour last, to create a smooth and silky batter.

Pour it over the chocolate spread layer.

Cook the cake in a preheated oven for around 30/35 minutes at 356°F (or 180°C).
Notes


Nutrition
Nutrition Facts
Chocolate Crostata
Amount per Serving
% Daily Value*
* Percent Daily Values are based on a 2000 calorie diet.