Dairy-free, low in carbs, and rich in protein: my warm and hearty Spicy White Chicken Chili will give you all the energy you need to face these cold Winter days! 🍲 Plus, this spicy chicken chili has lots of plant-based protein and healthy fats.
However, what I love the most about this spicy white chicken chili is that it is made with lots of energizing and warming ingredients, rich in antioxidants, group B vitamins, minerals, and fiber. Among them are the Great Northern beans, the chicken (or vegetable) broth, and the selection of spices I choose for this fantastic chicken chili. Indeed, both green chilis and chili flakes can protect the body from the action of harmful free radicals, as well as boost the metabolism and facilitate weight loss.
Optional but highly suggested are also the toppings! Here I opted for some chopped cilantro, sour cream (a couple of handfuls of shredded cheese will work as well), and some slices of avocado. These are not only the cherry on top of this keto white chicken chili, but are also rich in different essential vitamins, healthy fats, and antioxidant compounds. Click here to read more about the amazing benefits of incorporating (more) avocado into our diet!
Plant-based or short in time?
And if you are fully plant-based or just want to reduce your meat intake, no worries! Indeed, this spicy white chicken chili can be easily made vegan! Just use vegetable stock in place of the chicken broth and substitute the shredded chicken breast with some jackfruit. This is an exotic fruit that has a meat-like texture and shreds like chicken. In addition, it has a neutral flavor, which absorbs the flavors of the spices you cook it in.
If you are short on time, you can cook this white chicken chili in an instant pot. It will take around 12-14 minutes after the cooker has come to pressure. In addition, if you have any leftovers, you can reheat them for the next few days. Generally, it lasts around 2-3 days in the fridge)!
Some Tips for a Creamier and Tastier Spicy White Chicken Chili
Who says that a healthy chili should also be a blend, boring chili?! Here are some tips for a richer, creamier, and tastier spicy white chicken chili! 🌶
Choose the right type of beans.
Choosing the right kind of beans is key for obtaining a chili with a well-rounded flavor and a satisfying texture. I suggest opting for Great Northern beans, as they have a more delicate flavor, which meshes very well with all the other ingredients. Plus, they are softer and smaller than azuki or cannellini beans.
Mash part of the beans for an extra touch of creaminess.
A great hack I recently learned is to purèe a small part of the cooked beans with either a mixer or a fork. (1-2 tablespoons are more than enough). Then, add the mashed beans before turning the heat down. The result will be a super creamy and rich chili!
Sautèe the onion with olive oil before adding the other ingredients.
Another great tip for an extra kick of flavor is to sautèe the onion in olive oil. If possible, opt for EVOO (extra-virgin olive oil), as it's richer in polyphenols (i.e. powerful antioxidants) and vitamin E.
Make the stock from scratch.
This tip is optional but highly suggested. In a busy and chaotic world, it's really hard to find the time to make our stock from search. However, it can really turn upside down the taste of our white chicken chili!
Top it with some fresh herbs.
Fresh, seasonal herbs are not only more flavorful than dried ones. They are also more nourishing and richer in many different micronutrients. Here I used some roughly chopped cilantro (rich in folate, potassium, and vitamin C) to top my chili!
If you are into warm, comforting dishes, consider trying also the following recipes. Vegan Smokey Butternut Chili, Lentil Sloppy Joe in the Instant Pot, Tuscan Kale and Sausage Soup with Chickpeas, and Spicy Red Lentil Curry (Dahl).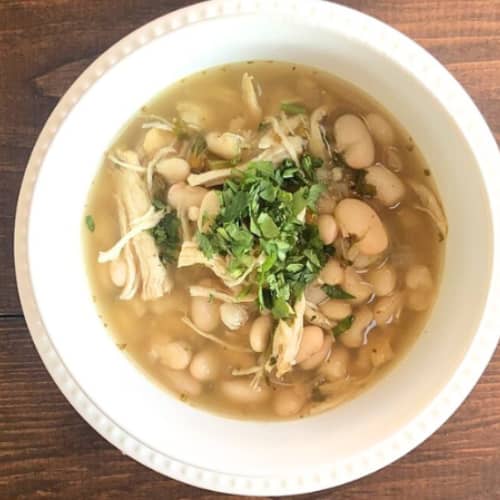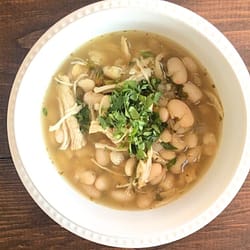 White Chicken Chili
Yum
Dairy-free, low in carbs, and rich in protein: my warm Spicy White Chicken Chili will give you all the energy you need to face these cold Winter days! 🍲 Plus, this spicy chicken chili is a great source of plant-based protein and healthy fats.
Instructions
In a large pot over medium-low heat, add a couple of tablespoons of olive oil, and sautée the onions for 3-5 minutes.

Add the green pepper, and garlic and cook for another minute.

Add the beans, the broth (or water), along with all the seasonings. Stir to combine.

Add the whole chicken breasts.

Bring to a boil. Then lower the heat and simmer for 25-30 minutes.

Carefully remove the chicken breasts, place them on a plate, and shred them using two forks.

Return the shredded chicken back to the pot, stirring to combine.

Adjust the seasonings to taste.

Pour the soup into the bowls and then add the desired toppings.
Notes


Nutrition
Nutrition Facts
White Chicken Chili
Amount per Serving
% Daily Value*
* Percent Daily Values are based on a 2000 calorie diet.
❤️❤️Read About Me for details about my health journey; and, make sure you remember to sign up for my Newsletter and follow me on social❤️❤️!

Supporting me is appreciated as I create content to support your health journey.


Enable Notifications
OK
No thanks