Creamy, comforting, a full of plant-based proteins: my Spicy Red Lentil Curry is everything you need to warm yourself up during these first Autumnal days!
Spicy Red Lentil Curry: a plate of plant-based deliciousness!
The days are getting shorter and colder and the leaves are falling from the trees, and so do our energy levels. All we need is a boost of vitality and nutrition to pick ourselves up and be prepared to face the beginning of the colder season!
What best way to replenish our cells than with a warm and cozy plate of Indian-inspired Spicy Red Lentil Curry (or Dahl)? This is one of my favorite lentil curry recipes: simple, ideal for meal prep, and balanced in all the macro and micronutrients our body needs to feel at its best. Plus, it is based on good whole plant-based ingredients.
I don't know you, but I love to focus my diet on whole plant-based foods. They are not only more environmentally friendly but also better for our body and overall health. Indeed, they contain way fewer fats, calories, and bad (LDL) cholesterol than animal ones, whilst being richer in fiber, minerals, and vitamins.
And who says that you cannot reach your daily protein intake with just plant-based foods is wrong! Indeed, an average portion of this plant-based spicy lentil dahl contains around 18 grams of vegetal proteins (coming mainly from the lentils), and little to no fats. To complete the amino acidic profile of these plant-based proteins, you can decide to serve the lentil curry with a portion of Indian steamed rice (even better, wild rice).
And this is not even all I love about this incredibly comforting dish!
What I like the most about this Spicy Red Lentil Curry
High in plant-based proteins
As said above, a serving of this Spicy Lentil Dahl contains around 18 grams of lean plant-based proteins
A complete and well-balanced meal
If served with a portion of steamed wild rice, this dish contains all the essential micronutrients (such as minerals and vitamins), and macronutrients (carbs from the rice, proteins from the lentils, and healthy fats from the coconut milk) our body needs to feel energized and fully satisfied
The right amount of spiciness
I love Indian-inspired meals, but I personally don't love overly spicy foods. I am really proud to say that with this spicy lentil dahl I have truly found the right balance between spiciness (from the pepper and paprika powders), sweetness (from the coconut milk), and tanginess (from the tomato sauce)
Quick and easy to make
Just a couple of ingredients and less than 15 minutes to prep them (besides the cooking time): this is all you need for this incredibly easy curry recipe!
A very versatile recipe
This red lentil curry is extremely versatile as well! Indeed, you can easily swap the red lentils with the beans or legumes of your choice, and decide to add or omit some (or all) of the spices.
Ideal for meal prep
Prep this red lentil curry in batch, store it in air-tight containers and then consume it throughout the week. Alternatively, portion the curry and then freeze it (it will last for about 2-3 months).
(or freeze)

If you liked this spicy curry recipe, please consider checking also my Curried Pumpkin Lentil Soup, as well as my Indian Chickpea Lentil Soup, both rich in plant proteins and essential micronutrients!
If you want to know more about the amazing benefits of cinnamon, here is an article for you! 5 Health Benefits of Cinnamon, The Most Loved Autumnal Spice! Also, consider checking this article if you would like to find out more about the benefits of lentils!
Social Buzz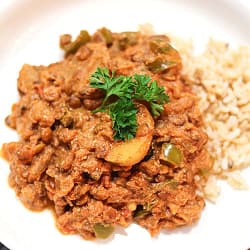 Spicy Red Lentil Curry (Dahl)
Yum
Creamy, comforting, a full of plant-based proteins: my Spicy Red Lentil Curry is everything you need to warm yourself up during these first Autumnal days!
Instructions
Heat a large pan with oil.

Add diced onions, garlic, and green pepper to pan. Cook until fragrant, ~2 minutes.

Turn the pan down to a medium low, and allow to cool slightly.

Add fenugreek and mustard seeds – this is why we turned the pan down to a medium low. The seeds will pop all over the kitchen!

Cook the seeds for a few minutes.

Add all of the rest of the ingredients and seasonings except for the yogurt and salt.

Do not add salt until lentils are done cooking! The salt slows down the cooking process of the lentils.

Bring to a simmer and cover. Cook about 40 minutes or until the lentils are soft.

Remove the pan from the burner. Stir in the yogurt and add salt to taste.

Serve over brown rice or with naan!
Notes

Nutrition
Nutrition Facts
Spicy Red Lentil Curry (Dahl)
Amount per Serving
% Daily Value*
* Percent Daily Values are based on a 2000 calorie diet.
❤️❤️Read About Me for details about my health journey; and, make sure you remember to sign up for my Newsletter and follow me on social❤️❤️!

Supporting me is appreciated as I create content to support your health journey.


Enable Notifications
OK
No thanks