Autumn, Fall (or whatever you call this beautiful season of crisp air and color-changing trees) has come. With it has come our love for cinnamon, spice, and everything nice!🍁🍂 On the topic of Cinnamon – did you know that the health benefits of cinnamon are remarkable!? In this article, you will learn more about the main properties of this spice, its possible counterindications, as well as some tasty ways to add it to your favorite dishes.
The Most Incredible Health Benefits of Cinnamon
The health benefits of cinnamon are truly incredible, to the point that this spice can be considered a real superfood. This spice has been used since Ancient times as a natural remedy to treat gastrointestinal diseases, bacterial infections, and even to ease menstrual cramps and stimulate appetite.
Still today, this plant is appreciated for its antioxidant, anti-inflammatory, and anti-diabetic properties. Let's learn more about them.
1. A Natural Antioxidant
Cinnamon (and especially cinnamon oil) is a natural source of antioxidants, primarily butylated hydroxyl anisole, trolox, and ascorbic acid. In turn, antioxidants are powerful compounds that can help to counteract the aging effects of free radicals, as well as to effectively respond to metabolic disorders and diseases.
Cinnamon also contains different flavonoids and phenolic compounds. Both have powerful effects against cell oxidation and the damaging action of free radicals.
2. The Anti-inflammatory Properties of Cinnamon
Also, among the main health properties of cinnamon are its remarkable anti-inflammatory properties. In particular, cinnamon is rich in flavonoid compounds, such as hesperidin, gossypin, hibifolin, hypolaetin, gnaphalin, oroxindin, and quercetin. All of them have been shown to have positive effects on reducing general inflammation in the body.
Moreover, the compound cinnamaldehyde has been reported to inhibit nitric oxide production. This is responsible for causing and heightening inflammatory states.
Finally, studies have also proven how consuming antioxidant spices (such as cinnamon) after a hefy meal may help reduce the body's negative response to it. In particular, blood tests showed that the insuline response after the meal fell by almost 21%, whilst the tryglycerids by slightly more than 31%.
3. The Antimicrobial and Antifungal Properties of Cinnamon
One of the most well-established properties of cinnamon extracts is the antibacterial and antimicrobial activity against Gram-positive and Gram-negative bacteria responsible for human infectious diseases and degradation of food or cosmetics.
In particular, a 2016 laboratory study found that cinnamon oil was effective against a type of Candida that affects the bloodstream. In addition, other studies have found that cinnamon extracts and essential oils could be active against oral cavity infections.
Last but not least, the essential oils cinnamaldehyde and eugenol, both of which are contained in cinnamon barks, have been shown to inhibit microbial growth
4. The Anti-diabetic Properties of Cinnamon
Numerous studies (for now conducted only on animals) have discovered that cinnamon extracts might be effective in lowering blood glucose as well as cholesterol levels.
In particular, the cinnamon extract has a regulatory role in blood glucose levels and lipids and it may also exert a blood glucose-suppressing effect by improving insulin sensitivity or slowing the absorption of carbohydrates in the small intestine. However, more studies are needed to confirm the same powerful effects on humans.
5. Better Digestion
Cinnamon also has some powerful effects on promoting good digestive functions. In particular, it contains prebiotics. These can help promote the growth of good bacteria in the gut, whilst preventing the proliferation of pathogenic bacteria in the digestive tract.
In addition, adding cinnamon to your meals can help ease digestive discomfort. This is especially true if you consumed cinnamon in hot beverages such as cinnamon tea (even better if mixed with honey and cardamom).
Are There Any Counterindications to Cinnamon Consumption?
Now that you have learned all the main health benefits of cinnamon, it may be natural to wonder if there are also any counterindications linked to its consumption.
Although consuming moderate amounts of this spice is safe for most people, cinnamon (especially Cassia cinnamon) also contains coumarin. This compound has a central role in the creation of warfarin, a common blood-thinning drug. Similarly, consuming too much coumarin can lead to liver damage and affect blood coagulation. Therefore, always ask your doctor before consuming cinnamon if you suffer from any liver conditions, are diabetics, or take anticoagulant drugs.
On a more general note, always prefer Ceylon cinnamon, as it contains a lower amount of coumarin, and is, therefore, a "safer" option.
Nutrition Facts about Cinnamon
Besides being a good source of anti-inflammatory and anti-antioxidant compounds, cinnamon is also rich in several minerals and vitamins, such as magnesium, iron, and vitamin A.
A teaspoon of ground cinnamon (2.6gr) contains:
Energy: 6.42 calories
Carbohydrates: 2.1 g
Calcium: 26.1 milligrams (mg)
Iron: 0.21 mg
Magnesium: 1.56 mg
Phosphorus: 1.66 mg
Potassium: 11.2 mg
Vitamin A: 0.39 micrograms
Some Curiosities About Cinnamon
Sri Lanka produces almost 90% of the cinnamon (Ceylon cinnamon) used around the world.
Cinnamon trees belong to the same family as rose trees (the Lauraceae family).
The most common types of cinnamon are Ceylon cinnamon and Cassia cinnamon.
The medical properties of cinnamon have been first mentioned in ancient China in 2800 years B.C.
Cinnamon is one of the key ingredients of pumpkin spice, added to almost all Autumnal treats.
Ingredients Selection Tips
First of all, consider which type of cinnamon you are wanting to buy, as Ceylon cinnamon has a remarkably better nutritional profile than Cassia cinnamon.
Furthermore, pay attention that the cinnamon has its characteristic brown color with a hint of yellow in it and a fresh smell. On the other hand, avoid miscolored cinnamon with traces of deterioration, or an unpleasant smell.
Delicious Sweet and Salty Recipes with Cinnamon
Cinnamon is a very versatile spice that can be used in the preparation of both sweet, salty, and savory dishes.
Use it to enhance the flavor of main courses such as my Sweet & Spicy Thai Pineapple Curry with Crispy Tofu, Almond Crusted Cod with Tropical Salsa, and Spicy Lentil Curry.
Alternatively, add it to aromatic drinks with my Cinnamon Crunch Latte Syrup or Apple Crisp Macchiato Syrup; or, use it in raw treats such as this Beet Date Carrot Cake, baked treats such as my Pumpkin Pie Oatmeal Cookie, or Pumpkin Spice Protein Waffles.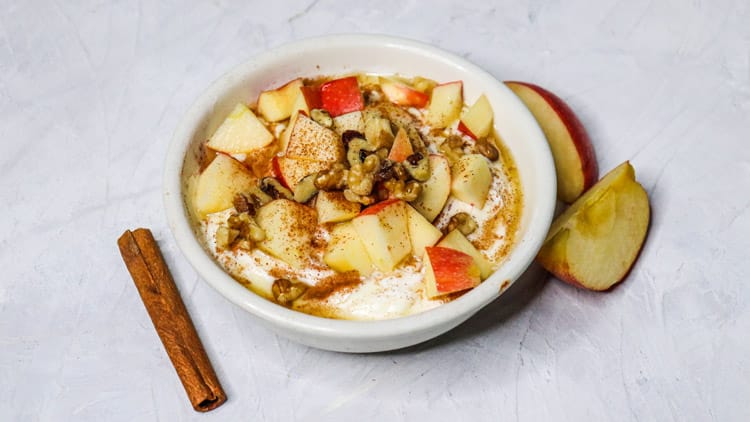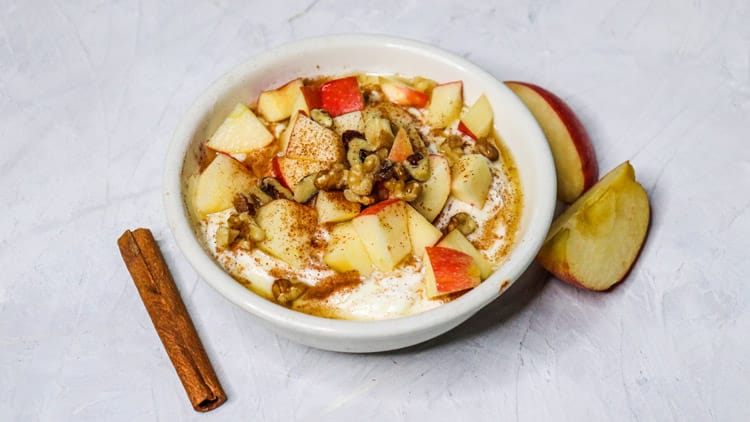 I love also love to use cinnamon in the preparation of healthy breakfasts, such as my Apple Cinnamon Oatmeal, Apple Cinnamon Yogurt, this delicious Apple Cinnamon Overnight Oat Parfait, Strawberry Rhubarb Baked Oats, Raisin Date Oatmeal, Baked Oatmeal with Apples and Cranberries, incredibly wholesome Carrot Cake Smoothie, and finally my Pumpkin Spice Overnight Oat Parfait.
Social Buzz
❤️❤️Read About Me for details about my health journey; and, make sure you remember to sign up for my Newsletter and follow me on social❤️❤️!

Supporting me is appreciated as I create content to support your health journey.