I don't know about you, but for me, fall means nourishing and comforting foods, sweaters… and pumpkin spice! Sounds like I am talking about my delicious Plant-Based Pumpkin Protein Waffles! 🧇🎃 
These protein waffles are way more nutritious than traditional waffles, high in plant-based protein, and can help satisfy that itch for Fall Pumpkin Spice!
If you are wondering how these Vegan Pumpkin Waffles can be all of this, the answer is simple! I came up with an incredible recipe, containing mostly whole foods, lots of spices, and high-protein plant-based ingredients.
What's even more incredible about these Pumpkin Protein Waffles is that they contain around 10 grams of protein for each piece, which is remarkable when considering that an average female should consume at minimum around 50-60 grams of protein in a day.
But where are all these proteins coming from? And how can you easily boost the protein content of your waffles, without resorting to animal derivatives?
Pumpkin Protein Waffles: how to make high-protein vegan waffles
Proteins are the building blocks of our body. They help repair and build your body's tissues, allow metabolic reactions to take place, and coordinate bodily functions. In addition to providing your body with a structural framework, proteins also maintain proper pH and fluid balance.
This is why you should always make sure to include an adequate amount of this macronutrient in your daily diet!
Nevertheless, most people assume that proteins are only contained in animal-based proteins, such as meat, fish, dairy, and eggs. Nothing is more wrong!
Legumes, beans, and seeds – and even some veggies – are a great source of plant-based protein. Yet, some people might still struggle to consume more of these food groups, either because they don't like their taste, or they simply don't know how to incorporate them into their favorite recipes.
My high-protein waffles are a simple and easy way to show you how to maximize your protein intake and eat more plant-based sources, while at the same time creating a mouthwatering recipe. Whether you are vegan, or you just want to cut your consumption of animal products, I hope you will find them useful!
1. Add some vegan protein powder
This is a very simple way of incorporating more plant-based proteins into your diet. You can easily add them to your favorite smoothie or oatmeal recipe, and even add them to a bowl of yogurt to create a high-protein snack.
This is what I did with these Pumpkin Protein Waffles! More specifically, I opted for a vanilla protein powder. However, nowadays on the market, there is a wide range of flavors that can accommodate different needs, tastes, and recipes.
And if you still think that plant-based protein powder is gross, too chalky, and not easily blendable, don't worry. Indeed, I found the perfect product for you! This Orgain Organic Protein Powder is delicious, smooth, and quite affordable as well! Last but not least, you can also use it in cooked preparation. For example, I often add it to my oatmeal, and even in cakes and pancakes batters. As a result, you will have decadent, yet super protein-filled desserts!
2. Use some seeds!
Hemp, flax, and chia seeds are all remarkable sources of plant-based proteins. With around 3-4 grams of protein for a tablespoon, seeds represent an easy way to incorporate more protein, without the need to create elaborated recipes!
Just sprinkle a tablespoons of seeds over your breakfast bowl, on your salads, and even over a pasta dish: without even noticing, your daily protein intake will increase by 20 proteins or more!
For these vegan pumpkin spice waffles, I used a couple of tablespoons of flax seeds. Indeed, flax seeds have the advantage of not only boosting the nutritional profile of the dish but are also a great way of replacing eggs in vegan recipes, as I did for these plant-based pumpkin protein waffles.
All you have to do is combine a part of flax seeds with two of water, stir very well, and let the "vegan egg" sit for a couple of minutes. The result will be a gel-like mixture, that will bind together and thicken your food preparations – just like eggs do.
3. Nut butter!
Yes, you have heard it right! Besides being delicious, nut butter does also contain a considerable amount of proteins. As a matter of fact, one ounce (around 28 grams, or one large tablespoon) of nut butter -including peanut butter, almond butter, hazelnut butter, and cashew butter- contains around 7-8 grams of protein, depending on the type of nut butter.
And let's be honest, adding a tablespoon of nut butter on top of your oatmeal or pancakes is not that hard! For these pumpkin spice waffles, I would suggest some almond butter, as it has a lighter, more delicate flavor that goes well with the autumnal spices.
It goes without saying to consume it in moderation, as it is a very calorically dense, high-fat food. Moreover, you should always prefer products that are made from raw nuts or seeds, with no sugar or preservatives added. Ultimately, If you can't find what you're looking for in the store or want to save some money, you can also opt to make your own nut butter with a food processor – I often do this when I have time!
Here are all my tips to create some plant-based protein waffles! Did you already know them? And if you recreate this recipe, please tag my socials and let's connect on there – you will find the handles down below! 😊

If you want to know more about the amazing benefits of cinnamon, here is an article for you! 5 Health Benefits of Cinnamon, The Most Loved Autumnal Spice!
Social Buzz

Ingredient Selection Tips
Pumpkin Puree
You can make your own puree, and that one is the best, for sure. Try to find a pie pumpkin or sugar pie pumpkin. When you choose your pumpkin, just halve it, scoop the seeds out, and season with a very small amount of salt. Place the halves cut-side-down onto a baking sheet and roast until the flesh is soft. Put the flesh into the blender and blend it until it is smooth and silky.
Ta-da! You have a pumpkin puree! You can also save it in a freezer and have it ready for the next time you decide to make something like my Pumpkin Pie Oatmeal Cookies.
If you don't have time for making it yourself, you can always use a canned one. Try to find it without preservatives and unsweetened.
Coconut Oil
When buying this oil, try to look for oils that have been refined using "chemical-free" methods, or -even better- that are unrefined. Virgin, Extra-virgin, or cold-pressed are the signs to look for. It is also best to buy it in its solid form.
Noteworthy Health Benefits
Pumpkin
Pumpkin belongs to a fruit family, but nutritionally it is more similar to vegetables. Indeed, it is highly nutritious and rich in vitamin A. It is low in calories as its 94% is water, which is good for those watching their weight. It has a rich antioxidant content that can lower the risk of chronic diseases and is packed with vitamins to save your immunity system.
Some other health benefits of eating pumpkin are:
It reduces the risk of cancer
Pumpkin protects your eyesight
It promotes healthy skin
Want to know more about the amazing benefits of pumpkins? Here is an article for you!
Coconut Oil
Coconut oil is a superfood. It has so many benefits for us:
Coconut oil may boost heart health
It encourages fat burning
It has antimicrobial effects
This oil may reduce seizures
It can raise good cholesterol
It is very good for our skin, hair, and teeth
Flax
Did you know that the Latin name of the flax is Linum usitatissimum, meaning "the most useful"?
These tiny seeds are loaded with omega-3 fatty acids, particularly important for vegans and for people that don't consume fish.
Here are some other health benefits of flax seeds:
They may improve good (LDL) cholesterol and lower blood pressure
They contain high-quality protein that can improve immune function
Chia seeds may help control blood sugar
They can keep hunger at bay, which can help if you are watching your weight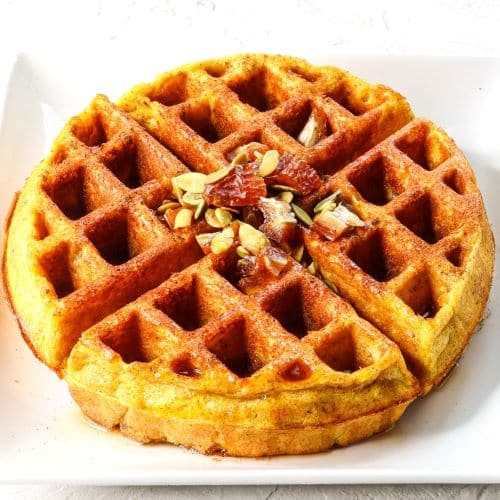 Pumpkin Spice Protein Waffles
Yum
Loving these Plant-Based Pumpkin Spice Protein Waffles! These are way healthier than traditional waffles and satisfy that itch for Fall Pumpkin Spice!
The recipe makes for 4 very large Belgian waffles or ~8 small ones. Are you already addicted to the smells and tastes of fall like me !?
Instructions
Melt coconut oil in a medium bowl. Add warmed milk. If coconut oil hardens stick the bowl in the microwave for 30 seconds. Stir oil into milk.

Add puréed pumpkin, ground flax, salt and seasonings. Mix to combine. Let sit a minute or two to let flax absorb the liquid and gelatinize.

Mix in protein powder and baking powder until combined.

Mix in flour until combined.

Make the waffles one at a time. Spray the waffle iron with oil and pour in the batter. Follow your appliances instructions to make the waffle.

Top with real grade A Maple syrup, dates, and/or pumpkin seeds
Notes


Nutrition
Nutrition Facts
Pumpkin Spice Protein Waffles
Amount per Serving
% Daily Value*
* Percent Daily Values are based on a 2000 calorie diet.
❤️❤️Read About Me for details about my health journey; and, make sure you remember to sign up for my Newsletter and follow me on social❤️❤️!

Supporting me is appreciated as I create content to support your health journey.


Enable Notifications
OK
No thanks