Loving these Plant-Based Pumpkin Spice Protein Waffles!! These are way healthier than traditional waffles and satisfy that itch for Fall Pumpkin Spice!
Makes 4 very large Belgian waffles or ~8 small ones. Just bought a cinnamon broom – Are you addicted to the smells and tastes of fall like me!?
Social Buzz

Ingredient Selection Tips
Pumpkin Puree
You can make your own puree, and that one is the best, for sure. Try to find a pie pumpkin or sugar pie pumpkin. When you choose your pumpkin, just halve it, scoop the seeds out, and season with a very small amount of salt. Place the halves cut-side-down onto a baking sheet and roast until the flesh is soft. Put the flesh into the blender and blend it until it is smooth and silky. Ta-da! You have a pumpkin puree! You can also save it in a freezer and have it ready for the next time you decide to make something like my Pumpkin Pie Oatmeal Cookies.
If you don't have time for making it yourself, you can always use a canned one. Try to find it without preservatives and unsweetened.
Coconut Oil
When buying this oil, try to look for oils that have been refined using "chemical-free" methods, or is unrefined. Virgin, Extra-virgin, or cold-pressed are the signs to look for. It is also best to buy it in its solid form.
Noteworthy Health Benefits
Pumpkin
Pumpkin belongs to a fruit family, but nutritionally it is more similar to vegetables. It is highly nutritious and rich in vitamin A. It is low in calories as its 94% is water, which is good for those watching their weight. It has a rich antioxidant content that can lower the risk of chronic diseases and is packed with vitamins to save your immunity system.
Some other health benefits of eating pumpkin are:
Reduces risk of cancer
Protects your eyesight
Promotes healthy skin
Coconut Oil
Coconut oil is a superfood. It has so many benefits for us:
May boost heart health
It encourages fat burning
It has antimicrobial effects
May reduce seizures
This oil can raise good cholesterol
It is very good for our skin, hair, and teeth
Flax
Did you know that the Latin name of the flax is Linum usitatissimum, meaning "the most useful"?
These tiny seeds are very beneficial to us. They are loaded with nutrients from which omega-3 fats, lignans, and fiber are most significant.
Omega-3 fats are important especially for vegans or vegetarians who are not eating fish.
Here are some other health benefits of flax seeds:
They may improve good cholesterol
May lower blood pressure
They contain high-quality protein that can improve immune function
May help control blood sugar
They can keep hunger at bay, which can help if you are watching your weight
Balanced Plate for Performance Goals
While any food can fit into your menu for performance goals, some recipes can contribute to a better-strategized menu than others. Below you can see how this recipe can fit into your goal. If this recipe has unique benefits, it is best cut out for the goal(s) with a star next to it.
The chart below changes dynamically based off the goal you have selected.
Goal:
| | | | |
| --- | --- | --- | --- |
| LEAN PROTEIN | HEALTHY FAT | HEALTHY CARBS | VEGGIES |
| | | | |
| --- | --- | --- | --- |
| 1-2 palms | 1-2 thumbs | 1-2 cupped handfuls | 1-2 fists |
More Info
However, everyone is different! Use the Precision nutrition calculator I use with my clients to calculate suggested macros custom for you. For more information on using this hand estimation system, click here.
For more info on types of foods for proteins, fats, carbs, and veggies, read my article Formula for the Perfect Healthy Meal. This article will also help you figure out what foods to eat more and less of.
Protein: Needs to Supplement
While there is protein powder in this recipe and it's much more than normal waffles, it isn't a significant source of protein for each serving. For the balanced plate, I suggest adding something like breakfast turkey sausage.
Fat: Need to Supplement
While there is some healthy fats from coconut oil and flax, this recipe is not a significant source of fat, so I suggest garnishing this waffle with pumpkin seeds!
Carbs: All Purpose Flour
The biggest source of carbohydrate in these waffles is flour. For this reason, you can consider the waffles as the carb source for your balanced plate.
Veggies: Needs to Supplement
I suggest adding some sautéed veggies on the side. If you aren't into eating vegetables for breakfast, try to add extra veggies to your other meals that day.
Additional Meal Tips for Weight Loss
If you choose to add maple syrup to this recipe, portion carefully. Make sure to add lean protein and veggies to your plate to help keep you satiated. See how you feel if you are sensitive to carbohydrates. I have added protein into this recipe to help with any potential sugar spike. Make sure to keep your portion to an eighth of the batter, as the portion is stated on the recipe card.
Additional Meal Tips for Endurance
This recipe is excellent for endurance athlete! It contains some protein for recovery and lots of carbohydrates to support your performance. Consider adding a little more protein, as you could use at least another 5 grams to balance your plate. If you have a run in the following couple of hours after eating the waffles, feel free to add maple syrup as that is a simple carbohydrate source that will help with greater performance efforts. Keep in mind some people will have digestive distress from the maple syrup.
Additional Meal Tips for Building Muscle
While these waffles have some protein, a serving only has 10 grams. You can double up if you don't mind the extra carbohydrate (you're in a bulking phase) or add more protein (cutting phase).
Additional Meal Tips for Improving Health
Pumpkin, flax, and the occasional protein powder supplement are great for your health. Additionally, these are an excellent alternative to traditional waffles. You will want to make sure to add fruits and vegetables with various colors throughout your day.
Diet Preference Tweaks
Vegan / Fully Plant-Based
For a fully vegan version, use non-dairy milk and a Vegan protein blend.
Paleo
While I haven't had a lot of success using almond or coconut flour, feel free to try replacing all-purpose flour with a grain-free alternative!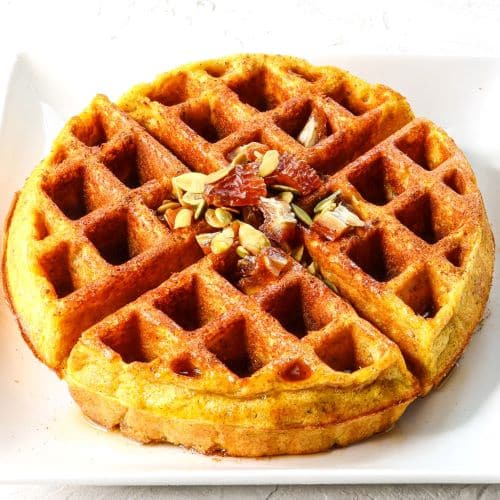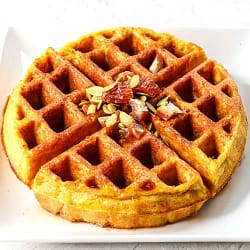 Pumpkin Spice Protein Waffles
Yum
Loving these Plant-Based Pumpkin Spice Protein Waffles!! These are way healthier than traditional waffles and satisfy that itch for Fall Pumpkin Spice! Makes 4 very large Belgian waffles or ~8 small ones. Are you addicted to the smells and tastes of fall like me!?
Instructions
Melt coconut oil in a medium bowl. Add warmed milk. If coconut oil hardens stick the bowl in the microwave for 30 seconds. Stir oil into milk.

Add puréed pumpkin, ground flax, salt and seasonings. Mix to combine. Let sit a minute or two to let flax absorb the liquid and gelatinize.

Mix in protein powder and baking powder until combined.

Mix in flour until combined.

Make the waffles one at a time. Spray the waffle iron with oil and pour in the batter. Follow your appliances instructions to make the waffle.

Top with real grade A Maple syrup, dates, and/or pumpkin seeds
Notes


Nutrition
Sodium:
402
mg
Sugar:
4
g
Fiber:
3
g
Potassium:
135
mg
Cholesterol:
4
mg
Calories:
232
kcal
Saturated Fat:
6
g
Fat:
9
g
Protein:
10
g
Carbohydrates:
31
g