This Raisin Date Oatmeal is a simple and healthy vegan breakfast, part of my 5 Plant-Based Oatmeal Breakfasts plan. It is also great for kids and picky eaters, as it is naturally sweet and creamy!
It is also super quick to make and meal prep-friendly: in less than 15 minutes you will have a breakfast full of nutrients for the whole family!
How to make a naturally sweet Raisin Date Oatmel?
This amazing healthy Oatmeal recipe does not contain any added or artificial sugar. In order to achieve a mildly sweet and tasty recipe, I carefully selected naturally sweet fresh and dried fruits.
First, are the dates. Here I opted for Medjoul dates, which are plumper and sweeter than other varieties of dates. Using dates as a natural sweetener is also great for keeping our glycemic index stable throughout the day. Indeed, due to their low glycemic index, the sugars contained in dates do not cause huge spikes in our blood sugar levels. In turn, this will help keep us satisfied and reduce unhealthy sugar cravings.
Then, are the raisins. These "natural candies" are high in calories and sugars, however, as for the dates, they are also high in precious micro-nutrients. If consumed in moderation, raisins are great to add natural sweetness to our breakfast and they will also keep us energized and awake for hours.
Last, I decided to top this oatmel with dried apples. These are naturally higher in sugars and calories than fresh apples, so make sure to not overconsume them. At the same time, they are also rich in many essential micro-nutrients and minerals. This makes them the perfect crunchy addition to this healthy and delicious oatmel. And your kids will love them too!
Social Buzz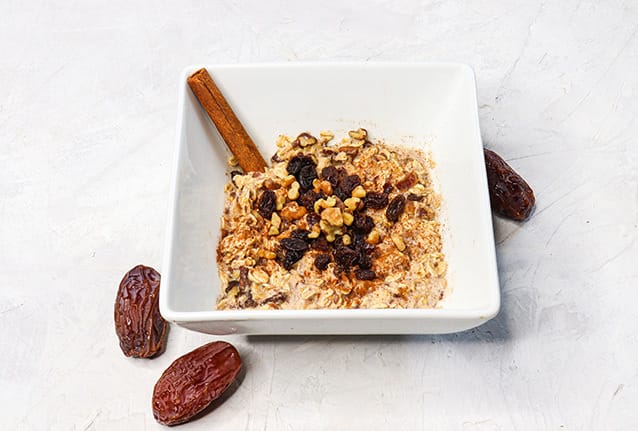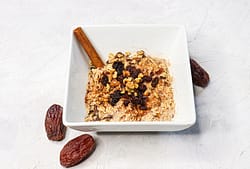 Raisin Date Oatmeal
Yum
This Raisin Date Oatmeal is healthy, softly sweet, and simple breakfast and it is part of my 5 Plant-Based Oatmeal Breakfasts plan. In less than 15 minutes you can prep several breakfasts full of nutrients for the whole family, and for the whole week!
Instructions
Shake it and store it in your pantry.

When ready to eat, add milk and pop in the microwave for 1 minute, 30 seconds. Enjoy!
Notes


Nutrition
Sodium:
152
mg
Sugar:
30
g
Fiber:
7
g
Potassium:
440
mg
Cholesterol:
35
mg
Calories:
343
kcal
Monounsaturated Fat:
1
g
Polyunsaturated Fat:
3
g
Saturated Fat:
1
g
Fat:
8
g
Protein:
18
g
Carbohydrates:
56
g