This Raisin Date Oatmeal is a simple and healthy vegan breakfast, part of my 5 Plant-Based Oatmeal Breakfasts plan. It is also great for kids and picky eaters, as it is naturally sweet and creamy!
It is also super quick to make and meal prep-friendly: in less than 15 minutes you will have a breakfast full of nutrients for the whole family!
How to make a naturally sweet Raisin Date Oatmel?
This amazing healthy Oatmeal recipe does not contain any added or artificial sugar. In order to achieve a mildly sweet and tasty recipe, I carefully selected naturally sweet fresh and dried fruits.
First, are the dates. Here I opted for Medjoul dates, which are plumper and sweeter than other varieties of dates. Using dates as a natural sweetener is also great for keeping our glycemic index stable throughout the day. Indeed, due to their low glycemic index, the sugars contained in dates do not cause huge spikes in our blood sugar levels. In turn, this will help keep us satisfied and reduce unhealthy sugar cravings.
Then, are the raisins. These "natural candies" are high in calories and sugars, however, as for the dates, they are also high in precious micro-nutrients. If consumed in moderation, raisins are great to add natural sweetness to our breakfast and they will also keep us energized and awake for hours.
Last, I decided to top this oatmel with dried apples. These are naturally higher in sugars and calories than fresh apples, so make sure to not overconsume them. At the same time, they are also rich in many essential micro-nutrients and minerals. This makes them the perfect crunchy addition to this healthy and delicious oatmel. And your kids will love them too!
Social Buzz

Ingredient Selection Tips
Medjool Dates
If possible, opt for shiny and plump dried dates while trying to avoid those that are too hard to the touch or too wrinkled. If you notice small bubbles coming out when slightly pressing the dates, this may indicate that dates were not stored properly and that their shell life is over.
Walnuts
Walnuts generally have a long shelf life. However, they may sometimes present signs of mold, especially when they have not been stored properly. Fresh walnuts should look plump and golden brown, and their shape should remind you of small brains. Don't buy discolored walnuts or walnuts with dark dots.
Noteworthy Health Benefits
Medjool Dates
Dates have a significant amount of fiber, calcium, iron, potassium, magnesium, copper, and vitamin B6. They are also a concentrated source of natural sugars. However, due to dates' low glycemic index, these sugars do not cause huge increases in blood sugar levels. Dates are also rich in antioxidants, which may benefit heart health and help lower LDL cholesterol levels.
Walnuts
Walnuts are rich in antioxidants, omega–3 acids, magnesium, and vitamin E. They are also a great source of healthy fats. Due to all these fantastic macro-and micro-nutrients, walnuts can promote a healthy gut, and help decrease inflammation in the body. They also support brain health and the correct functioning of the brain. Last but not least, regular consumption of walnuts may help increase sperm production and male fertility.
If you want to know more about the amazing benefits of cinnamon, here is an article for you! 5 Health Benefits of Cinnamon, The Most Loved Autumnal Spice!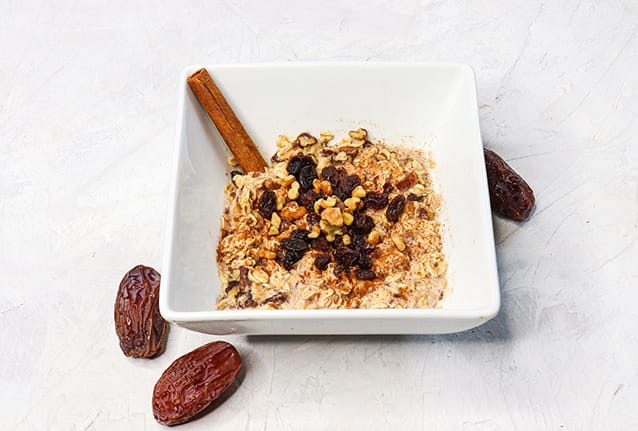 Raisin Date Oatmeal
Yum
This Raisin Date Oatmeal is healthy, softly sweet, and simple breakfast and it is part of my 5 Plant-Based Oatmeal Breakfasts plan. In less than 15 minutes you can prep several breakfasts full of nutrients for the whole family, and for the whole week!
Instructions
Shake it and store it in your pantry.

When ready to eat, add milk and pop in the microwave for 1 minute, 30 seconds. Enjoy!
Notes


Nutrition
Nutrition Facts
Raisin Date Oatmeal
Amount per Serving
% Daily Value*
* Percent Daily Values are based on a 2000 calorie diet.
❤️❤️Read About Me for details about my health journey; and, make sure you remember to sign up for my Newsletter and follow me on social❤️❤️!

Supporting me is appreciated as I create content to support your health journey.