Crispy and thin, this Chickpea Flour Pizza Crust is a healthier alternative to your regular storebought pizza base! Easy and quick to make, it is super versatile and can be topped with whatever ingredients you like the most. It is awesome with my Pineapple Pepper Plant-based Pizza and my Oil-free Pizza Sauce!
Why is this thin Chickpea Flour Crust healthier?
This homemade pizza crust is also an excellent source of fiber and nutrients and is higher in protein than traditional all-grain pizza crusts. Indeed, with 19 grams of protein per cup (92 grams), chickpea -or gram-flour is way higher in protein and lower in carbs than regular all-purpose flour. It is also naturally gluten-free.
This makes it also a more filling and lower in calories pizza crust alternative, ideal for everyone who wants to build and maintain muscle mass, but also lose weight without feeling deprived.
One last suggestion: if you want a fully gluten-free and grain-free pizza crust, you can substitute the all-purpose flour with tapioca flour, or other gram flour!
Social Media Channels

Ingredient Selection Tips
Chickpea Flour
It is easy to find chickpea flour nowadays. You can find it in the baking aisle, next to the gluten-free flours section, or you can just purchase it online.
All-Purpose Flour
I recommend the flour from King Arnold Brand, as it is unbleached and great for making this type of dough. They also have an organic option, if you are more into that.
Noteworthy Health Benefits
Chickpea Flour
Chickpea flour, also known as Garbanzo flour, gram, or besan, is gluten-free flour. It is also very nutritious, which makes it a very popular replacement for wheat flour.
Indeed, chickpeas are very rich in vitamins and minerals, like thiamine, folate, iron, phosphorus, magnesium, copper, and manganese. Chickpea flour is also a good source of protein, fiber, and antioxidants which can help to fight free radicals. Besides, this flour is ideal for weight management, as it has 25% fewer calories than wheat flour, and its high fiber content makes it even more filling.If you want to make this flour at home, check the recipe on this page.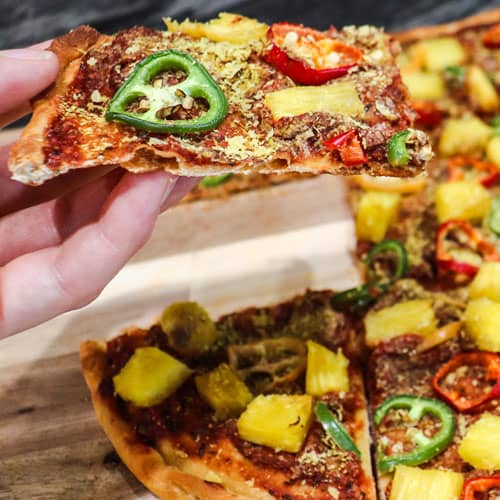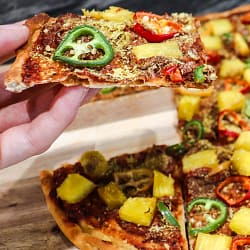 Crispy Thin Chickpea Flour Pizza Crust
Yum
This easy-to-make no rise crispy thin chickpea flour crust is oil-free, high in fiber, and an excellent source of plant-based protein! Top it with whatever ingredients you like the most and enjoy!
Instructions
Preheat the oven to 450 degrees.

Mix all the dry ingredients in a large bowl – chickpea flour, general purpose flour, salt, and garlic.

Add the water slowly and mix until all ingredients are incorporated and the dough is formed. You may not have to add all of the water to form the dough. If you add too much water, the dough will become too sticky to work with. You can always add a little more flour until it doesn't stick to your hands.

Roll the dough out and shape on a floured surface. Roll it as thin as it will go and shape to about a 12 or 14-inch pizza. A 14-inch is like a thin crust and 12-inch is like Brooklyn style. The smaller side is easier to shape. Roll also the corners.

Carefully lift the dough and place onto round cookie sheet or pizzaa pan.

Remove the crust from oven and top the pizza with your toppings. For more inspiration, look at my whole food pizza sauce recipe and my pineapple pepper pizza recipes! *

Leave the pizza in the oven until the toppings are cooked (to your desired doneness) and cheese has melted and slightly browned (if used). This takes about 10-15 min. Enjoy!
Notes
Nutrition
Nutrition Facts
Crispy Thin Chickpea Flour Pizza Crust
Serving Size
2 slices pizza
Amount per Serving
% Daily Value*
* Percent Daily Values are based on a 2000 calorie diet.
❤️❤️Read About Me for details about my health journey; and, make sure you remember to sign up for my Newsletter and follow me on social❤️❤️!

Supporting me is appreciated as I create content to support your health journey.


Enable Notifications
OK
No thanks