Tropical Coconut Oatmeal: a unique and exotic flavor combination that will make everyone go crazy about it! This recipe is easy, ready in a few minutes, and full of nutrients!
This Tropical Oatmeal is also part of my 5 Plant-Protein Breakfasts plan (for more plant-based recipes). Check it out for more healthy and tasty vegan breakfasts, all ready in less than 15 minutes!
What are the special ingredients of this exotic Tropical Coconut Oatmeal?
This exotic plant-based recipe is made with simple, but carefully selected ingredients.
First are, obviously, oats. I recommend opting for rolled oats, as they are easier to digest and richer in micro-nutrients than instant oats. Besides, they help in giving a richer and more satisfying consistency to the oatmeal.
Second, are the two ingredients that are giving this oatmeal its unique taste: the Mixed Dried Tropical Fruits and the Coconut Flakes. Both of them will help you feel energized and mentally focused for hours, as they are quite high-energy and high in nutrients foods.
Third, are the hemp seeds: they will not only boost the protein content of this breakfast but also provide you with some precious Omega3 and Omega6 while giving a crunchier texture to the oatmeal.
Finally, the crushed cashews are the perfect topping for this Exotic Oatmeal, crunchy and loaded with a multitude of essential vitamins and minerals! Besides, their flavor combines so well with the tropical fruits in this oatmeal. I cannot wait for you to enjoy this amazing plant-based breakfast!
Social Buzz

Ingredient Selection Tips
Coconut
When choosing the perfect coconut, examine its skin to make sure there are no cracks. Look also at the three small circles of the so-called "coconut eye" and make sure that they do not present any damage. In addition, shake the coconut: you should hear the sound of the coconut juice inside, which is a good indicator of the fruit's freshness. Of course, you can always buy a shredded one.
Cashews
Cashews in their raw state are whitish, or slightly yellow in color. On the contrary, roasted cashews are slightly brown. Make sure that they do not have any brown or dark stains, which could mean that they have been roasted for too long, or at an excessive temperature.
Noteworthy Health Benefits
Coconut
Coconut contains precious vitamins, such as vitamin B, and essential minerals, like manganese, copper, iron, selenium, magnesium, and phosphorus. These are good to promote bone health and the metabolism of proteins, carbs, and cholesterol. Coconut contains also powerful antioxidants, that may protect cells from oxidative stress. Finally, the oil extracted from this fruit has powerful antibacterial effects and may promote blood sugar control.
Looking for more useful information -and some delicious recipes- about coconut? Here is something for you: Coconut water for hangovers: does it really work?
Hemp Seeds
Hemp seeds contain both linoleic acids (a.k.a. omega 6) and alpha-linolenic acids (a.k.a. omega 3), which are two great sources of fatty acids. Hemp seeds are also loaded with iron, zinc, magnesium, sodium, phosphorus, and potassium, which may reduce the risk of heart disease and inflammation.
Hemp seeds and the oil extracted from them may benefit skin health and may reduce the symptoms of PMS and menopause. Whole hemp seeds are then a good source of soluble and insoluble fiber, which may promote good digestion and gut health. Finally, they are a good source of plant protein.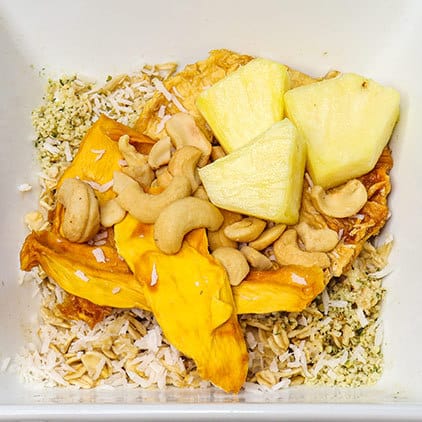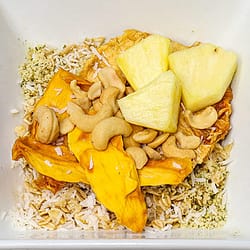 Tropical Coconut Oatmeal
Yum
Tropical Coconut Oatmeal: a unique flavor combination for a tasty vegan breakfast! A recipe ready in a few minutes, and full of nutrients!
Instructions
Mix all the ingredients in a jar.

Shake it and store it in your pantry.

When you are ready to eat, open up, add some milk and microwave it for around 1:30 min.
Notes


Nutrition
Nutrition Facts
Tropical Coconut Oatmeal
Amount per Serving
% Daily Value*
* Percent Daily Values are based on a 2000 calorie diet.
❤️❤️Read About Me for details about my health journey; and, make sure you remember to sign up for my Newsletter and follow me on social❤️❤️!

Supporting me is appreciated as I create content to support your health journey.


Enable Notifications
OK
No thanks