It's often difficult to get a reservation on Mother's Day at a restaurant, let alone trying to get one during this virus pandemic. Restaurants are slowly starting to open again here in Orlando, but I imagine available Mother's Day reservations are few and far between.
As an often overly optimistic person, I've seen a very beautiful silver lining in the pandemic. One of the positive things I have noticed is many people are outdoors getting fresh air and exercise! The second positive thing is that many are starting to shift more focus to prioritizing their health. The third is the abundance of time we have been able to spend with our families as opposed to the usual daily rat race. Of course, I'm only highlighting the positive aspects of extra family time. 😉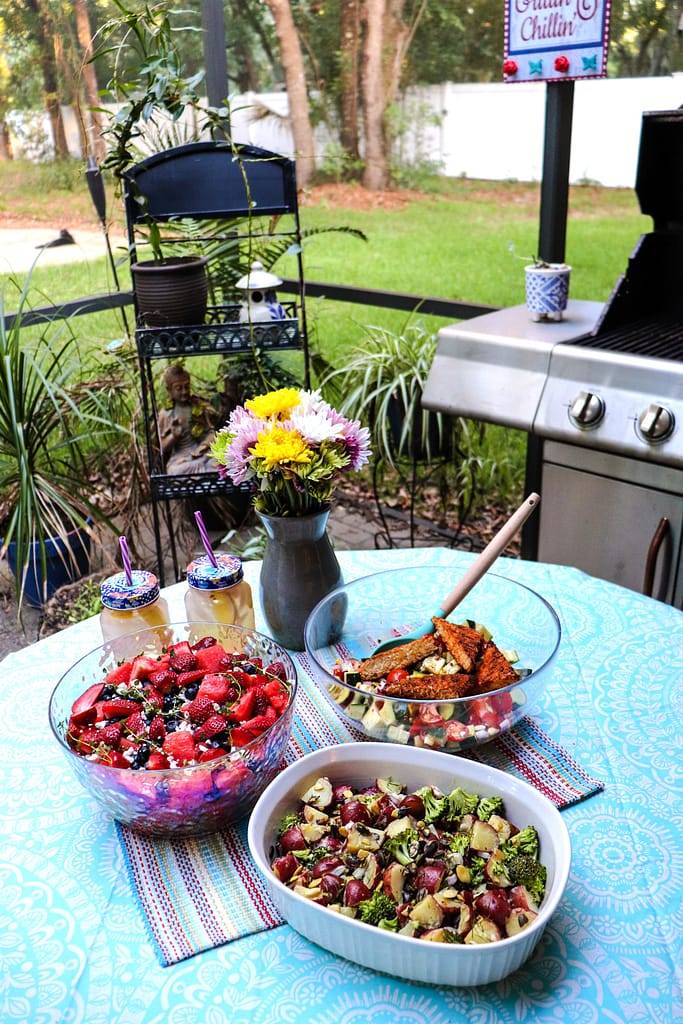 Given our situation, we can only make the best of it. This year, I think an outdoor barbeque (BBQ) or picnic is an excellent choice! Just last week our family bonded over launching model rockets and grilling at a park that just happened to have their fields open. Several of us mentioned that we ought to do that kind of thing more often. 😋🚀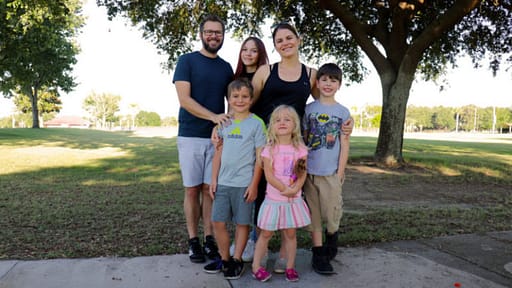 This Mother's Day, I suggest we all slow down and be present with our families with an outdoor BBQ or picnic and a few healthy dishes. You could even just spread a blanket out on the lawn. Kids love that!
The three healthy salads I have below are also relatively easy for even the novice cook. They also all have a vegan / vegetarian option. I made the dishes pictured here almost completely plant-based vegan barbeque salads. I hope your families enjoy them! I appreciate any feedback in the comments. 😄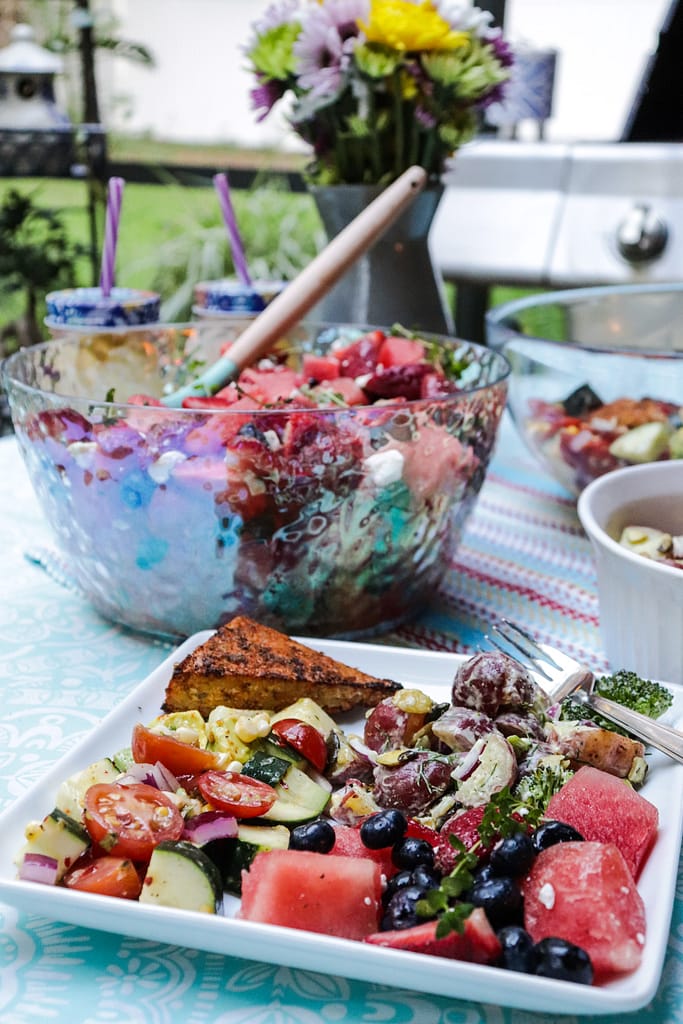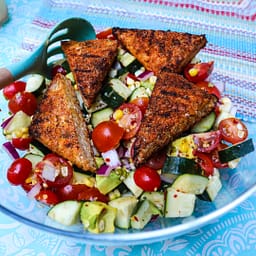 Grilled Cajun Chicken or Tempeh Salad
This is a healthy, whole food Cajun chicken or tempeh salad recipe you can make on the grill! It is abundantly composed of plant-based ingredients and more so if you omit the meat or substitute with a plant protein like tempeh. It is a delightful fusion of cajun grilled chicken or tempeh with the fresh taste of cilantro and lime. Grilled corn is absolutely delicious on this dish! If you choose to grill tempeh, marinate it in some of the lime cilantro dressing for at least 30 minutes prior, and perhaps cut it up into smaller pieces than I have pictured and toss with the sauce and salad for a little moisture. Tempeh tends to dry out on the grill.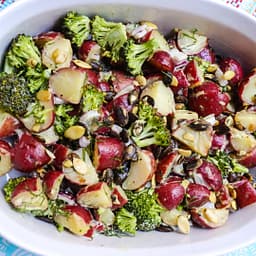 Vegan Red Potato Broccoli Salad
I created this red potato salad to be a little more unique than a traditional potato salad. I wanted to add some more healthy ingredients and some crunch to the salad, so I added fresh broccoli and topped with some sunflower seeds. When looking for a vegan mayonnaise, make sure it is made with clean ingredients! Mine is made with sunflower oil, aquafaba (the water beans were soaked in), distilled vinegar, salt, organic lemon juice, organic kombu seaweed, and white pepper. These are all recognizable ingredients without any additives.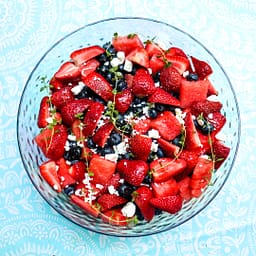 Watermelon Berry Fruit Salad with a Lemon Thyme Vinaigrette
Nothing says summer like fresh watermelon and berries! I walked into the store the other day to see a large yield of watermelons for sale, and knew it was the time to start experimenting with watermelon. I often prefer the taste of watermelon in a more savory dish, and it just so happens that it pairs well with feta. I have some lemon thyme in my herb garden that I love and figured would make a perfect dressing to tie all of the ingredients in this salad together: watermelon, strawberries, blueberries, and feta. You can use regular feta for vegetarian or a vegan feta for a vegan barbeque salad.
Watermelon Berry Fruit Salad with a Lemon Thyme Vinaigrette Recipe
Please let me know how this recipe goes when you make it! Post a picture and tag one of the below social media accounts:
Processing…
Success! You're on the list.
Whoops! There was an error and we couldn't process your subscription. Please reload the page and try again.
❤️❤️Read About Me for details about my health journey; and, make sure you remember to sign up for my Newsletter and follow me on social❤️❤️!

Supporting me is appreciated as I create content to support your health journey.