Looking for nutritious, yet refreshing summer breakfast ideas? I have something for you!
My coconut smoothie bowl is the perfect treat for those hotter summer days.
Made with just four ingredients (coconut meat and water, Greek yogurt and banana), this coconut-based smoothie bowl can be very easily personalized: choose the toppings you like the most and you will have a quick and healthy dessert-like breakfast!
Here, I opted for some chia seeds, rich in plant-based omega-3 fatty acids, and for some fruits. In particular, I used some diced strawberries, kiwi, and pineapple, which are fruits rich in vitamin C, particularly important to protect our skin from potential sun damage.
Moreover, the banana contained in this healthy smoothie bowl is a great source of potassium, a mineral which is particularly important in this season, as it acts as an electrolyte whilst promoting fluid balance, nerve signals, and muscle contractions.
Last but not least, this nutritious smoothie bowl is gluten-free, and can easily be made vegan: just swap the "regular" Greek yogurt with a plant-based one!
But did you also know that the coconut meat used for this easy summer breakfast idea is a great ally for our overall health? And that coconut fats are way healthier than animal ones? Let's learn more!
Coconut Smoothie Bowl: what about coconut fats?
Coconut meat is the white, fresh flesh inside a coconut. This ingredient is a great addition to our smoothies, as its high-fat content helps create a creamier and denser texture.
However, some people may be concerned by the fact that around 89% of the fat in coconut meat is saturated, and therefore could raise our cholesterol levels in a similar way to animal fats, such as butter, and lard.
However, there is good news for you! Indeed, coconut fats are way healthier than animal ones. The reason is that coconut meat contains a unique type of medium chain saturated fat (MCTs), also called lauric acid. Researches show that this type of fat can raise HDL or "good" cholesterol levels, which may lower overall heart disease risk.
Moreover, coconut meat is a plant food that also contains disease-fighting phytochemicals or antioxidants, which may aid in the prevention of chronic disease, as well as several other precious minerals and vitamins, such as manganese, copper, iron, and selenium.
Nevertheless, as with everything, moderation is always the way to go! My suggestion here is to keep saturated fat to less than 10% of our daily caloric intake and to alternate our fat sources. But this goes for everything, not only coconut meat.
Moreover, by adding the frozen banana to our smoothie, it is possible to reach the perfect texture and taste with just 30 grams of coconut meat, which can be easily inserted into our daily diet!
Looking for more useful information -and some delicious recipes- about coconut? Here is something for you!
And if you want to know more about the amazing benefits of chia seeds, this article is for you!
Social Buzz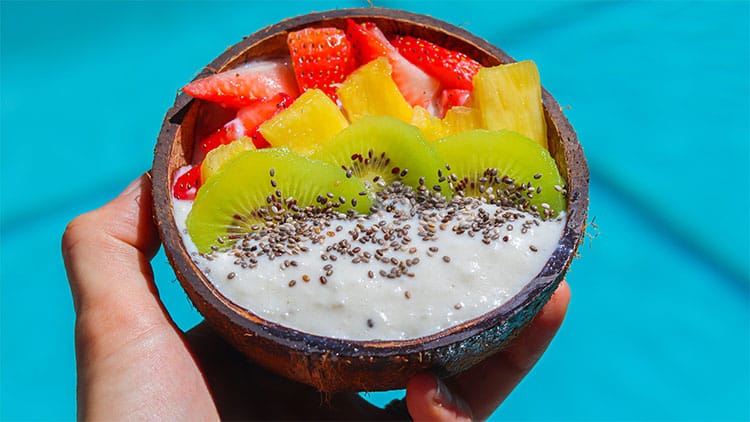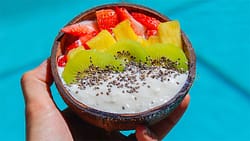 Coconut Smoothie Bowl
Yum
Looking for nutritious, yet refreshing summer breakfast ideas? My coconut smoothie bowl is the perfect treat for those hotter summer days.
Instructions
Blend all smoothie ingredients, adding only a small amount of coconut water at a time to ensure it is thick enough for toppings to sit on top of and not sink.

Pour carefully into a bowl. I used half of a coconut shell as a bowl!

Top with the toppings suggested or your own tropical favorites!
Notes


Nutrition
Nutrition Facts
Coconut Smoothie Bowl
Amount per Serving
% Daily Value*
* Percent Daily Values are based on a 2000 calorie diet.
❤️❤️Read About Me for details about my health journey; and, make sure you remember to sign up for my Newsletter and follow me on social❤️❤️!

Supporting me is appreciated as I create content to support your health journey.