Have you ever wished you could have your morning coffee and breakfast at the same time!? Craving a nice kick to get you through your active morning? Dalgona whipped coffee is trending right now, so I gave it a whirl and I both made and used it a little differently. This is not just a coffee beverage, it is a whipped coffee chocolate breakfast bowl!
Note: this recipe is heavy in calories and carbohydrates, so it is intended for times when you need extra energy, such as before endurance activity! To make it lighter, you can swap out the granola for plain or low sugar oatmeal.
Whipped coffee is usually made with instant coffee, sugar, and hot water. I came up with a less processed and lower-sugar whipped coffee alternative that is sweetened with honey instead of sugar. Whipped coffee is quite bitter on its own without a high amount of sugar, so I also added cocoa powder to cut down on the bitterness of the coffee taste. The chocolate also replaces some of the coffee in the recipe thus alleviating some caffeine – but don't worry there is plenty of it in this recipe. Finally, chocolate just compliments the other ingredients in the bowl, and it's my favorite!
If you love chocolate and would like to check out a similar recipe, check out my Date Energy Bars and my Tart Cherry Chocolate Energy Bars!
How to Make It
It's really quite simple to make whipped coffee… if you have an electric mixer that is. I've heard of people hand whipping it until utter fatigue. Do yourself a favor if you ever make anything whipped. Get an electric mixer or inversion bowl. I honestly have made it this long without one, but I also haven't successfully made cream whip or anything else whipped. So just for this recipe, I bought one at the store. You can get the same one, a Cuisinart one, on Amazon!
Does this whipped coffee recipe have to be made with instant coffee?
I've heard that other people are able to get the cocoa powder to whip without the coffee but that it takes significantly longer. Like 20 minutes. I am struggling to find the reasoning behind this. I did notice that it seemed important how much moisture was combined with the dry ingredients. Since making this with honey makes the mixture moister and thus harder to whip, I added more dry ingredients. The reason the instant coffee whips well has much to do with the drying process of the coffee granules. Mixing cocoa with instant coffee and swapping honey for sugar produced a similar, pudding-like result.
Is this whipped coffee healthy?
This version of whipped coffee is a healthy alternative to the original one, as it contains half as much sweetener as well as is a natural sweetener. There are lots of studies that say coffee is beneficial as it helps you perform athletically, and focus, and gives you higher energy levels1. It also contains a lot of nutrients and fiber. Everything is in moderation though… I tend to get really bad anxiety when I overdo coffee. Coffee is also a diuretic, so you can become dehydrated by drinking too much of it.
Cocoa also has numerous benefits, including being high in antioxidants among other benefits 2. Remove the fat and dairy from a chocolate bar, and it would be a lot more healthy! I like to find creative ways to enjoy cocoa powder to get my chocolate fix.
Is this whipped coffee less sugar, low sugar, or no sugar?
My version of whipped coffee has half the sweetener and comes from a natural source. However, the body still metabolizes it like sugar – quickly accessible carbohydrates. So, I would say my version is less sugar, not low or no sugar.
Can I make a large batch of whipped coffee and store the leftovers?
You can make extra and it can be stored in the fridge for up to 5 days.
Can I put whipped coffee in the blender?
I have not tried to put whipped coffee in the blender, as I was unsuccessful in making whipped cream that way in the past. Though I see other food bloggers are able to make this method work. I would say try it on the low setting and stop to check it often.
How much caffeine is in this whipped coffee?
170 mg of caffeine per tablespoon according to the USDA4. If you are caffeine sensitive might want to have less than a serving instead!
How long does whipped coffee take?
With an electric mixer, it should only take a few minutes unless you modify the recipe to have a different ratio of wet to dry or the water isn't hot enough to dissolve the other ingredients.
What is Dalgona coffee? Where did Dalgona coffee come from?
Dalgona coffee is a homemade version of beaten coffee that has gone viral during the coronavirus pandemic (which is going on right now as of this writing) with the social distance orders 3. The trend originated in South Korea but has since spread. I'm guessing people are home bored playing around with their food. It's a perfect time to learn to cook!
References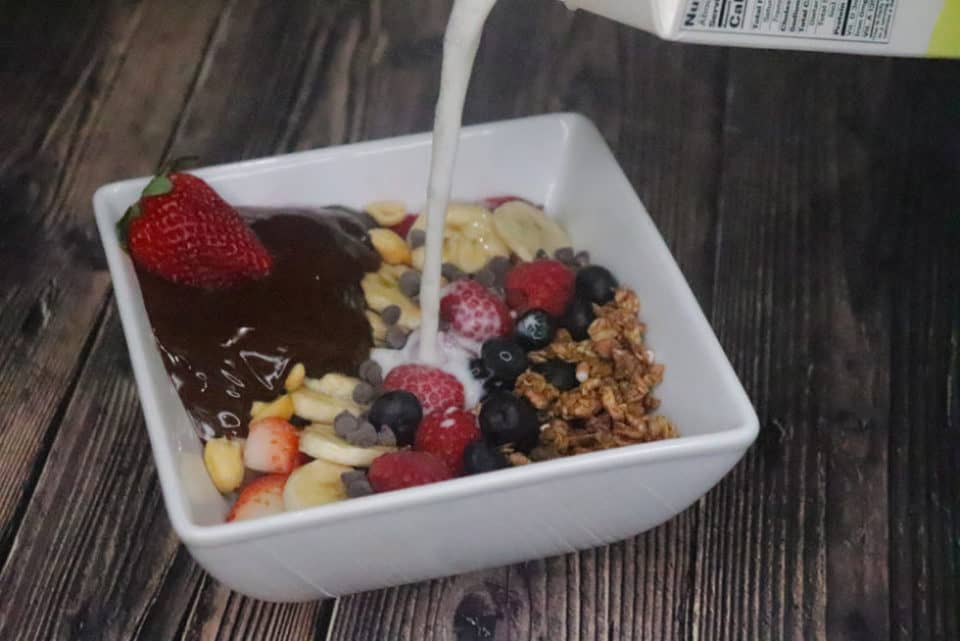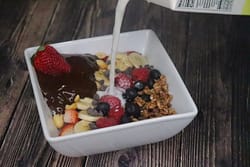 Whipped Coffee Chocolate Breakfast Bowl
Yum
The whipped coffee trend just got healthy and tasty in this plant-based vegan breakfast bowl!
Instructions
Heat up a cup of water to boiling

Add cocoa powder and instant coffee to a medium bowl.

Add hot water and stir a little until just combined, and then add the honey.

Whip the concoction with an electric beater or immersion blender with the whisk attachment. I've heard back and forth motion is best. This might take at least a few minutes to get a good pudding-like whipped consistency.

Pour some granola into a bowl, top with sliced banana, blueberries, raspberries, strawberries, peanuts, and dark chocolate morsels. You can improvise on these ingredients if you would like.

Scoop half of the whipped coffee chocolate "pudding" into the bowl.

Pour almond, coconut, soy, oat, or other non-dairy alternative into the bowl. Mix the whipped coffee cocoa into the other ingredients as it's potent on it's own!

Enjoy that energy and buzz! 😉
Nutrition
Nutrition Facts
Whipped Coffee Chocolate Breakfast Bowl
Amount per Serving
% Daily Value*
* Percent Daily Values are based on a 2000 calorie diet.
Nutrition Facts

Servings

2.0

Amount Per Serving
calories

645

% Daily Value *
Total Fat

20

g

30

%

Saturated Fat

5

g

27

%

Monounsaturated Fat

5

g

Polyunsaturated Fat

4

g

Trans Fat

0

g

Cholesterol

0

mg

0

%

Sodium

243

mg

10

%

Potassium

1093

mg

31

%

Total Carbohydrate

103

g

34

%

Dietary Fiber

22

g

86

%

Sugars

55

g

Protein

16

g

33

%

Vitamin A

11

%

Vitamin C

62

%

Calcium

70

%

Iron

32

%

* The Percent Daily Values are based on a 2,000 calorie diet, so your values may change depending on your calorie needs. The values here may not be 100% accurate because the recipes have not been professionally evaluated nor have they been evaluated by the U.S. FDA.
❤️❤️Read About Me for details about my health journey; and, make sure you remember to sign up for my Newsletter and follow me on social❤️❤️!

Supporting me is appreciated as I create content to support your health journey.