It is the peak of asparagus season with the end of it looming over us! Now is the time to cook asparagus! I was inspired to make this balsamic asparagus and mushrooms recipe by a balsamic chicken and mushrooms dish I have found on Pinterest and made several times. My recipe is different in that it has a touch of lemon, lemon thyme, asparagus, and more plant-based ingredients.
Asparagus and Mushrooms with Chicken or Tofu?
Now, I know you're wondering, why does this recipe have chicken when my last several recipes have been vegan? My philosophy is that it's important to eat plant-based meals and to eat mostly plants. I don't want to intimidate those just getting started with a plant-based diet from shifting to a more plant-based but not totally vegan diet. However, if you don't know already, there are studies that say eating chicken once or more a week can triple your risk of getting colon cancer 1. So it's best to start moving away from the meat!
If you're completely or mostly vegan in diet, such as myself, you can replace the chicken with tofu in this recipe or eliminate it all together. Mushrooms make a nice feature to a dish every time!
Why Balsamic Asparagus and Mushrooms are Healthy
Mushrooms are a superfood with so many nutritional and holistic medicinal benefits4! Asparagus is packed with nutrients and vitamins, such as folate, vitamin A, vitamin C, vitamin E, and vitamin K. Moreover, it contains chromium, a mineral that enhances the ability of insulin to transport glucose from the bloodstream into cells5.
The way I'd like to serve this dish is over wild rice, which is both double the protein as well as a complete protein (containing all essential amino acids). You can also choose to serve over multigrain or brown rice which contains a comparable amount of fiber and minerals.
I love balsamic! It is pretty much the only thing I put on my salads now. This balsamic sauce concoction reduces down a bit to make a nice sauce for the rice. Make sure you scoop some extra sauce on your dish! Moreover, it can help improve your skin, reduce your blood sugar, and aid in healthy weight loss 3.
If you like this recipe (which I know you will)… check out a few of my other most recent dinner recipes!
If you want to find out more about the benefits of incorporating lemon into your everyday diet, check out this article!
References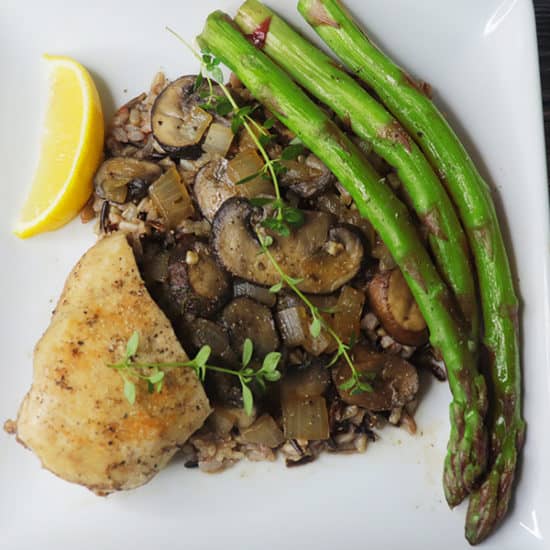 Balsamic Asparagus and Mushrooms with Lemon & Thyme
Yum
This savory plant-based dish can be made in one pot with chicken or tofu, asparagus, mushrooms, and a delicious balsamic lemon thyme reduction!
Instructions
Cook rice according to package instructions.

Season the chicken or tofu blocks with salt and pepper. Heat the olive oil over medium high heat. Add the chicken or tofu and sear on both sides until golden brown, about 2-3 minutes. Remove and set aside.

Add the garlic, mushrooms, asparagus, and onions to the skillet and cook for 3-4 minutes until vegetables begin to soften.

Add the vegetable broth, balsamic vinegar, lemon juice, and thyme to the skillet. Stir and scrape any browned bits off the bottom of the pan. Add the chicken or tofu and let simmer for 10-15 minutes on low heat or until chicken is fully cooked (if you used chicken).
Notes
Nutrition
Nutrition Facts
Balsamic Asparagus and Mushrooms with Lemon & Thyme
Amount per Serving
% Daily Value*
* Percent Daily Values are based on a 2000 calorie diet.
❤️❤️Read About Me for details about my health journey; and, make sure you remember to sign up for my Newsletter and follow me on social❤️❤️!

Supporting me is appreciated as I create content to support your health journey.