These are a clean, whole food energy bar which should be eaten around or during (if your stomach can handle it) your long or intense endurance workouts. The dried tart cherries are great for their anti-inflammatory properties!
I was inspired to make these because as a Florida resident, hurricane Dorian is in route to hit us in a couple days. These could potentially double as a meal replacement should the power go out, but NOT to be grazed on as a "hurricane snack"!
I advise that you get your honey raw and local as mass produced honey can be diluted with high fructose corn syrup or other artificial sweeteners as well as filtered of the pollen which has natural antioxidant and antibiotic properties. I chose dark chocolate chips versus milk chocolate chips because dark chocolate tends to be lower in added sugar and higher in fiber and other nutrients.
I have added the nutrition facts to MyFitnessPal, if you use that or would like to look at what these contain search "Endurance Eats With Caitlin – Tart Cherry Chocolate Got-no-energy Bars". They are ~300 calories, 36 grams of carbohydrate, and 12 grams protein for each bar (the recipe makes 12).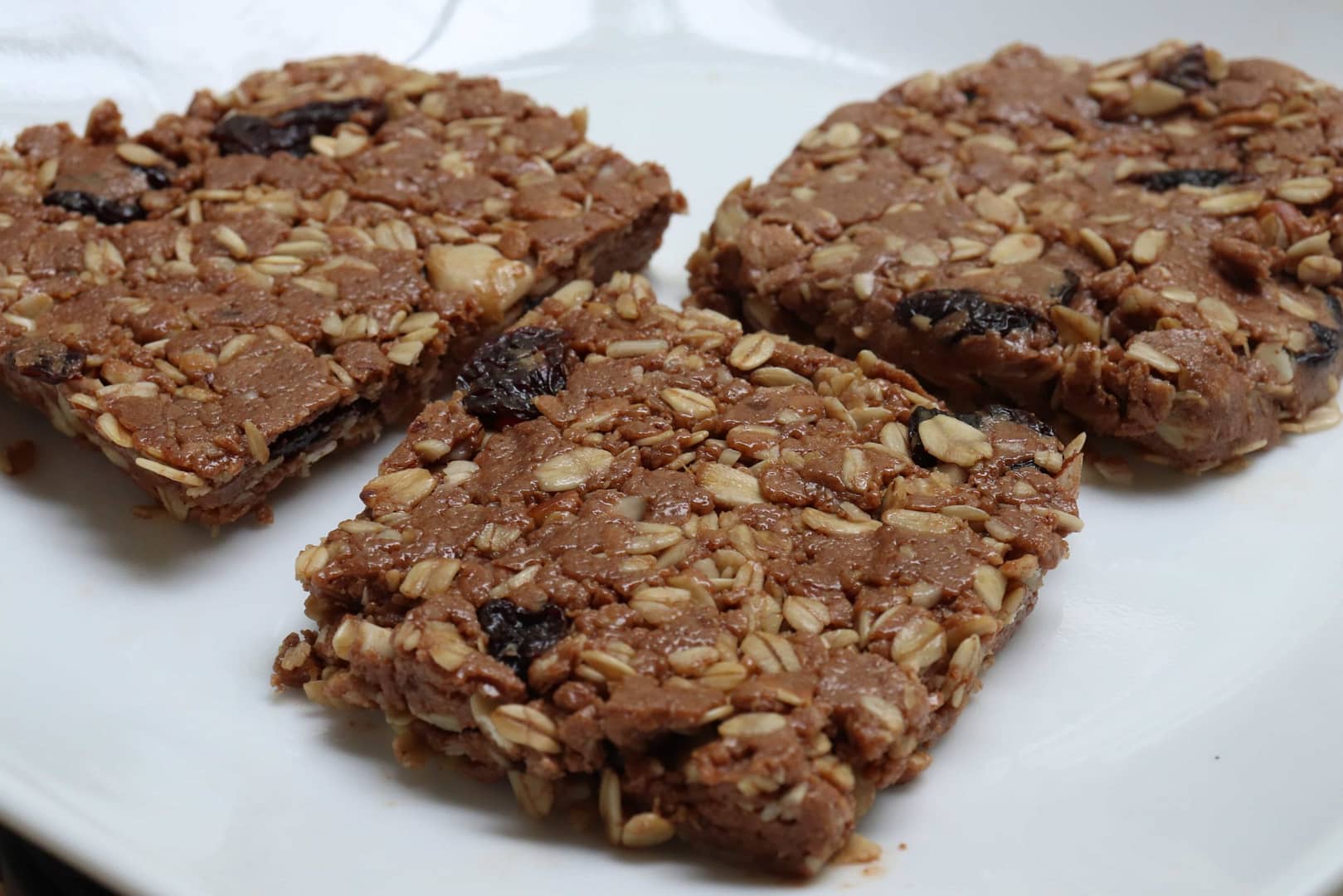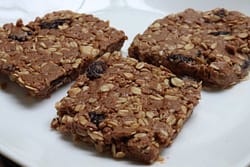 Tart Cherry Chocolate Got-No-Energy Bars
Yum
An energy bar for around or during your long or intense endurance workouts, or a meal replacement!
Instructions
Combine Dry Ingredients on Low Dough setting of processor with dough blade or mix with a hand mixer in a large bowl – oats, flaxseed meal, protein powder, sliced almonds, dark chocolate chips, and dried tart cherries.





Combine wet ingredients and microwave in 30 second increments until easy to mix – almond extract, raw honey, and almond butter

Pour wet ingredients over dry ingredients and process on low dough with the processor until well combined. Use your hands to combine if needed.

Press hard into baking pan sprayed with cooking spray and lined with wax paper.

Chill 30 minutes to an hour or until hard enough to cut easily without breaking apart.

Remove from fridge and cut into 12 rectangle bars. Store in the refrigerator.
Nutrition
Nutrition Facts
Tart Cherry Chocolate Got-No-Energy Bars
Amount per Serving
% Daily Value*
* Percent Daily Values are based on a 2000 calorie diet.