Craving pumpkin pie as fall season approaches and also looking for a quick and easy whole food recipe for an on-the-go breakfast, healthy dessert, or snack? Look no further! These pumpkin oatmeal cookies (with an optional addition of dark chocolate) will become one of your favorite healthy pumpkin recipes, and even one of your favorite healthy pumpkin desserts. Curb those pumpkin pie cravings with these healthy pumpkin cookies as an alternative to the traditional dessert!

Pumpkin Oatmeal Cookies – A Healthy Alternative
Oatmeal and oatmeal cookies often contain way too much sugar. Often cookies contain oil as well. Take away most of the sugar and all of the oil and your left with the ingredients that are good for your health.
The usual pumpkin treats are full of sugar as well. Pumpkin pie contains 25 grams of sugar per slice and a Starbucks pumpkin latte contains 50 grams of sugar! To put this in perspective that is six teaspoons and four tablespoons of sugar, respectively. Imagine putting six tablespoons of sugar in a cup and eating it. Not good for you! Consider enjoying one of these chewy pumpkin cookies with low sugar instead. 😋
Oats Are Super Nutritious
There are numerous benefits to eating oats. Oats are rich in "good" carbs and fiber, but also higher in protein and fat than most other grains. They are very high in many vitamins and minerals – such as Manganese and Vitamin B1 (among many others). Oats have antioxidants so powerful they can help with reducing blood pressure as well as other benefits. Oats can help control blood sugar, or even help with weight loss. [1]
Almonds – In Moderation!
Almonds contain unsaturated fats that when consumed in moderation, can help you improve your blood cholesterol. I emphasize "moderation" because your body needs a small amount of this fat but don't eat the whole bag of almonds or almond flour (I struggle with this myself)! Remember that almond flour is broken down, so there are many almonds per cup of flour. However, almonds can help lower your risk for cancer and heart disease, partially due to their high Vitamin E content which helps prevent oxidative damage to the body. [2]
Pumpkin
Pumpkin is low in calories but certainly not low in nutrition. Pumpkin is high in vitamins and minerals as well as beta-carotene, a carotenoid that is converted into vitamin A. Pumpkins also contain carotenoids, which function as antioxidants that can lower the risk of several types of cancer. Finally, if you're trying to lose weight, its high fiber content will help suppress your appetite. Don't start thinking pumpkin junk food is healthy though – a pumpkin latte is still loaded with sugar! [6]
Spices
Many spices are anti-inflammatory and contain antioxidants and some come with additional benefits. Cinnamon can also fend off free radicals and fight bacteria; Ginger can help ease an upset stomach [3]; Cloves are a rich source of Manganese [4]; and, nutmeg can increase libido [5]. Don't expect that a little bit is going to get you excited though! 😜
To Add Chocolate, Or Not To Add It?
While dark semi-sweet chocolate do contain 7 grams of sugar per tablespoon, there are numerous benefits to chocolate. The most note-able is that chocolate is a powerful source of antioxidants, provided it has a high cocoa content. So I would say if you are able to eat small amounts of sugar, this addition to the pumpkin cookies is worth the flavor enhancement. Especially, if you are obsessed with chocolate like me. These pumpkin oatmeal chocolate chip cookies are the bomb!
Special Diets
This healthy oatmeal cookie recipe is friendly to the following diets: whole food plant based, vegan, vegetarian, and gluten-free. These vegan pumpkin cookies are also an excellent carbohydrate source for runners, cyclists, and other endurance athletes to consume before or during a workout.
Easy Pumpkin Dessert with Few Ingredients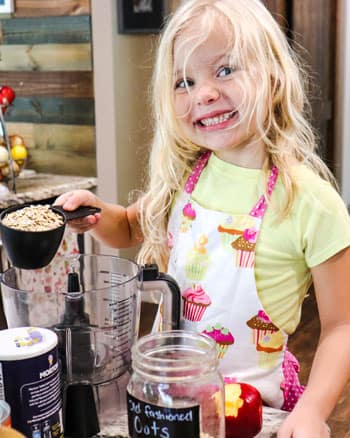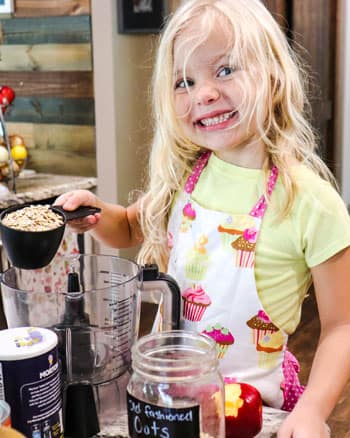 These cookies only involve five minutes of prep and about 30 minutes in the oven! They also only require five ingredients in addition to the spices. I had my little sidekick help me bake these cookies. One of my other kids said they were the best cookies he's ever had. Exaggeration? Perhaps, but he gets brownie points! 😄
For complete instructions for this recipe, view the recipe card below. I have some process pictures here in case you need a visual of how the cookies should look.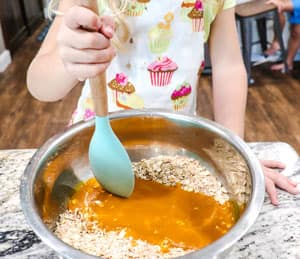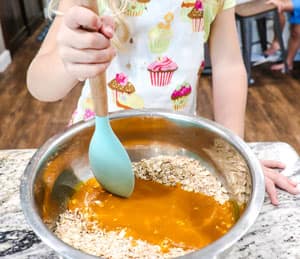 First you will mix all the wet ingredients in one bowl and the dry in another. You will then pour the wet ingredients into the dry ingredients and fold them together. Folding prevents bubbles, but you most likely won't have to worry about that since these cookies are pretty dense!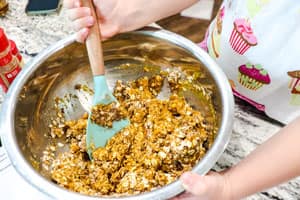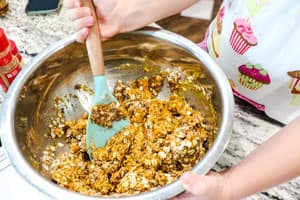 Once the wet and dry ingredients are mixed, this is what the batter should look like.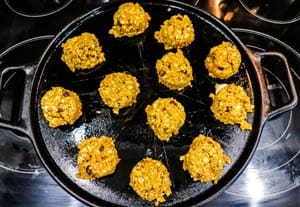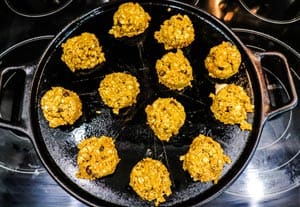 When you put the batter on the cookie sheet, space them out about an inch. I ran out of room so mine were a little closer together in some areas. That's okay, we will need room to press them down but they won't rise a whole lot while cooking. I used a quarter measuring cup, but you can also use an ice cream scoop! These cookies are pretty big, so feel free to make them smaller if you would like. I would just cook them for a slightly shorter duration, like max of 30 min if you are going to make smaller cookies). This size is perfect as a breakfast on-the-go!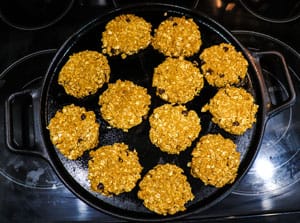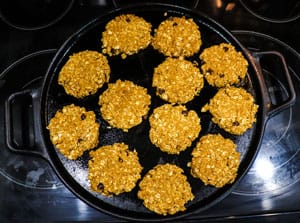 Here is what the cookies look like when I press them down with the flat end of a fork. Again, the cookies don't rise a whole lot, so even a small amount of space between should be okay. 👍 A side note: my cookie sheet did not fit all of the cookies, so there are actually more than are shown here. The recipe makes about 14 to 16 large cookies.
If you love this recipe, be sure to check out my other recipes! This Roasted Sweet Potato and Beet Salad is excellent for the Fall season!
Please let me know how this recipe goes when you make it! Post a picture and tag one of the below social media accounts: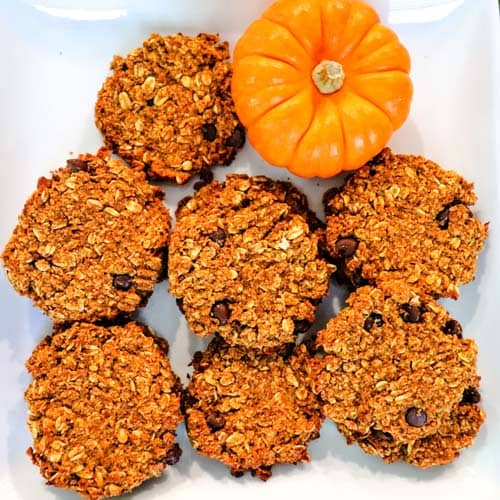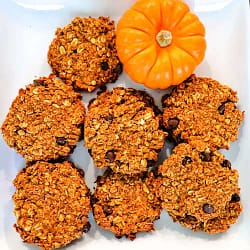 Pumpkin Pie Oatmeal Cookies
Yum
These pumpkin oatmeal cookies will curb your cravings for pumpkin pie and is a great on-the-go healthy breakfast, snack, or dessert!
Instructions
Preheat oven to 350 degrees. Line baking sheet with parchment paper or spray with cooking spray.

Pulse the oats in food processor until roughly chopped. Put in a mixing bowl and mix with all of the other dry ingredients: almond flour, salt, baking powder, cinnamon, ginger, cloves, and nutmeg.

In a separate bowl, wisk all of the wet ingredients together: pumpkin and maple syrup.

Fold wet ingredients into dry ingredients and blend. Add chocolate chips if you would like!

Use a 1/4 measuring cup to drop the batter onto the baking sheet. Space one inch apart and press down lightly.

Bake in the center of the oven for 30-35 minutes or until sides and bottom are golden brown.
Nutrition
Serving:
1
cookie
Sodium:
61
mg
Calcium:
34
mg
Sugar:
8.7
g
Fiber:
3.6
g
Potassium:
149
mg
Calories:
166
kcal
Saturated Fat:
0.8
g
Fat:
3.4
g
Protein:
4.4
g
Carbohydrates:
29.5
g
Iron:
2
mg