If you are interested in discovering all the health benefits of pumpkins, then keep reading this article! By the end, you will have become a true pumpkin expert! Scroll to the bottom for my delicious pumpkin recipes!
Pumpkin season is coming! Whether you are thrilled about the beginning of the spookiest months of the year, or you are mourning the end of the summer holiday, this delicious vegetable is there to comfort you 🎃.
Lattes, stews, soups, and even desserts... everything is better if it tastes like pumpkin spice! But what is even better is that pumpkins are actually a powerhouse of nutrients for our bodies – even the seeds are packed full of minerals and vitamins. Indeed, the health benefits of pumpkins are so numerous that an article might not be enough!
But for now, let's explore the top 5 health benefits of pumpkins and pumpkin seeds, as well as some useful suggestions on how to coltivate this amazing vegetable and some delicious pumpkin recipes.

The Top 5 Health Benefits of Pumpkins
1. Immune system support!
Among the top health benefits of pumpkins are their immune support properties. Indeed, as indicated by their bright orange color, pumpkins contain beta-carotene, a precursor in the formation of vitamin A.
In turn, research has demonstrated that vitamin A plays an important role in promoting immune function. As a matter of fact, it helps our body fight infections and is especially important for strengthening the intestinal mucosa, which makes it more resistant to infections and inflammation.
Moreover, the vitamin C contained in pumpkins contributes to immune activity by promoting immune cell activity and increasing the white blood cell count and size.
2. A true ally against the dangers of metabolic syndrome!
Metabolic syndrome is the medical term that identifies "First World" health conditions such as Type-2 diabetes, high blood pressure, and obesity. These conditions may increase the risk of heart and coronary diseases and strokes.
Luckily, studies have found that pumpkins are a valid ally in preventing and combating it. Again, researchers have found that diets high in carotenoids may help prevent the development of metabolic syndrome.
Moreover, pumpkin seeds may play a role as well in the prevention of this syndrome. More in particular, some studies conducted on rats have shown that the bioactive compounds contained in the seeds might protect against diet-induced metabolic syndrome by improving insulin resistance and markers of oxidative stress and inflammation. However, more studies conducted on humans are needed in this regard.
3. Better skin!
Pumpkin is your best friend when it comes to having a better skin texture and tone! Indeed, pumpkins contain several antioxidants that are essential for skin health. The most prominent ones are beta-carotene, and vitamins C and E.
In particular, beta-carotene protects the skin from the sun's ultraviolet (UV) rays, and may also help improve the appearance and texture of the skin. In addition, it can protect the epidermis (your skin) from radical damage which is responsible for causing wrinkles and even skin cancer.
Similarly, vitamins C and E also have antioxidant properties and are common ingredients in the cosmetic industry. Indeed, they help to promote the production of collagen, thus improving your skin tone and elasticity.
To reap all these benefits, the suggestion is to not only eat pumpkin (and other beta-carotene rich foods) but also to topically apply products that contain these active compounds. An example is pumpkin seed oil, which can be used to moisturize dry skin types and can also enhance your skin tone and treat any discolorations.
4. The health benefits of pumpkins for your hair care!
Pumpkin is a rich source of minerals including potassium and zinc. Potassium assists in maintaining the hair thick and healthy and in promoting a faster re-growth. On the other hand, zinc helps with collagen production, playing an important role in promoting healthy hair.
Moreover, pumpkins contain also Biotin (B-7), a B-group vitamin known for promoting hair growth. Indeed, B-7 aids in the production of keratin which is the protein that is within our hair strands.
Pumpkin seeds can promote hair growth as well, as they contain a natural steroid called delta-7 stearine, which blocks DHT (an androgen that can shrink the hair follicles) buildup in the hair follicle. Last but not least, pumpkin seeds oil is also known to stimulate hair growth by improving blood circulation.
5. Are pumpkins good for weight loss? Absolutely yes!
Whether pumpkin is good or bad for weight loss is an incredibly popular question. The reason is that pumpkin is a very sweet and filling vegetable, that can easily be confused for a starchy, calorically-dense carbohydrate. However, this is not the case at all!
There aren't necessarily good or bad foods when trying to lose weight, but it all depends on the portions and frequency of what we consume. Pumpkins are actually a nutritionally-dense and filling food that can be easily inserted into a weight loss regime.
Indeed, pumpkin is incredibly low in calories and carbohydrates despite being packed with nutrients. It has less than 50 calories per cup (245 grams) and is made of about 90% water. It is also an excellent source of fiber, which can help reduce appetite and promote optimal digestion. (More nutritional info down below).
Pumpkin can also be consumed by diabetic people. Indeed, while it has a high glycemic index, its glycemic load is pretty low, meaning that it's unlikely to have a significant effect on blood sugar levels as long as it is consumed in moderation. Moreover, pumpkins are rich in nutrients and compounds that can support blood sugar control.

Can you eat the peel and seeds of pumpkins?
Pumpkins seeds and peel are not only edible, but they are also rich in precious benefits.
Indeed, consuming pumpkin peel (obviously, cooked) can benefit skin hydration and reduce the appearance of wrinkles. It can also improve skin brightness and lightens the appearance of pigmentation.
Similarly, pumpkin seeds are small nutritional bombs, that can be consumed as a healthy snack, or as a topping for salads or smoothie bowls. They are rich in unsaturated fatty acids and contain a good amount of magnesium, phosphorus, manganese, zinc, copper, and iron. In particular, magnesium is responsible for maintaining optimal blood pressure, and heart health, and for promoting good quality sleep. Pumpkin seeds oil is instead great in promoting better skin tone, stronger nails, and shinier hair.
Pumpkins: Some Nutrition Facts
Pumpkin is a very nutritious food. It has few calories but is rich in vitamins and minerals, also found in its seeds and leaves. Besides, pumpkin seeds are high in fat and low in carbohydrates and are great as a snack, especially for athletes and those who are active.
One cup (245 grams) of canned pumpkin provides:
Calories: 137
Protein: 3 grams
Fat: 7 grams
Carbs: 19 grams
Fiber: 7 grams
Vitamin A: 209% of the Daily Value (DV)
Vitamin K: 37% of the DV
Copper: 28% of the DV
Vitamin E: 22% of the DV
Iron: 18% of the DV
Magnesium: 13% of the DV
Riboflavin: 10% of the DV
Vitamin B6: 10% of the DV
Vitamin C: 10% of the DV
Potassium: 10% of the DV
Interesting Facts About Pumpkin
Each pumpkin contains around 500 seeds
Pumpkins are technically fruits.
The word pumpkin originates from the Greek word pepon, which means large melon (indeed, they come from the same family, Cucurbitaceae).
Pumpkin flowers are edible and are often served in Italian restaurants, filled with mozzarella cheese and anchovies.
The largest pumpkin was grown in Italy and weighed about 2,700 pounds (or 1226 kg).
Ingredients Selection Tips
The first thing to take into consideration when buying an uncut pumpkin is its skin. The skin of a good and fresh pumpkin should be firm and tight without any major damage on the surface.
If you buy a peeled pumpkin, the fleshy part should have a characteristic strong orange color, and be slightly slippery in the hands.
When buying pumpkin seeds, make sure they are dark green in color, with a pleasant nutty taste and smell. Also pay attention to how the seeds are packaged and stored.
Cultivation
Today, pumpkin is grown both in smaller areas, such as gardens as well as in larger areas for industrial production. The seeds are generally planted in late Spring, and the harvesting takes place between the end of August and the beginning of the cold season.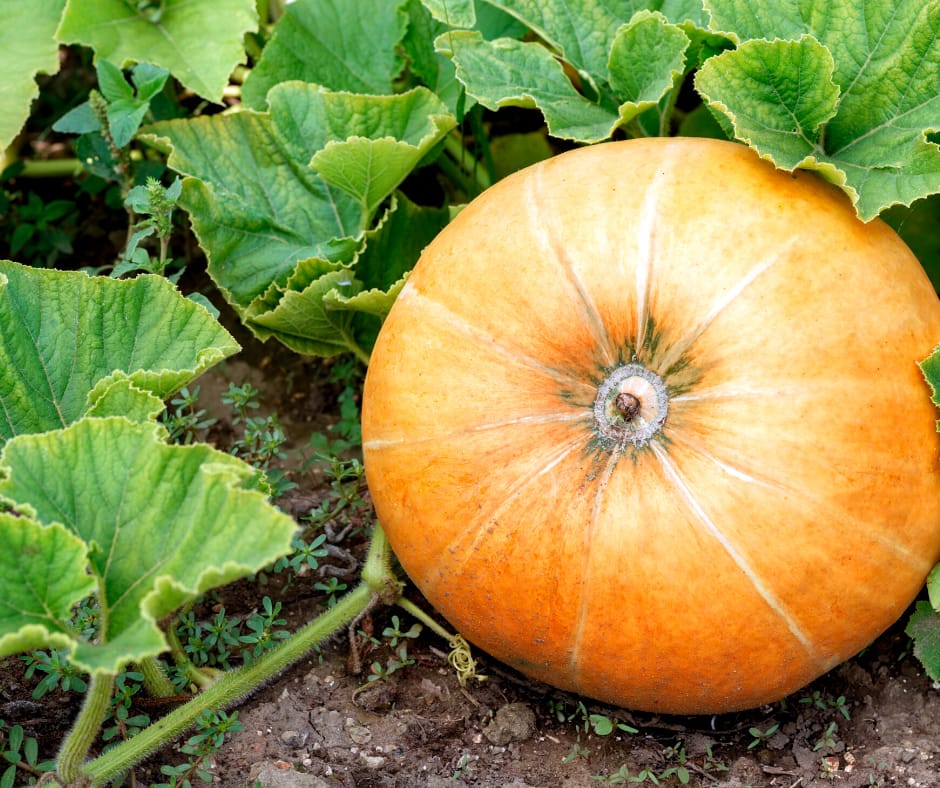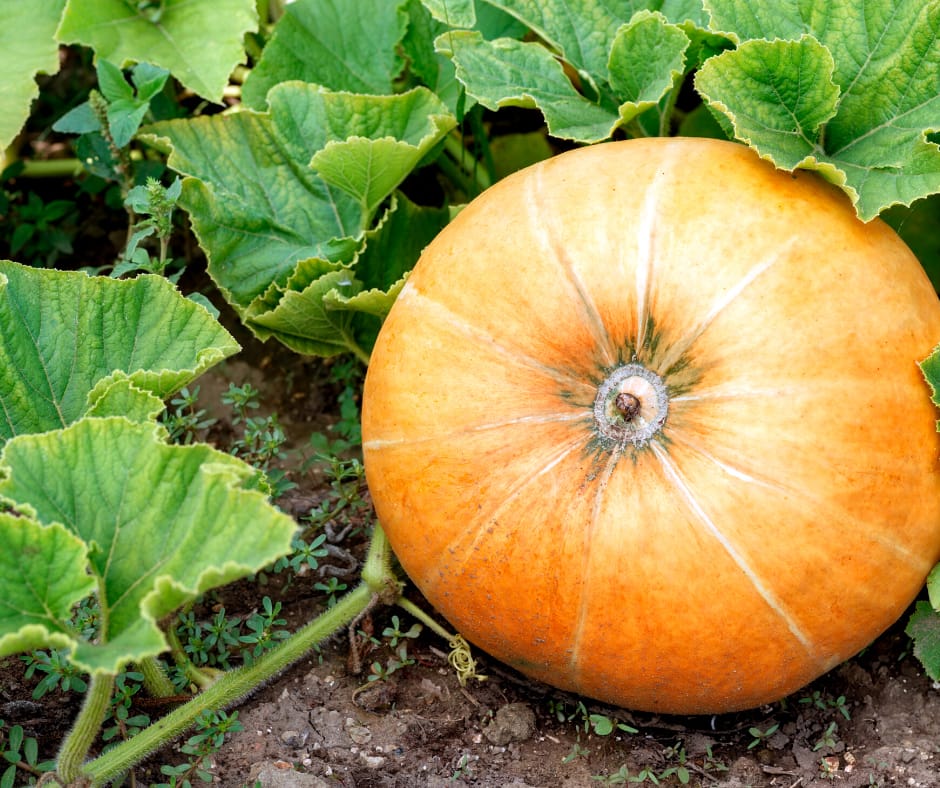 If you want to grow a pumpkin in your garden, make sure that the distance between the plant and your house is at least 1m. Indeed, pumpkins can develop a long leaf system very quickly, that can be up to 10 meters long.
Moreover, pumpkin roots are mostly on the surface. Therefore, you should not give too much water to the plants, especially on hot summer days. When it's time to harvest, it is suggested to cut the pumpkin with a stem of a few centimeters long. This way, the stem will extend the life of the pumpkin.
Some Easy Recipes with Pumpkins
There are many different ways to incorporate pumpkin into your diet, such as in stews, soups, salads, and even desserts.
Personally, I love using it in both savory dishes, such as in this Curried Pumpkin Lentil Soup, and pumpkin seeds in this Vegan Red Potato Broccoli Salad.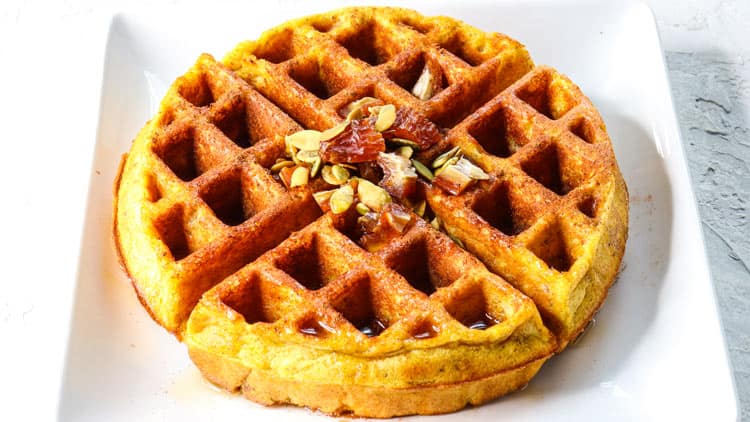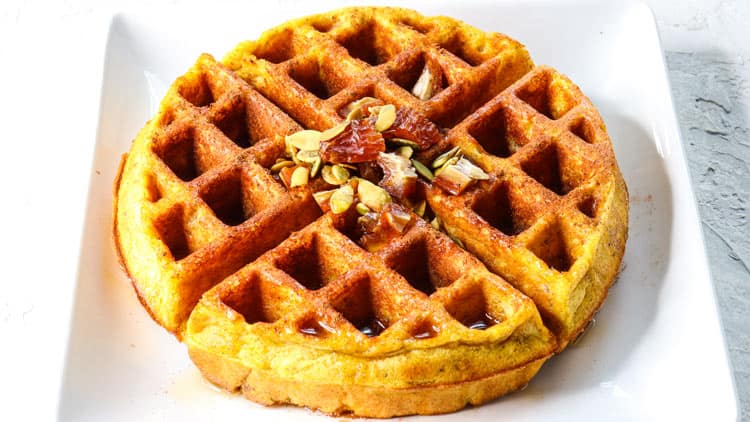 As well as in sweet breakfasts and desserts, like in these Pumpkin Spice Protein Waffles, Pumpkin Spice Overnight Oat Parfait, and Pumpkin Pie Oatmeal Cookies. I even love to use pumpkin purée in lattes, such as here Pumpkin Spice Latte Syrup.
Please let us know in the comments how you like to use pumpkin flesh and seeds! 🎃😀
Social Buzz
Curried Pumpkin Lentil Soup
Can you feel that beautiful smell? 😋 Can you hear that crackling fire? Cold days are coming, so arm yourself with delicious, healthy, and warm recipes like this Curried Pumpkin Lentil Soup.
Check out this recipe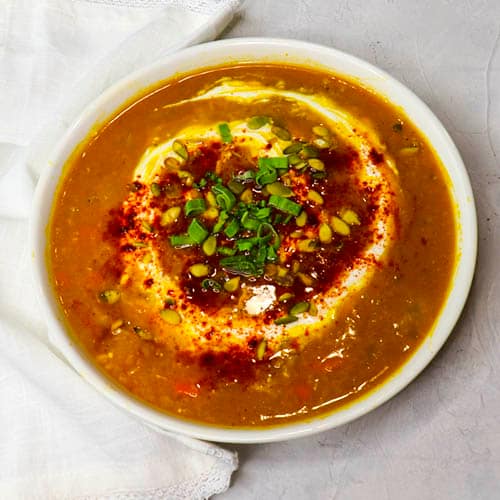 Pumpkin Spice Protein Waffles
Loving these Plant-Based Pumpkin Spice Protein Waffles!! These are way healthier than traditional waffles and satisfy that itch for Fall Pumpkin Spice! Makes 4 very large Belgian waffles or ~8 small ones. Are you addicted to the smells and tastes of fall like me!?
Check out this recipe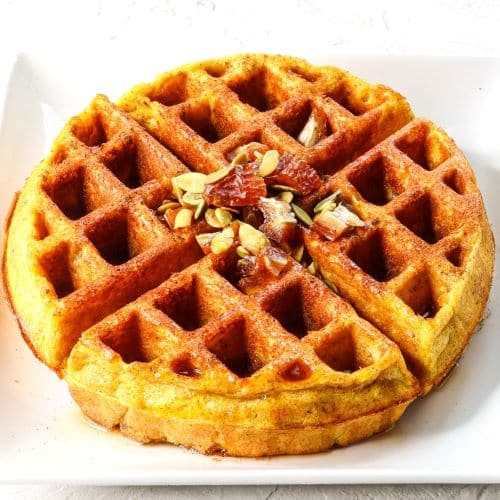 Pumpkin Spice Overnight Oat Parfait
These Overnight Oat Parfaits are an excellent healthy breakfast as well as great for weight loss! They are high in protein, healthy carbs, and healthy fats – and full of flavor!
Check out this recipe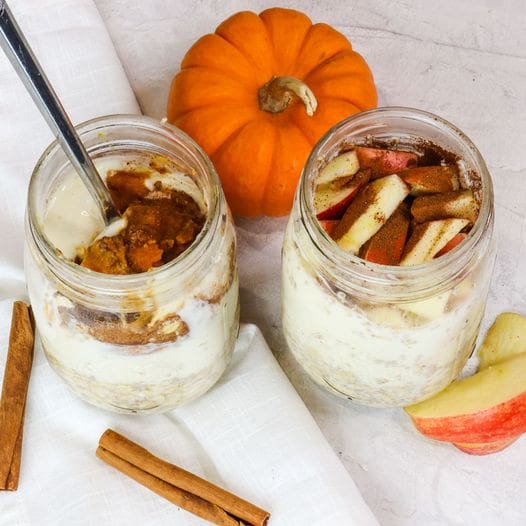 Pumpkin Pie Oatmeal Cookies
Craving pumpkin pie 🍂 as the fall season approaches, but looking for a quick and easy whole food recipe for an on-the-go breakfast, healthy dessert, or snack? Look no further! My Pumpkin Spice Oatmeal Cookies are here for you! 🍪
Check out this recipe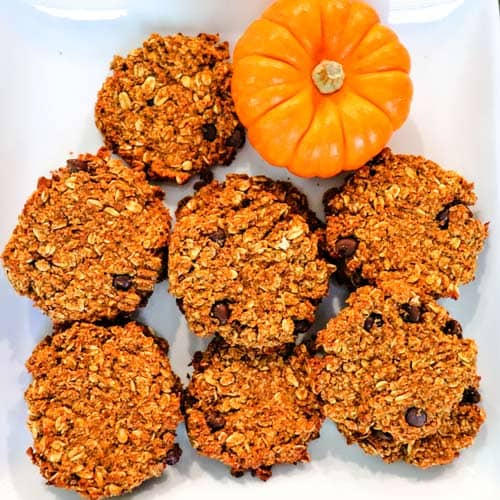 Homemade Pumpkin Spice Latte Syrup
What's best than a warm cup of Pumpkin Spice Latte on these chilly autumn days? Even better if you are making it yourself, using my healthy and delicious Homemade Pumpkin Spice Latte Syrup, inspired by the original Starbucks recipe.
Check out this recipe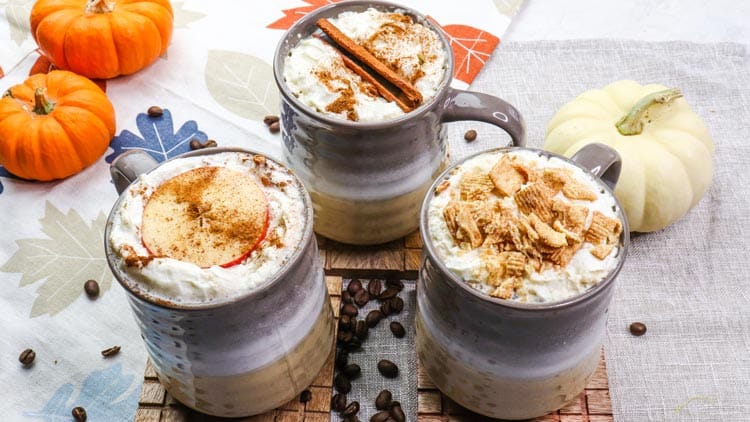 Vegan Red Potato Broccoli Salad
This red potato broccoli vegan salad is an easy, tasty, and nutritious alternative than traditional potato salad. It is a great side to bring to a party or to make as a side for a picnic!
Check out this recipe