Looking for a spicy, healthy, and warming recipe? This Curried Pumpkin Lentil soup is perfect for all the Fall-lovers out there!
Made with simple, whole ingredients, this soup is packed with vitamins and minerals, and it also contains a remarkable amount of plant proteins. This makes it ideal if you are looking for an enjoyable, colorful way to incorporate more plant-based protein and legumes into your diet.
I personally love to serve it with a Greek yogurt topping – I love the contrast between the warm soup and the cold sauce – and some pumpkin seeds (I love the extra crunch as well)! Alternatively, you can serve it with some croutons – to increase the carbs content of the dish – or even eat it as is. It's incredibly delicious in every way!
Curried Pumpkin Lentil Soup: how to create a creamy soup
Struggling to cook a creamy, velvety soup? How many times have you ended up with a liquid, brothy soup or, on the other end, with a chalky and grainy one? Don't worry, I have some tips and tricks for you!
1. The perfect ratio of veggies and broth
The first one is to use the right ratio of veggies to stock (here, vegetable broth). You should always remember that veggies are predominantly made of water, which will then be released during cooking. Indicatively, when pouring the stock over the veggies, aim at leaving a couple of centimeters uncovered. You can always add more broth if needed while removing it is for sure more difficult!
2. Flour can thicken up your soup
If the damage has been done, an easy remedy is to add a couple of tablespoons of flour to the soup -obviously, after all the ingredients have been mixed with a blender. This will instantly thicken it up!
N.B.: make sure to stir the flour well or create a slurry, otherwise it will create unpleasant lumps – and nobody loves lumps!
3. Opt for at least one starchy vegetable
Using starchy – or root – veggies, such as pumpkin or potatoes is a great tip for having a creamier soup. Indeed, the starch contained in them is a great thickening agent, that helps bind all the ingredients together.
An alternative is to use puréed veggies: the soup will cook quicker, and have a smoother, velvety texture!
4. Choose creamy toppings
My last tip is to use a dense and rich topping, that can contribute to enhancing the overall creaminess of the soup. Examples can be sour cream, Greek yogurt (as I did in this Curried Pumpkin Lentil Soup), coconut milk, or fresh cream cheese.
The result will be a delicious contrast of temperature, consistency, and flavors!
Hope you find these tips useful! If you liked this curried pumpkin lentil soup recipe, consider also trying my Tuscan Kale and Sausage Soup with Chickpeas. And don't forget to let me know how you liked them in the comments 😀
Also, consider checking this article if you would like to find out more about the benefits of lentils!
Social Buzz

Ingredient Selection Tips
Pumpkin Puree
If you are buying canned pumpkin puree, make sure that there are no preservatives, sugar, or filler on the ingredient list. You can also make it yourself from scratch!
Dry Red Lentils
In this recipe, we are using red lentils, as they are easy and quick to prepare, and they make a creamy soup, just cook them well. Red lentils are easy to find in most grocery stores.
Noteworthy Health Benefits
Pumpkin
Pumpkin contains many vitamins and minerals, and they are low in calories, as 94% of it is water.
Here are some of its health benefits:
Pumpkins can reduce blood pressure and lower the risk of chronic diseases
They contain immune-boosting vitamins (A, C, E)
They may protect eye and skin health
Pumpkins may lower the risk of cancer
They can prevent and control diabetes
Want to know more about the amazing benefits of pumpkins? Here is an article for you!
Red Lentils
Red lentils are a superfood. Among other colored lentils, they have a sweet flavor and cook very quickly. They are also affordable and packed with plant-proteins
Among the most remarkable health benefits of red lentils are:
Thet may boost energy levels
They can help in weight loss
They can fight fatigue
Lentils can promote a better digestion
They help support heart health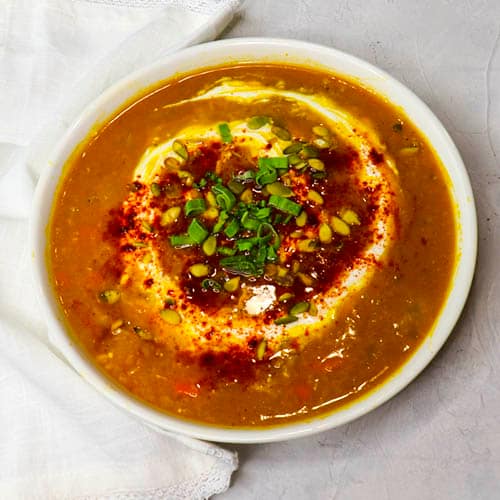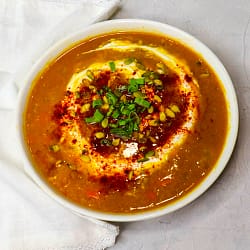 Curried Pumpkin Lentil Soup
Yum
Looking for a spicy, healthy, and warming recipe? This Curried Pumpkin Lentil soup is perfect for all the Fall-lovers out there!Made with simple, whole ingredients, it is an enjoyable and colorful way to incorporate more plant-based protein and legumes into your diet.
Instructions
Heat a large pot with olive oil.

Add carrots, garlic, and onion. Cook until the onion starts to become translucent.

Add broth, pumpkin puree, lentils, and seasonings. Bring to a simmer.

Simmer for ~15 minutes or until the lentils are soft.

Serve hot. Optionally garnish with Greek yogurt, pumpkin seeds, and/or paprika.
Notes


Nutrition
Nutrition Facts
Curried Pumpkin Lentil Soup
Amount per Serving
% Daily Value*
* Percent Daily Values are based on a 2000 calorie diet.
❤️❤️Read About Me for details about my health journey; and, make sure you remember to sign up for my Newsletter and follow me on social❤️❤️!

Supporting me is appreciated as I create content to support your health journey.