On chilly autumn days, nothing beats warming up with a hot healthier alternative to Starbucks Pumpkin Spice Latte. If you're lucky enough to have a fireplace, as well as these delicious cookies, the atmosphere will be perfect! Add to it the fact that everything in this drink is also healthy for you!
Most syrups used in Starbucks and Panera drinks are packed full of sugar and additives. However, this latte has no refined sugar, is caffeine-free, gluten-free, and vegan if you replace the whipped cream with a dairy-free alternative, such as coconut whipped cream.
This version is my healthier adaptation of Starbucks and Panera seasonal flavored drinks, but without the sugary syrups and for a cheaper price tag!
Other flavor recipes are linked below:
Social Media Channels

Ingredient Selection Tips
Date Syrup
Date syrup is a caramel-colored, thick sweetener. You can find it at better-supplied health food stores. If you have time, you can make it at home, too. Here you can find an easy recipe to make it.
Pumpkin Puree
Pumpkin Pie Spice
This is usually a mix of Cinnamon, Ginger, Lemon peel, Nutmeg, Cloves, and Cardamom. Always try to find fresh spices from verified suppliers.
Fresh spices should be aromatic, with a strong smell, and vibrant color. Also, always check the expiry date on the bottom or side of the bottle.
Noteworthy Health Benefits
Dates
Dates are the fruits of the palm tree, and they are grown mostly in the Middle East. They are very sweet, but also nutritious. They are not just sugar bombs or empty calories. They are full of vitamins and minerals such as iron, magnesium, calcium, zinc, potassium, copper, B vitamins, and manganese.
Dates are rich in fiber and antioxidants, which are very beneficial for our health.
Here are some of the health benefits of eating dates:
They can prevent constipation.
They can help prevent high blood sugar.
They may help prevent the development of certain chronic illnesses, such as heart disease, cancer, Alzheimer's, and diabetes.
It may help improve brain function.
They are an excellent substitute for white sugar.
Dates may help ease natural labor.
Dates are high in sugar, one date contains around 6gr, and they are also high in calories, so don't overeat!
Notes:
When made into a syrup, some fiber and nutrients are stripped away, but this brand still retains some fiber, which helps reduce a blood sugar spike.
Another alternative with even less sugar is Monk fruit sweetener, but it's more processed and I can't guarantee it will reduce blood sugar like date syrup. If you try that, let us know in the comments!
Date sugar has a caramel-like taste and is half the sugar equivalent of one Starbucks syrup pump!
Pumpkin Puree
You can buy shop-bought pumpkin puree but check the ingredients as sometimes manufacturers add sneaky ingredients such as additives or refined sugar.
We all probably already know how pumpkin is good for our health. It is packed with nutrients and low in calories, as 94% of it is water.
Here are some benefits of consuming pumpkin regularly according to Healthline:
It can protect your cells against damage by free radicals, as it is full of antioxidants.
It may boost your immunity as it contains vitamin C, vitamin A, vitamin E, iron, and folate.
It may protect your eyes.
It may promote weight loss.
It may lower the risk of cancer.
It can benefit your heart health.
The nutrients in pumpkin are great for your skin.
Want to know more about the amazing benefits of pumpkins? Here is an article for you!
Diet Preference Tweaks
Vegan / Fully Plant-Based
For a fully vegan version, use non-dairy whipped cream/coconut cream topping.
Paleo
For a paleo option, buy pure pumpkin puree or make a homemade version to avoid the extra additives and refined sugar.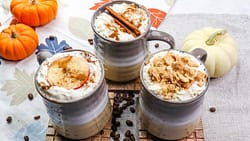 Pumpkin Spice Latte Syrup
Yum
There is nothing more beautiful than heating with fragrant hot Pumpkin Spice Latte on cold autumn days. If you are lucky enough to have a fireplace and maybe these delicious cookies, the atmosphere is complete! Add to that the fact that it's all healthy for you as well! This is my healthier version of Starbucks and Panera autumn coffee flavors. Enjoy this beautiful season!
Instructions
Put the date syrup into the small saucepan.

It is done when it becomes to look like a butter.
Notes

Nutrition
Calories:
78
kcal
Carbohydrates:
20
g
Sodium:
11
mg
Fiber:
1
g
Sugar:
14
g
❤️❤️Read About Me for details about my health journey; and, make sure you remember to sign up for my Newsletter and follow me on social❤️❤️!

Supporting me is appreciated as I create content to support your health journey.