This kale apple coleslaw (with an optional addition of beets) is a creative twist on traditional coleslaw, with a sweet and tart flavor combination. It is much lighter than traditional coleslaw and very nutritious!
This beautiful and tasty salad, will not only enrich your body with vitamins but will also enrich all of your senses. Looking salad is beautiful and colorful! It is a great option for summer nights with your friend, garden parties, BBQs, etc.
So let's talk about the nutrition in kale, beet, and cabbage.
Kale
First of all, kale is a cholesterol-free, fat-free, sodium-free vegetable. This green beauty is a good source of fiber and provides great nutritional benefits like vitamin A and vitamin C. Kale is a member of the cabbage family and is often considered a superfood. Kale provides approx. 1 gram of fiber per one cup serving.
Calories: 7.2
Fat: 0.3g
Sodium: 10.9mg
Carbohydrates: 0.9g
Fiber: 0.8g
Sugars: 0.2g
Protein: 0.6g
Health benefits of kale:
better heart health
healthy weight maintenance
cell repair and protection
better bone health
Want to know more about the amazing benefits of kale? Here is an article for you! The Top 5 Health Benefits of Kale, and Why You Should Eat it Every Day!
Beet
This beautifully colored vegetable is a very good source of folate and manganese and a good source of potassium and fiber. According to USDA, one cup, approx 136gr, of raw red beetroot contains:
Calories:58
Fat: 0.2g
Sodium: 106mg
Carbohydrates: 13g
Fiber: 3.8g
Sugars: 9.2g
Protein: 2.2g
Beet health benefits are numerous. Here are a few:
fights inflammation
reduces blood pressure
improves endurance
improves cognitive function
If you want to find out more about the amazing benefits of beetroot powder, I have an interesting article for you! Beetroot Powder: A Natural Boost For Your Health and Fitness!
Coleslaw
This green ball full of nutrients belongs to the Brassica group of vegetables along with kale, broccoli, and cauliflower. It has been grown around the world for thousands of years, and it comes in a variety of colors, like red, green, white, purple.
Cabbage nutrition information:
Calories: 22
Fat: 0.1g
Sodium: 16mg
Carbohydrates: 5.2g
Fiber: 2.2g
Sugars: 2.9g
Protein: 1.1g
Cabbage is a good source of potassium, folate, and vitamin K. Cabbage also provides some calcium, iron, vitamin A.
Health benefits of cabbage:
promotes cardiovascular health
supports brain health
improves glucose control.
cabbage is especially high in vitamin C, a potent antioxidant that may protect against heart disease
Want to know more about the fantastic benefits of apples? Consider checking this article!
https://www.verywellfit.com/cabbage-nutrition-facts-calories-and-health-benefit-4117541
https://www.healthline.com/nutrition/benefits-of-cabbage#TOC_TITLE_HDR_2
Please let me know how this recipe goes when you make it! Post a picture and tag one of the below social media accounts:
Processing…
Success! You're on the list.
Whoops! There was an error and we couldn't process your subscription. Please reload the page and try again.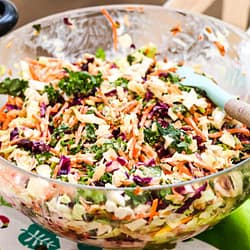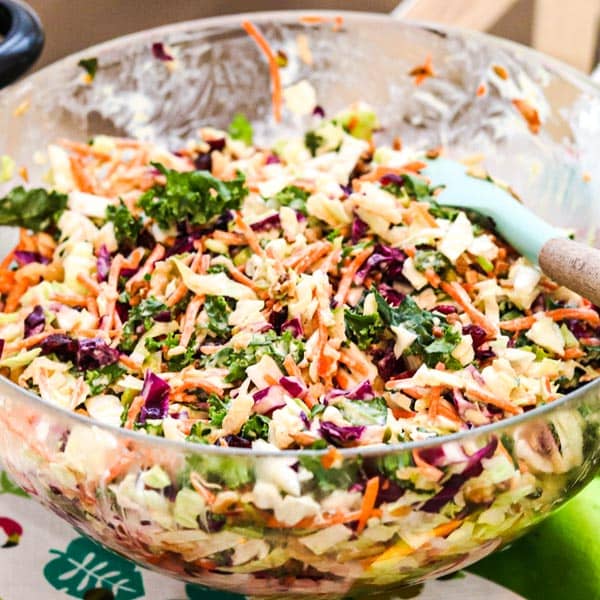 Kale Apple Beet Coleslaw
Yum
This kale apple coleslaw, with optional addition of beets, is a creative twist on traditional coleslaw, with a sweet and tart flavor combination. It is much lighter than traditional coleslaw and very nutritious!
Equipment
Cheese grater

Chef's knife

Cutting board
Instructions
In a large bowl, place shredded cabbages, shredded kale, julienned carrots, and grated apples. I grate the apples with a cheese grater right off of the core.

In a small bowl, mix all dressing ingredients to make the dressing: yogurt, mayo, spicy mustard, honey, apple cider vinegar, salt, and pepper.

Pour the dressing into the large bowl and stir to combine with the coleslaw.

Add remaining ingredients to coleslaw: cranberries, sunflower seeds, and grated beet (optional) and gently combine. The beet is added last and stirred in gently as it will quickly color the whole coleslaw pink if overmixed!

While you can enjoy this salad for several days, it is best enjoyed the day it is made and yields enough for a party. Enjoy!
Notes
Depending on the size of your produce, this can yield quite a bit! Mix in a large bowl and remove some if there's not enough room to mix in the dressing.
Nutrition
❤️❤️Read About Me for details about my health journey; and, make sure you remember to sign up for my Newsletter and follow me on social❤️❤️!

Supporting me is appreciated as I create content to support your health journey.