Sweet, juicy, and crunchy: everybody loves apples! 🍎🍏 But is the old saying "an apple a day keeps the doctor away" true? And what are the main health benefits of eating apples? Let's discover everything in this article!
An Apple a Day Keeps the Doctor Away: all the health benefits of eating apples!
Although there is no actual research showing that eating at least one apple a day may be associated with fewer visits to the doctor, the health benefits of eating apples can be quite remarkable. Here are the main ones.
1. Improved heart conditions
Apples are associated with a reduced risk of heart disease. The merit goes to the soluble fiber contained in them, which has proven to be particularly effective in reducing blood cholesterol levels and in managing blood pressure.
Moreover, apples are rich in polyphenols, such as epicatechin, which have been linked with lower blood pressure levels and a lower chance of suffering from strokes and other coronary conditions.
Last but not least, the flavonoids contained in apples can help prevent heart disease by lowering blood pressure, decreasing LDL cholesterol oxidation, and preventing atherosclerosis (i.e. the buildup of plaque in the arteries).
2. The antioxidant and anti-inflammatory properties
Among the benefits of eating apples are also their antioxidant and anti-inflammatory properties. Indeed, apples are rich in vitamin C, also known as ascorbic acid. This is a powerful natural antioxidant, essential in preventing the formation of free radicals.
In addition, the Vitamin C contained in apples is necessary for boosting immune function, which can help defend the body from external infections and viruses.
In order to be able to reap all these benefits, it is recommended to eat the skin of apples, as it contains the highest concentration of vitamin C within the fruit.
3. A great help in preventing the risk of type-2 diabetes
Apples can be a great tool in reducing the risk of type-2 diabetes. This beneficial effect is due to the high content of antioxidant polyphenols, mainly quercetin and phloridzin.
The anti-inflammatory effects of quercetin can reduce insulin resistance, which is one of the most important risk factors for diabetes. At the same time, phloridzin reduces the absorption of sugar in the small intestines, contributing to a lower blood sugar load and thus a reduced risk of suffering from diabetes.
4. Protect your skin and hair with apples
The benefits of eating apples also include an improvement in the condition of our skin and nails. Indeed, the vitamin C contained in this fruit can boost the production of elastin and collagen. In turn, collagen is essential in maintaining and improving skin tone, speeding up the natural production of skin cells, and strengthening nails and hair.
Similarly, the group B vitamins contained in apples – mainly riboflavin, thiamin, and vitamin B-6 – can aid in soothing skin irritation and help fight acne. In particular, thiamine is good for red, irritated, acne-prone, or dry skin. It also improves the appearance of fine lines and wrinkles. On the other hand, riboflavin can help improve skin tone, make skin more radiant, and balance natural oils.
5. Improved gut microbiome diversity and easier weight loss among the benefits of eating apples
Apples contain pectin, a special type of fiber that acts as a probiotic. Probiotics feed intestinal microflora, the good bacteria in our intestines. In turn, a healthy intestinal microflora plays an essential role in promoting better physical and mental health conditions.
Moreover, apples have been proven particularly helpful for people following a weight loss diet. Indeed, as said before, apples are rich in fiber. This is useful in promoting feelings of fullness, thus helping decrease calorie intake – one of the main driving factors of weight loss.
The Nutrition Facts of Apples: low in calories but rich in nutrients
Apples are rich in fiber, calcium, magnesium, vitamin C, and folate while being quite low in calories and sugars (with Granny smith being the lowest and Fuji the highest). This makes them easy to insert into any dietary regime.

One medium 7-ounce (200-grams) apple offers the following nutrients:
Calories: 104
Carbs: 28 grams
Fiber: 5 grams (11-14% of DV)
Vitamin C: 10% of the Daily Value (DV)
Copper: 6% of the DV
Potassium: 5% of the DV
Vitamin K: 4% of the DV
Calcium 12 mg
Magnesium 10 mg
Folate 6 mg
Iron 0.24 mg
Fun Facts About Apples
Apple is also known as the "queen of fruits", "forbidden fruit", and "fruit of knowledge". In some mythologies, it is even described as a fruit that provides eternal youth.
Domestic, cultivated apples belong to the rose family.
Today, there are more than 10,000 different varieties of apples, which differ in juiciness, consistency, acidity, sweetness, taste, and color. However, they all have similar nutritional values and health properties.
Apple seeds contain cyanide. This is a toxic compound that, if eaten in excess, can lead to heart and brain damage, and ultimately coma and death.
In Chinese culture, it is a popular gift when visiting someone for the first time.
Isaac Newton discovered the law of gravity thanks to an apple. Newton was resting under an apple tree when one fell on his head. This helped him understand how gravity works.
Some Tips on How to Choose the Best Apples
The perfect apple fruit is compact and firm to the touch and has regular and undamaged skin. On the other hand, avoid fruits that are soft to the touch, as they might have been put in the refrigerator and then thawed.
Also try to buy organically-grown apples, as you might want to eat the skin to reap all the benefits of this amazing fruit, and in this way, you can avoid consuming pesticides.
The Cultivation of Apples
Apples like rich, moist, well-drained, and loamy soils. On the other hand, they do not tolerate soils with a high level of groundwater or places where apples were previously grown.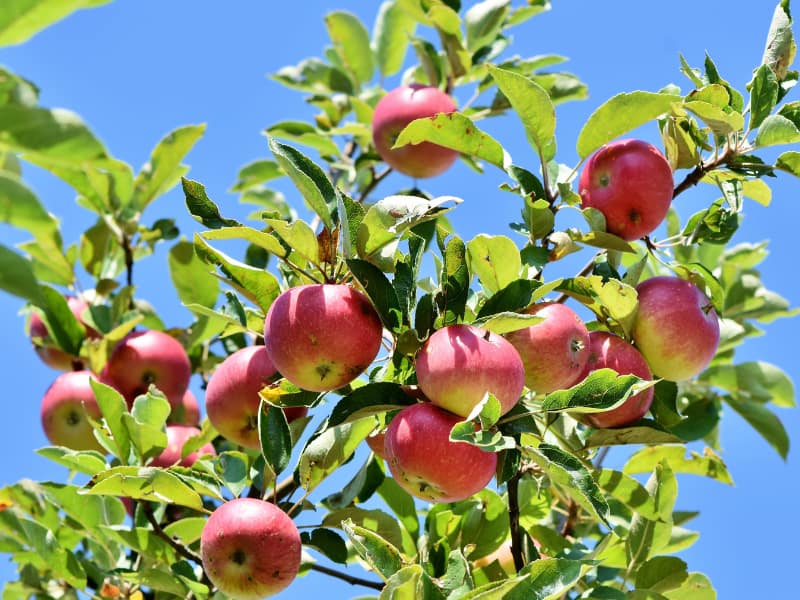 Apples, like pears, should be well irrigated during the fruit development phase. However, excessive irrigation might cause the roots to rot, making it harder to have high-quality fruits. The depth of the soil that needs to be moistened depends thus on the stage of plant development, the variety, and the depth of the roots.
In particular, sandy soils require less irrigation than clay soils. Similarly, lighter soils need to be irrigated more often because trees need water equally regardless of the type of soil they are grown on. In addition, apple trees need the most water from the end of flowering to the end of fruit development.
Apples in the Kitchen: my best salty and sweet recipes!
Apples are a very versatile ingredient, great in both salty and sweet recipes.
In addition, they can be used either in their "raw" form or pureèd as apple sauce. This latter is particularly optimal for the preparation of cakes and pancakes, as it can help to give more moisture and softness to the batter. For example, I used apple sauce in these Spelt Waffles and Beet and Date Carrot Cake.
I personally love to use apples in my breakfasts, as they help me to start the day on the right foot! Among my favorite breakfast recipes are these Apple Cinnamon Oatmeal, Strawberry Rhubarb Baked Oats, Baked Oatmeal with Apples and Cranberries, Apple Cinnamon Overnight Oat Parfait, Apple Pie Oatmeal Cookies, and Apple Cinnamon Yogurt. I also love this Apple Crisp Macchiato Syrup for an alternative Fall beverage!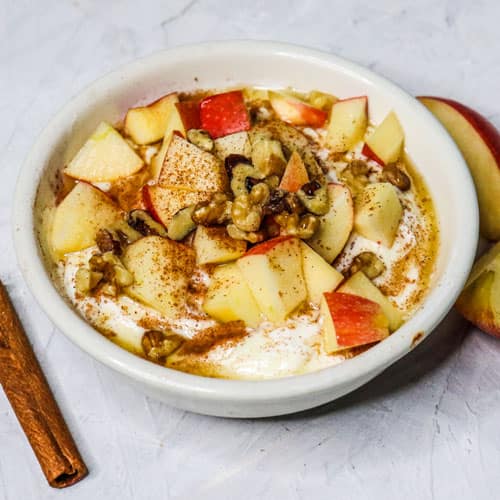 Apples are great in salty dishes as well! For example, they give a crispy and juicy touch to salads, like my Kale Apple Beer Coleslaw and Winter Harvest Salad.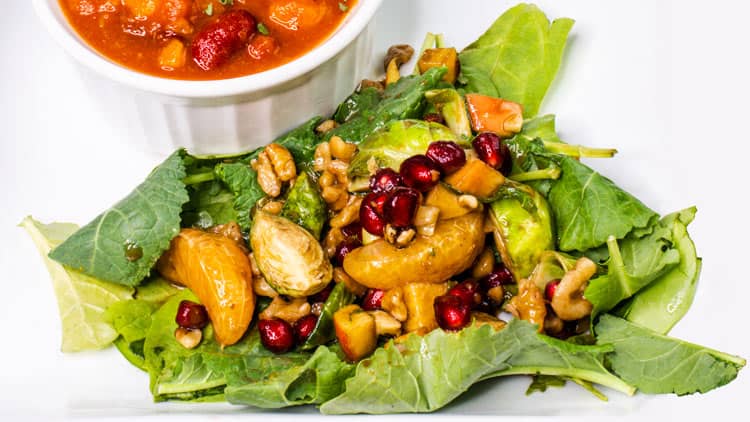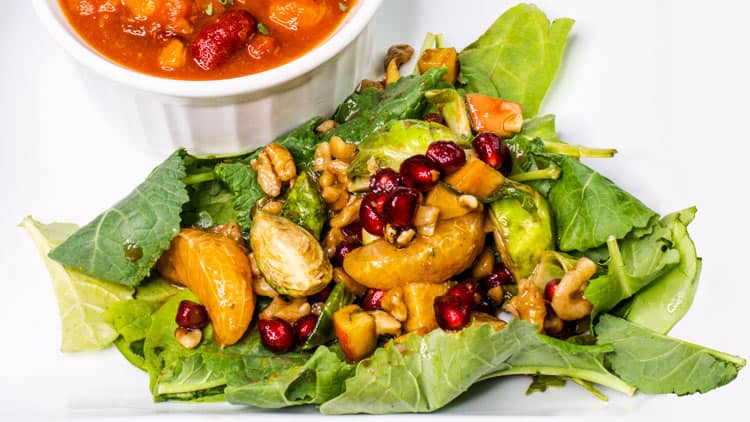 Strawberry Rhubarb Baked Oats – Breakfast Meal Prep
Let's start my Spring Meal Prep Series with this Strawberry Rhubarb Breakfast Baked Oats: gluten-free, fully plant-based, and super easy and quick to make! Plus, this recipe is low in fats and calories and has no added sugar. Prep it ahead and enjoy it on-the-go all week!
Check out this recipe
Baked Oats with Apples and Cranberries
Are you craving a delicious, warming, yet healthy breakfast? Start your day with this baked oatmeal with apples and cranberries! 🍎🍏 Apple-pie inspired and simply mouthwatering, this apple and oats bake is the perfect treat that can lift you up during these first wintery days ❄
Check out this recipe
Apple Cinnamon Overnight Oat Parfait
These Overnight Oat Parfaits are an excellent healthy breakfast as well as great for weight loss! They are high in protein, healthy carbs, and healthy fats – and full of flavor!
Check out this recipe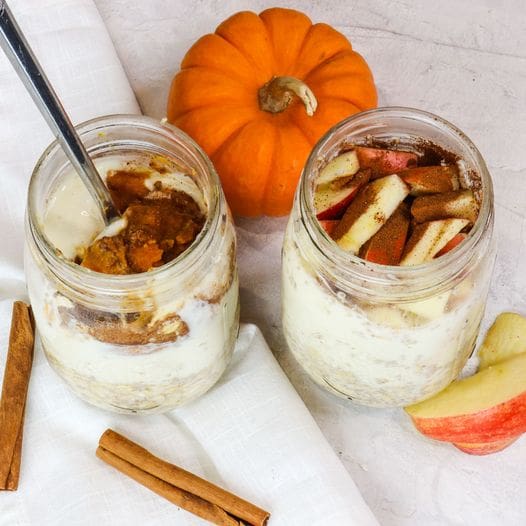 Apple Pie Oatmeal Cookies
Apple Pie Oatmeal Cookies: a healthy, plant-based breakfast. Plus, unlike many other healthy cookies recipes, they have no banana in them!
Check out this recipe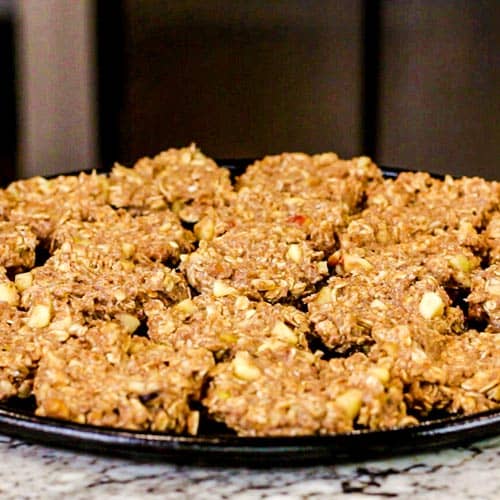 Apple Cinnamon Yogurt
Here is a quick and easy Apple Cinnamon yogurt I made the other day – it's simply nonfat plain Greek yogurt sweetened with honey, topped with Gala apple, cinnamon, and walnuts. It's high in protein, healthy fats, and mostly healthy carbs. Great for all of your health goals, just consider less honey or a sweetener substitute if you are trying to lose weight and/or are sensitive to carbs.
Check out this recipe

Apple Crisp Macchiato Syrup
Don't you think Starbucks and Panera should serve healthier versions of their coffees!? I sure do! I made healthier versions of Starbucks & Panera Apple Cinnamon, Pumpkin Spice, & Cinnamon Crunch, made with date syrup which is highly nutritious, and half the sugar (from whole food sources).
Check out this recipe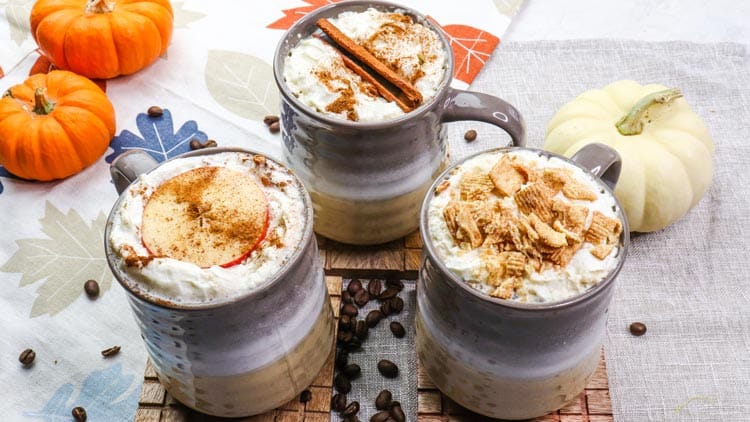 Beet Date Carrot Cake
You'll barely realize this decadent carrot cake is packed with nutrition and sweetened with a nutritious sugar substitute – dates!
Check out this recipe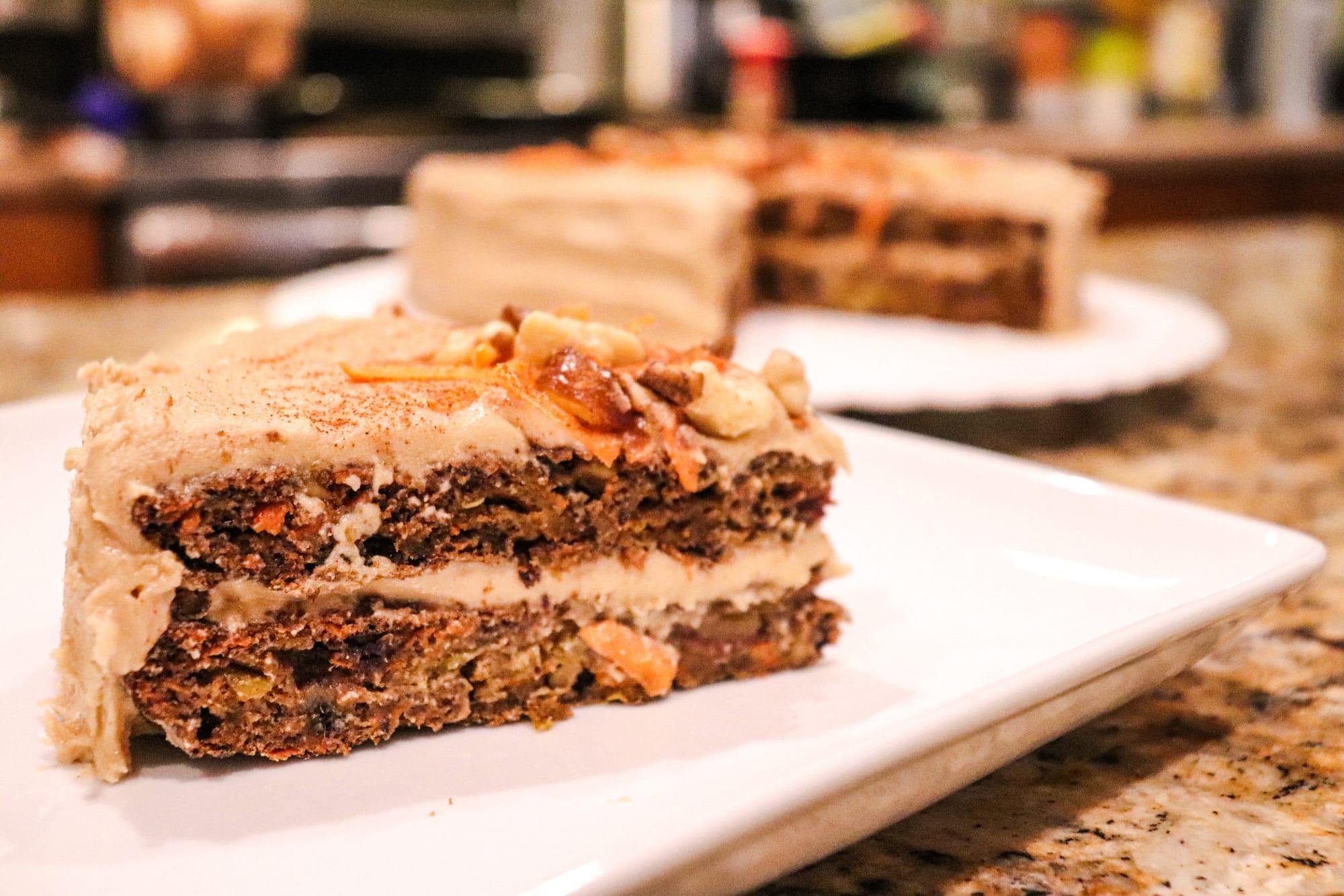 Spelt Waffles
There are so many reasons to fall in love with these easy to prepare spelt waffles. They are a crispy and fluffy healthy whole grain version of traditional waffles!
Check out this recipe

Kale Apple Beet Coleslaw
This kale apple coleslaw, with optional addition of beets, is a creative twist on traditional coleslaw, with a sweet and tart flavor combination. It is much lighter than traditional coleslaw and very nutritious!
Check out this recipe
Winter Harvest Salad
Nourishing, easy to make, and simply delicious: this Winter Harvest Salad will become a must-have in your weekly meal prep! 🥗 Plus, it is fully plant-based, gluten-free, and super versatile. Serve it as a side dish during a fancy dinner, or put it into a lunch box and take it to work or college.
Check out this recipe

❤️❤️Read About Me for details about my health journey; and, make sure you remember to sign up for my Newsletter and follow me on social❤️❤️!

Supporting me is appreciated as I create content to support your health journey.