Apple and Cinnamon: name a better food combination! This Apple Cinnamon Oatmeal is a healthy, delicious, and simple breakfast! It is also part of my 5 Plant-Based Oatmeal Breakfasts plan: eating plant-based has never been so easy and enjoyable!
Quick and easy to prep, you just need to mix everything in a jar and let it sit overnight in the fridge (click here to learn which type of oats is the most suitable for this recipe). In less than 5 minutes, you can have a balanced breakfast, full of macro-and micro-nutrients!
How to make a plant-based Apple Cinnamon Oatmeal?
First of all, cooking plant-based oatmeal is super easy: you just need to make some easy food swaps to your regular oatmeal recipe! Use plant milk instead of regular milk. Here I opted for almond milk, one of my favorites.
Second, add some grounded flax seeds. these are not only an amazing source of plant-based Omega3, but they are also a great food thickener. Use them in place of the usual egg white or Greek yogurt.
Last, to boost the protein content of this delicious breakfast, add half a scoop of unsweetened plant-based protein powder. This will help us create a more complete and macro-balanced meal!
Social Buzz

Ingredient Selection Tips
Flax Seeds
When buying flaxseed, it is important to pay attention to how they have been packaged. Indeed, any damage to the packaging can lead to the appearance of mold, or even insects, inside the product. In addition, flaxseeds should be brown in color and have a slightly nutty smell and taste.
Walnuts
Walnuts usually have a characteristic shape, that resembles the miniature of a human brain. When you break them, the inner color should be light brown. If the color is darker, it may mean that the walnuts have become moldy. Besides, if you notice dark spots on them, this is probably an indication that the nuts have not been stored in appropriate conditions.
Noteworthy Health Benefits
Flax Seeds
Flax seeds are loaded with nutrients, and are also rich in fiber and Omega 3 fatty acids. Because of all these precious elements, they may help to improve heart health as well as brain functioning.
As a good source of copper, flax seed play an important role in boosting iron metabolism and in improving immune health. In addition, they may help lower blood pressure and cholesterol levels. Last but not least, regular consumption of flax seeds may improve digestive health.
Walnuts
Walnuts are rich in antioxidants as well as in omega 3 fatty acids, also known as alpha-linolenic acids. These can help prevent inflammation, oxidative stress, and heart diseases.
In addition, regular consumption of walnuts can promote digestive and gut health, and can even support weight control. At the same time, they may improve heart health, reduce the risk of type-2 diabetes and promote good brain functioning.
If you want to know more about the amazing benefits of cinnamon, here is an article for you! 5 Health Benefits of Cinnamon, The Most Loved Autumnal Spice!
Want to know more about the fantastic benefits of apples? Consider checking this article!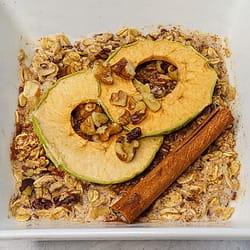 Apple Cinnamon Oatmeal
Yum
This Apple Cinnamon Oatmeal is a healthy, delicious, and simple breakfast! It is also part of my 5 Plant-Based Oatmeal Breakfasts plan: eating plant-based has never been so easy and enjoyable!
Instructions
Mix all the ingredients in a jar.

Cover with a lid and shake.

When you are ready to eat, add some milk and pop in the microwave for 1 minute, 30 seconds. Enjoy!
Notes

Nutrition
Calories:
297
kcal
Carbohydrates:
59
g
Protein:
16
g
Fat:
6
g
Saturated Fat:
1
g
Polyunsaturated Fat:
3
g
Monounsaturated Fat:
1
g
Cholesterol:
35
mg
Sodium:
56
mg
Potassium:
128
mg
Fiber:
7
g
Sugar:
31
g
❤️❤️Read About Me for details about my health journey; and, make sure you remember to sign up for my Newsletter and follow me on social❤️❤️!

Supporting me is appreciated as I create content to support your health journey.