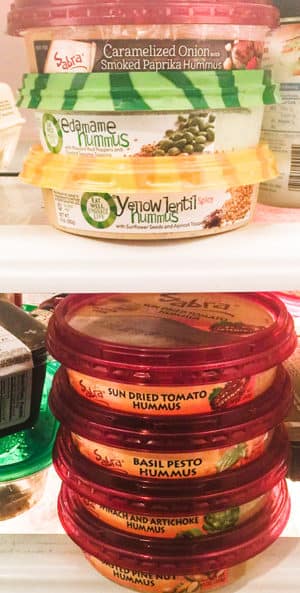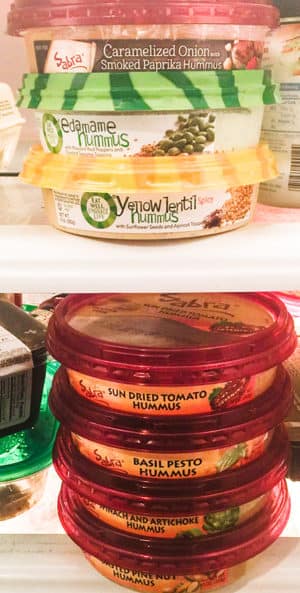 Hummus has always been a staple for me! At one time, I had seven different flavors of hummus in my fridge… Proof right there ➡️.
Delicious, nutritious, and near guilt-free. However, store-bought brands of hummus contain a lot of added oils. Including my favorite – Sabra's Pine Nut Hummus. Oil is processed and adds even more fat than isn't necessary. Because of this, I have often felt pretty guilty when I eat the whole container and eat multiple servings.
My desire to reap the health benefits and fully enjoy its tangy creaminess put me on a mission to create an oil-free hummus recipe! 😋
The Secret to Perfect Oil-Free Hummus
I've tried a lot of different recipes on the web. For whatever reason, if it is not made just right, the hummus is subpar. I actually found a very well-rated recipe that changed up the order of processing the ingredients, and I think that is why it turns out so good! The "secret" is to first blend the tahini and lemon juice for about a minute or two, to "cream" it. I also hold off until the last step to put the beans in, so I can make sure the fresh garlic and herbs blend evenly throughout the hummus.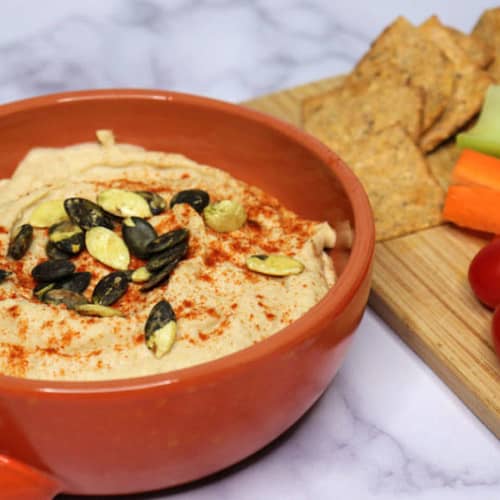 Live to Be Old With Beans
Legumes are one of the healthiest types of foods to incorporate into your diet. They are low in fat, have no cholesterol, and are high in fiber and protein 1. Beans and other legumes (lentils, peas, etc.) are said to be the most important dietary predictor of longevity 2, so I like to try and eat them often. Making this oil-free hummus as an appetizer or snack can help incorporate more beans into your diet.
I'm not a fan of using canned beans when at all possible since some have additives, lots of sodium, and/or the risk of BPA in the can lining. An Instant Pot or other pressure cooker cooks dry beans super quick and is an excellent addition to your kitchen – one of the best kitchen purchases I've made, honestly!
Want to know more about the amazing benefits of chickpeas? Here is an article for you! Dried Chickpeas vs Canned Chickpeas: main differences and nutritional benefits
Tahini ain't a Meanie
When looking into the nutrition facts, I was worried about the fat content of adding Tahini. So I did a little research and found that Tahini is actually very much worth the fat and caloric addition! Tahini is full of healthy fats, vitamins, minerals, and antioxidants – among many other benefits 3. For those many reasons, I would only make sure your tahini is pure from any additives. It should only contain pureed sesame seeds. Joyva tahini is the brand I use.
Oil-free Hummus is Cheap & Easy
Hummus from the store is expensive if you eat it like me. If you buy the ingredients it can be far more cost-effective. Though tahini is expensive, it goes a long way. Mine has been in my fridge for months and has made many batches of hummus. To reap the best benefit for your wallet, buy a bag of dry beans versus canned. You can also cut corners by buying a container of lemon juice instead of fresh lemon. However, I don't advise this. Using fresh lemon in recipes, especially this one makes a big difference. Fresh lemon just tastes so much better! 🍋
This recipe is also very easy! If the beans are made already, it only takes about ten minutes to make! The benefit of having control over what goes into it warrants a small amount of effort, in my opinion. ❤️️
Adventurous? Add Turmeric!
Turmeric is an incredible anti-inflammatory herb 4 that has been used in India for thousands of years as a medicinal herb and a culinary spice 5. I have been trying to add it to whatever foods and beverages I can to help with my latest running injury! I incorporate turmeric in recipes that I don't mind having a hint of Indian flair. It is easily incorporated in smoothies, teas, and kombucha as well.
Turmeric is also a very bright mustard yellow color, so I only suggest this addition if you are not making this hummus for a party! Adding the turmeric makes it look like a mustard custard, honestly. I'd say go for it if getting the anti-inflammatory benefit is more important than the hummus looking pretty! I needed mine to look pretty for this picture, so I held off on putting it into this batch. My prior batch tasted great, but looked weird! If you would like to know more about this fantastic ingredient, check out this article: Turmeric and bloating: try this foolproof anti-bloating drink! (+ 5 health benefits of turmeric)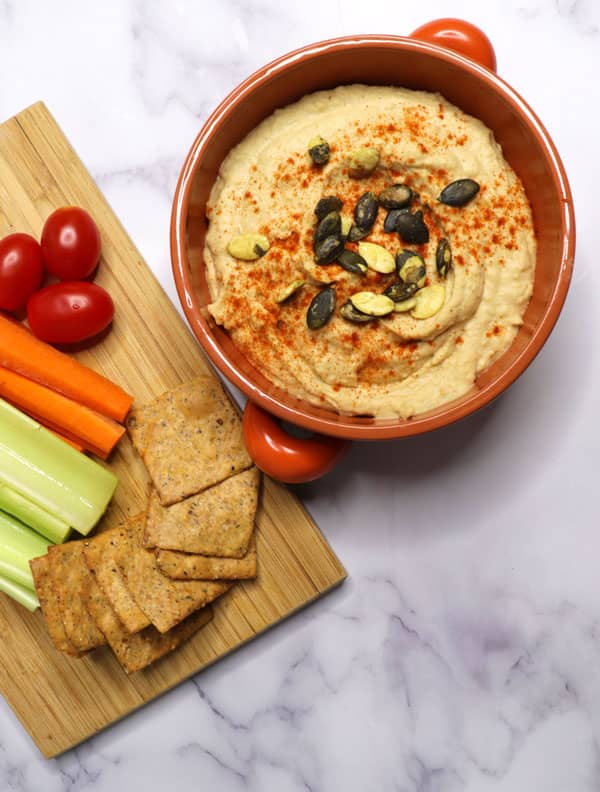 I know you will ❤️️ it, but…
Though I am confident you will find this hummus both healthy and heavenly, I am curious about your thoughts. How did it taste? What did you dip it in? Did you put it in a sandwich? I love hummus sandwiches! Let me know in the comments. As with all my recipes, it would also be greatly appreciated if you take a picture of your masterpiece and tag my Instagram: @cleancookingcaitlin. Don't miss out on more recipes coming very soon! 😉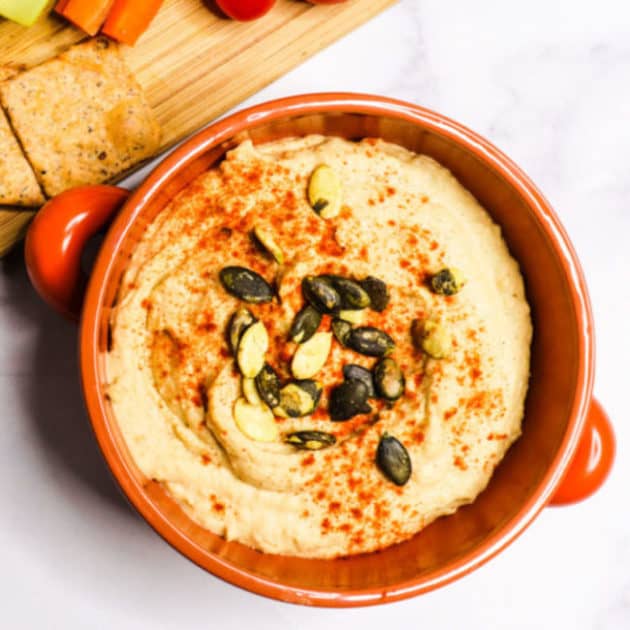 Oil-free Hummus – Plant-based and low fat!
Yum
This perfect oil-free hummus doesn't need added oils to be incredibly smooth and tasty! The secret is in the ratio and process. A nutritious plant-based, vegan, and vegetarian recipe.
Instructions
In a food processor, combine the tahini and lemon juice and process for about 1 – 2 minutes, scraping the sides to the bottom of the bowl when needed. This extra time helps whip the tahini, which is part of the secret of making this hummus smooth and creamy!

Add the garlic clove, cumin, and a 1/2 teaspoon of salt to the whipped tahini and lemon juice. You may add the turmeric, if desired (see notes). Process for about a minute, scraping the sides to the bottom of the bowl when needed.

Cook the beans (see notes) or open up a can of beans. Pour some of it's liquid (aquafaba) in a bowl and set aside. Rise and drain the beans. Add half of the chickpeas to the food processor and process for about a minute. Scrape sides and bottom of the bowl, then add remaining chickpeas and process until thick and quite smooth – about 1 – 2 minutes.

If the hummus is too thick or is still chunky, add aquafaba a tablespoon at a time until smooth and of desired consistency.
Notes
Turmeric is anti-inflammatory and delicious in this recipe. However, it will make your hummus look like a mustard custard! If you don't care about the way the hummus looks, it is an excellent addition.
Cooking the beans: You can follow package instructions or make them in the Instant Pot or other pressure cooker. I suggest overcooking them a little bit for a smoother hummus. I followed these instructions: How to Cook Chickpeas in an Instant Pot. I would just add a couple more minutes so they are overcooked!
Storage: Store homemade hummus in an airtight container and refrigerate up to one week.
Nutrition
Nutrition Facts
Oil-free Hummus – Plant-based and low fat!
Amount per Serving
% Daily Value*
* Percent Daily Values are based on a 2000 calorie diet.