Roasted Veggies Chickpea Pasta: easy to make and super nutritious! This recipe is full of plant-based protein and flavor – you won't miss the meat!
Indeed, consuming more plant-based sources of protein is beneficial not only for the environment but also for our health. Packed with anti-inflammatory nutrients, they can help us in reducing blood pressure, lowering cholesterol levels, and promoting muscle growth. In addition, opting for chickpea pasta instead of regular white pasta can help in keeping us fuller and for longer.
Moreover, this roasted Veggies Chickpea Pasta is also super meal-prep friendly: you can roast the veggie and prepare the sauce in advance, store it in the fridge or freezer and then add it to the pasta whenever you want!
This Veggies Chickpea Pasta is a perfect example of a Whole Food Plant-Based diet (WFPB) recipe. Eating WFBP means not only focusing on plants (veggies, fruits, nuts, and seeds) but also avoiding highly processed foods and ingredients.

*Note: if you want a truly WFPB, you can hold the oil and Parmesan cheese.
Want to know more about the amazing benefits of chickpeas? Here is an article for you! Dried Chickpeas vs Canned Chickpeas: main differences and nutritional benefits
Social Media Channels

Ingredient Selection Tips
Cherry Tomatoes
Choose firm tomatoes with deep color, to be sure they are mature enough. Avoid dark spots or yellowish ones.
Sweet Pepper
They should look firm, crispy, shiny, and feel heavy in your hand. Steem should be green, and fresh.
Noteworthy Health Benefits
Cherry Tomatoes
The cherry tomatoes give the pasta both a sweet and sour touch and are boosted with vitamins, minerals, amino acids, and fatty acids. They are also rich in carotenoids such as lycopene, beta carotene, and lutein, and their caloric density is very low, which makes them perfect to assist our weight loss and maintenance goals.
Sweet Pepper
On the other hand, the sweet peppers add a slightly tangy feel to the dish and are also super-rich in vitamins and minerals as well. They also contain some healthy antioxidants which are very important for our good health. Consuming them regularly in our diet can also help us in combating regular flu and promoting eye health.
In conclusion, this WFBP pasta recipe is not only super tasty and comforting but can also be a precious ally for our well-being and long-term health!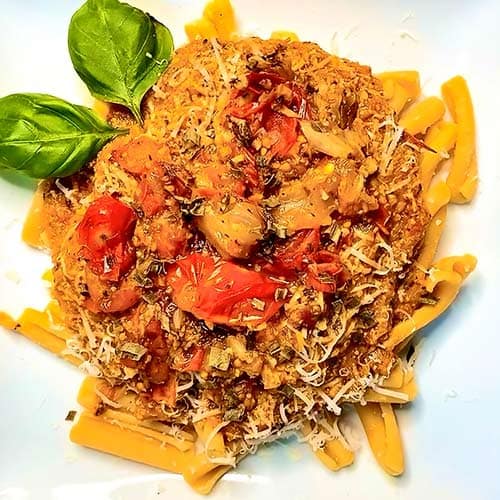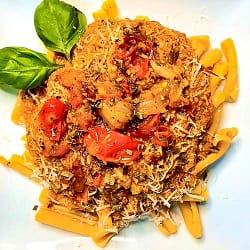 Roasted Vegetable Chickpea Pasta
Yum
This tangy and savory pasta is easy to make and super nutritious! Full of plant-based protein and flavor – you won't miss the meat!
Instructions
Preheat your oven or air fryer on the roast setting to 400° F.

Add two pints of cherry tomatoes to the roasting pan (or air fryer).

Add the onion petals, garlic cloves, cauliflower florets, and peppers with tops removed.

Add the seasonings on top of veggies: basil, oregano, thyme, and salt.

Roast the veggies for about 15-25 minutes, or until tender.

Add the roasted veggies to a food processor.

Add lemon juice, black pepper, red pepper, and olive oil (optional)

Puree them until the sauce has a nice mixture of smooth and chunky.

Put the sauce over the chickpea pasta.

If you like, add some grated parmesan. Enjoy!
Notes


Nutrition
Nutrition Facts
Roasted Vegetable Chickpea Pasta
Amount per Serving
% Daily Value*
* Percent Daily Values are based on a 2000 calorie diet.
❤️❤️Read About Me for details about my health journey; and, make sure you remember to sign up for my Newsletter and follow me on social❤️❤️!

Supporting me is appreciated as I create content to support your health journey.