For us, Friday night is pizza night! Sometimes we order it, and sometimes I prefer to make it myself. However, "traditional" pizza is certainly not the healthiest food in the world. This is why I decided to experiment with it and came up with this recipe: a high-protein healthy pizza alternative that you can eat whenever you feel like it, without feeling guilty!
With my nutrition expertise, I formulated this delicious high-protein healthy pizza that is not only rich in protein but also lower in carbs and fats compared to store-bought ones. This will help in mitigating any blood spike that would come from an excess of carbs. At the same time, the high-quality proteins contained in the pizza base and toppings will help build and retain muscle mass, which in turn is helpful for weight loss as well.
The star of my pizza is certainly the chickpea crust: this fiber-rich and the gluten-free base is quick to make and requires no-rising time, which makes it super digestible and light. As far as the toppings are concerned, I used both plant and animal sources. However, I also offered vegan alternatives for those who want a fully plant-based recipe.
Last but not least, this pizza is incredibly tasty! Whoever says that healthy pizza is boring will change their mind after trying this recipe!
You can also check Chickpea (Garbanzo) Flour Pizza Crust recipe here, and Oil-Free Pizza Sauce here.
If you prefer a Fully Plant-based Alternative, check it out here.
Want to know more about the amazing benefits of chickpeas? Here is an article for you! Dried Chickpeas vs Canned Chickpeas: main differences and nutritional benefits
Social Media Channels

Ingredient Selection Tips
Chickpea Flour
Chickpea flour is naturally denser and thicker than white flour and has a stickier texture when added to liquids. If properly sealed, it has a pretty long shelf life. The best way to find out if the flour is good is to smell it: if it has a rancid smell or is moldy, don't buy it.
Fresh Basil
When looking for fresh basil, opt for bunches with fresh brightly colored leaves and firm stems. Avoid yellow and dark leaves. Fresh leaves also have a quite specific scent when rubbed with fingers, reminiscent of oregano.
Noteworthy Health Benefits
Chickpea Flour
Chickpea flour is loaded with very important nutrients and minerals, such as iron, phosphorus, copper, manganese, and magnesium. It is also high in protein and suitable for people with wheat allergy, gluten intolerance, or people with celiac disease.
Basil
Rich in several different minerals and vitamins, like vitamin A, K, calcium, iron, and magnesium, basil may help reduce memory loss and stress-related depression. It may also benefit heart health by reducing blood pressure and relaxing blood vessels.
Spinach
Spinach is rich in Vitamin A, C, K1, folic acid, calcium, and iron. Regular consumption of spinach is great to promote skin and eye health and to support our immune system. The iron contained in this vegetable helps in creating hemoglobin, which in turn brings oxygen to the cells. Meanwhile, the high content of nitrates in spinach help decrease the risk of heart diseases.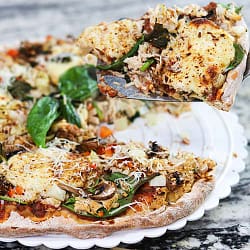 Healthy High Protein Pizza w/ Chickpea Crust
Yum
My high-protein healthy pizza recipe w/ chickpea crust: you can eat it whenever you feel like it, without feeling guilty! Higher in fiber and lower in calories and fats compared to the traditional ones, this recipe will satisfying all your pizza cravings and make you feel good at the same time!
Instructions
Pizza Dough
Preheat the oven to 450 ° F.

Mix all the dry ingredients into a bowl.

Add water, and make a dough with oiled hands.

Split the dough into two parts.

Roll the dough with a rolling pin on a flored surface.

Carefully place the dough on a oiled backing tray (alternatively, place it on an iron cast pan, or on a round baking sheet).

Bake it for about 10 minutes.
Pizza Sauce
Throw the tomatoes into the blender.

Add the tomato paste, garlic, basil, oregano, and salt.
Topping
Add about ½ of the sauce on top of the crust.

Top it with your protein source of choice.

Add all the veggies, and then top it with the mozzarella cheese.

Add basil and red pepper flakes.

Put it again in the oven for about 20 minutes.

If you like, finish it with a touch of parmesan cheese.
Notes


Nutrition
Nutrition Facts
Healthy High Protein Pizza w/ Chickpea Crust
Amount per Serving
% Daily Value*
* Percent Daily Values are based on a 2000 calorie diet.
❤️❤️Read About Me for details about my health journey; and, make sure you remember to sign up for my Newsletter and follow me on social❤️❤️!

Supporting me is appreciated as I create content to support your health journey.


Enable Notifications
OK
No thanks