Are you desperately looking for some healthier zucchini corn fritters? This oven-baked, Mexican-inspired corn fritters recipe is the answer to your cravings!
Mexican Zucchini Corn Fritters: vegan, gluten-free, and perfect for all the family!
Crispy on the outside and soft on the inside, these baked zucchini fritters are vegan and gluten-free, therefore suitable for every dietary need. Plus, their preparation only requires 5 basic ingredients (plus some herbs and spices), all of which are easily available and quite affordable as well!
And if this is not enough, my zucchini corn fritters are also an easy way into tricking your kids to eat some veggies! I don't know about you, but my kids aren't huge fans of zucchini. This is why I always try to come up with new ways to cover their flavor. What I can safely say is that with this zucchini corn fritters recipe I accomplished the mission to happily feed my kids zucchini – and my family can testify to this!
Another thing I love about these baked zucchini fritters is their versatility! Bring them with you for a tasty snack at work, or offer them to your guests as a fancy but simple appetizer or side. Everybody will love them!
Moreover, they can also easily become a well-balanced and complete meal. All you have to do is pair them with a small source of fat (such as avocado), and some proteins (here are some great sources of plant-based protein).
Finally, don't forget the toppings. Some ideas are Guacamole, salsa, Greek yogurt, or even my Easy Tofu Chorizo for some more Mexican vibes!
How to Create the Perfect Baked Fritters: some easy tips
Sick of frying all your foods, or willing to try a healthier alternative to the original corn fritters? Here are some tips on how to have some perfectly crispy zucchini and corn patties, with just your oven!
Press out excess liquid from your grated zucchini
This trick is a true lifesaver: indeed, zucchini contains a lot of water, which is released during cooking if the veggies have not been properly squeezed. This water can, in turn, make your fritters too soft and undercooked – the opposite of what you want! I salt my zucchini and let it sit for a bit to draw out the water, then squeeze it out!
Use aquafaba to bind everything together
Did you know that aquafaba -i.e. the liquid of canned chickpeas – is a great egg replacer? Indeed, one of its main functions is to act as a glue and help bind all your ingredients together. This way, your vegan fritters will not crumble once you take them off the oven!
There is nothing some cornmeal cannot solve!
If you feel like your mixture is too soft or runny, cornmeal (or cornstarch) is the answer for you! Indeed, cornmeal is a great thickening agent. Its molecules swell while absorbing any moisture, causing gelatinization (or thickening) of your fritters' mixture. The only thing you have to be mindful of is not to use too much of it. Otherwise, you will most likely encounter the opposite problem!
Use the air-fryer for a crispier result – or finish the cooking on a pan
Cooking the zucchini fritters in an air-fryer is certainly an easy and healthy way to obtain some perfectly crispy and golden zucchini corn fritters. However, if you don't have one, you can just cook your fritters in the oven. Once they are ready, finish their cooking on a preheated pan on low-medium heat for a couple of minutes. This way, your fritters will be always warm and have our desired texture.
Don't let your corn fritters completely defrost before cooking
In case you have made too many zucchini fritters and decide to freeze them, make sure to not completely defrost them before cooking. Otherwise, they might release all of their water, making them soggy and unappetizing before even heating them.
Another great tip would be to freeze them only after they have been precooked, and then reheat them on a pan. In this way, you will have perfectly crunchy and golden fritters whenever you fancy them!
Did you already know any of these tips? Let me know in the comments and tag me on my socials if you try this vegan fritters recipe!
Also, if you want to know more about the amazing benefits of chickpeas, check out this article! Dried Chickpeas vs Canned Chickpeas: main differences and nutritional benefits
Social Buzz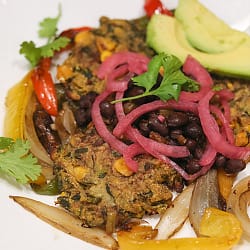 Mexican Zucchini Corn Fritters
Yum
Crispy on the outside and soft on the inside, these baked zucchini fritters are vegan and gluten-free as well, suitable for every dietary need. Plus, their preparation only requires 5 basic ingredients (plus some herbs and spices), all of which are easily available and quite affordable as well!
Ingredients
4

cups

Zucchini

grated (about 2-3 medium)

1½

cup

Corn Kernels

defrosted if frozen

⅓

cup

Chives

chopped (or 1 1/2 tbsp dried)

¼

cup

Cornmeal

whole grain

1

tbsp

Cumin

1

tsp

Oregano

1

tsp

Salt

¼

tsp

Cayenne

1

handful

Cilantro

fresh with stems removed and chopped finely

½

cup

Aquafaba

(juice from a can of beans)

1

Jalapeno

diced finely (optional)

1

tsp

Avocado Oil Spray

(or oil for pan)
Optional Toppings:
Tofu Chorizo

Greek yogurt

(sour cream substitute)

Cheese

light

Salsa
Instructions
Preheat oven to 400 degrees.

Combine all ingredients in a bowl and mix well.

Spray a baking sheet with the oil.

Using a quarter measuring cup or ice cream scoop, scoop the mixture and form small patties. Place the patties on the baking sheet.

Cook for 25 minutes. Patties should be golden on the edges but not dry.

Cool on the pan for a few minutes to make them crispier.

Top with your favorite Mexican toppings, and enjoy!
Notes

Nutrition
Calories:
69
kcal
Carbohydrates:
10
g
Protein:
5
g
Fat:
2
g
Sodium:
195
mg
Potassium:
440
mg
Fiber:
4
g
Sugar:
4
g
❤️❤️Read About Me for details about my health journey; and, make sure you remember to sign up for my Newsletter and follow me on social❤️❤️!

Supporting me is appreciated as I create content to support your health journey.