Who likes fried green tomatoes 🍅!? In the spirit of cookin' southern, I came up with this incredible Air Fryer Fried Green Tomatoes recipe, healthy and delicious at the same time. I then paired it with a low-fat Avocado Horseradish sauce 🥑.
They were so good I have already made them several times since the start of Summer! And the best thing is that they are great for all health goals – including weight loss! Who says that staying in shape equals eating bland and boring meals?!
---
Fried green tomatoes remind me of my childhood, and I cannot get enough of them! They are simply so crunchy and satisfying, with the right balance of saltiness from the fried batter and sourness from the green tomatoes. However, as we all know, eating fried food is not the best choice when it comes to our health, without considering the fact that deep-frying in the Summer heat is anything than enjoyable!
This is why I came up with this incredible air fryer fried green tomatoes recipe, easy, healthy, and great for all the family! Since I bought a new air fryer earlier this year, I cannot stop using it. It allows me to reproduce the crunchiness of all my favorite foods without the need of using unnecessary oils and fats. Plus, it works as a sort of mini-oven, which means that you won't encounter any of the health risks commonly associated with cooking with burnt or overly-heated oil!
I have then decided to pair all this goodness with a light and creamy avocado and horseradish sauce, made with a base of Greek yogurt, which is an awesome source of both healthy fats and proteins. This allows me to create a more balanced meal, as the fats and proteins from the sauce complement the complex carbs contained in the breadcrumbs I used to coat the green tomatoes.
For a fully plant-based recipe, you can easily swap the Greek yogurt with some unsweetened soy yogurt -and, if desired, a spoonful of vegan mayo!

Air Fryer Fried Green Tomatoes: Ingredient Selection Tips
Green Tomatoes
My green tomatoes are from my garden, and I encourage you to start growing some of your food if you have the opportunity. But if not, green tomatoes are not always easy to find in an ordinary grocery store. You will probably find them at Whole Foods, Trader Joe's, or the farmer's market, if not your local grocery. It is best to get them organic, as they are on the Dirty Dozen list (produce with potentially harmful pesticide content). When buying, choose the firm ones. The season to easily find green tomatoes is now – at the end of the summer and early fall.
Cornmeal
Selecting this ingredient may be confusing. There are many ways corn is processed, such as grits, polenta, coarse cornmeal, fine cornmeal, blue cornmeal, corn flour, and more. Cornmeal is dried and ground field corn and this is what we need in this recipe. If you are able to find cornmeal at your local market, you can get it on Amazon at the link below.
Avocado
A ripe Hass avocado should have a creamy, moderately soft texture. Ripe avocados are soft when you touch them and will also have skin with a bumpy texture. If you want to use the avocado right away, choose one that is darker and gives in when you press lightly on its exterior. If you plan to use one in a couple of days, select one that's a brighter green. To ensure that the avocado you're choosing is ripe and creamy, and not too ripe, peel back the small stem at the top. If the area underneath is green, the avocado is good, but if the area is brown, the avocado is probably overripe. Avocados tend to start to feel hollow when they are overripe as well.
Air Fryer Fried Green Tomatoes: Noteworthy Health Benefits
Green Tomatoes
Green tomatoes provide nearly as many vital nutrients as red tomatoes. They support hydration and are a good source of vitamin C, vitamin A, and vitamin K. These vitamins are contributing to a stronger immune system, and because vitamin K is fat-soluble pairing it with healthy fat sources can enhance its absorption.
Cornmeal
This traditional gluten-free meal, contains carbohydrates, protein, and essential minerals like iron, zinc, and magnesium. As a good source of fiber and plant-based protein (as compared to other grains), cornmeal aids the digestive system functioning properly.
Horseradish
This root is filled with healthy compounds that may provide antibacterial and anticancer effects. It contains an oil known as allyl isothiocyanate, which gives horseradish its telltale odor and taste and may irritate your eyes, nose, and throat. Because of this, we usually consume horseradish in very small amounts.
It is low in calories and contains small amounts of calcium, potassium, magnesium, and folate. It may improve your respiratory health.
Balanced Plate for Performance Goals
While any food can fit into your menu for performance goals, some recipes can contribute to a better-strategized menu than others. Below you can see how this recipe can fit into your goal. If this recipe has unique benefits, it is best cut out for the goal(s) with a star next to it.
The chart below changes dynamically based on the goal you have selected.
Goal:
| | | | |
| --- | --- | --- | --- |
| LEAN PROTEIN | HEALTHY FAT | HEALTHY CARBS | VEGGIES |
| | | | |
| --- | --- | --- | --- |
| 1-2 palms | 1-2 thumbs | 1-2 cupped handfuls | 1-2 fists |
More Info
However, everyone is different! Use the Precision nutrition calculator I use with my clients to calculate suggested macros custom for you. For more information on using this hand estimation system, click here.
For more info on types of foods for proteins, fats, carbs, and veggies, read my article Formula for the Perfect Healthy Meal. This article will also help you figure out what foods to eat more and less.
Protein: Greek Yogurt
This recipe likely only contains a half portion of protein for your balanced plate, and this is only if you also consume a quarter of the horseradish dip. While cornmeal contains some protein, most of its calories come from carbohydrates, thus it is classified as a carbohydrate for the balanced plate. You will likely want to supplement. How about some Cajun shrimp!?
Fat: Avocado
This is a healthy fat added to the horseradish dip. If you consume 1/5 – 1/4 of the horseradish dip, it would contribute about one fat to your balanced plate.
If you want to know more about the amazing benefits of avocados, here is an article for you! Top 5 Benefits of Avocado For Women's Health -and Why Should Men Eat it Too!
Carbs: Panko, Cornmeal, & Flour
There is a decent amount of carbohydrates in this recipe but should only equate to about one portion for the balanced plate. Try to use whole wheat panko and/or flour for a healthier option.
Veggies: Green Tomatoes
This recipe is abundant in one type of vegetable – green tomatoes! They should fulfill your requirement for a balanced plate. Make sure you get other vegetables of other colors throughout the day in addition to these tomatoes. Varying your colors in fruits & vegetables provides your body with an abundance of nutrients to ward off cancer and diseases.
Additional Meal Tips for Weight Loss
This recipe serves as an excellent alternative to traditional fried green tomatoes because these are not actually fried! Removing the oil from "fried" green tomatoes makes this recipe a ton healthier and lighter. If you don't already have an air fryer, you are missing out! Check this one out below.
Additional Meal Tips for Endurance
This recipe doesn't have enough carbohydrates and protein for performance and recovery, so you will want to supplement with more of those macros around your workouts. However, for a snack outside of your endurance nutrition, this is an excellent and tasty option!
Additional Meal Tips for Building Muscle
This recipe doesn't have enough protein to support your recovery, and you will likely need more carbohydrates to support your energy for training. However, for a snack outside of your performance nutrition, you definitely have to try these air-fried green tomatoes!
Additional Meal Tips for Improving Health
This recipe is an excellent alternative to traditional fried green tomatoes. Air-fried alternatives to fried food are an excellent way to improve your health, especially if you tend to consume a lot of fried foods. If you don't already have an air fryer, you are missing out! Check this one out below. Make sure to vary your colors of veggies throughout the day though! Doing this will best support your health.
Diet Preference Tweaks
Vegan/Fully Plant-Based
If you would like to make this meal vegan, it is easy to do so. Just replace milk with some non-dairy milk like unsweetened and unflavored oat or rice milk, and use vegan yogurt.
Gluten-free
There are some options for gluten-free panko and flour in the better-supplied grocery stores that you can use in this recipe, such as this one from Ian's.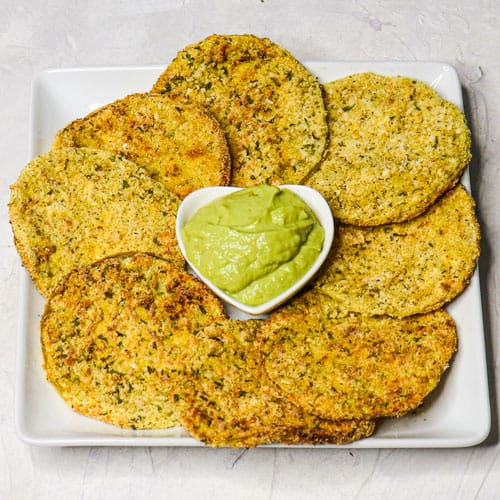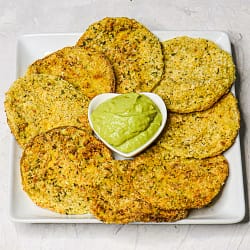 Air Fryer Fried Green Tomatoes
Yum
Who likes fried green tomatoes 🍅!? In the spirit of cookin' southern, I made these Air Fryer Fried Green Tomatoes with Avocado 🥑 Horseradish sauce along with the Shrimp & Grits the other day. They were so good!! These are great for all health goals – including weight loss.
Instructions
Set up an assembly line of three bowls. Place flour in the first, milk in the second, and the remaining ingredients in the third bowl.

One slice at a time, powder the tomato slices in the flour bowl, dip it in the milk, and then batter them in the third bowl with the breading mix. Roll them around and manually place breading on the tomato if needed. Place on a plate and repeat until all the slices are battered.

Air fry the tomato slices in batches for 16 minutes at 400 degrees. Rotate them midway.

For the sauce, puree all the ingredients in a processor until they are well combined.
Notes


Nutrition
Nutrition Facts
Air Fryer Fried Green Tomatoes
Amount per Serving
% Daily Value*
* Percent Daily Values are based on a 2000 calorie diet.
❤️❤️Read About Me for details about my health journey; and, make sure you remember to sign up for my Newsletter and follow me on social❤️❤️!

Supporting me is appreciated as I create content to support your health journey.