The summer season is (sadly) coming to an end! What best way to celebrate the last days of my favorite season than with an outdoor barbeque, or even better, a picnic-style dinner. Even better if you bring these easy, vegan Banh Mi Sliders with you! A delicious Vietnamese-inspired vegan, plant-based appetizer that will make everyone fall in love!
Banh Mi Sliders: how to make some easy vegan sandwiches!
I love ❤️️ banh mi sliders! These traditional Vietnamese sandwiches – more like baguettes with a crispy crust and a soft, airy texture – are usually filled with pickled veggies, fresh cilantro, and pork meat. However, it is also possible to find several vegetarian and vegan Banh Mi recipes, which are equally delicious and easy to make!
For my easy vegan sliders, I draw inspiration from a Thai edamame burger recipe from Eating Well. I then placed these air-fried edamame patties inside some whole-grain slider buns and garnished them with some pickled carrots and cucumbers, some cilantro leaves, and – for the spicy-lovers out there – some sriracha sauce.
The result is an easy-to-make and delicious vegan appetizer, filled with lots of veggies and plant proteins. Moreover, these vegan Vietnamese sandwiches are a great way to incorporate more legumes into your diet, and your kids will love them as well!
P.S.: If meal-prepping is your thing, make the patties in bulk ahead and place them in the refrigerator! You will then just have to cook them and combine your vegan sliders! I would suggest assembling everything only when you are ready to eat; otherwise, the bread may become too soggy and lose the typical Banh Mi crispiness!
My tips for a guilt-free and delicious vegan Vietnamese appetizer!
You might now be wondering how to make a vegan Vietnamese-inspired appetizer that is both delicious and wholesome at the same time… well, here are some tips for you!
First of all, opt for a plant-based source of proteins! Indeed, my edamame patty is much lower in saturated fats and cholesterol than pork or other types of meat. Moreover, legumes have lots of fiber, which are essential for good gut health, and are also high in Iron, Vitamin C, and Calcium!
Second, air fry your patties! The air-fryer will not only allow you to avoid using unnecessary oils when cooking your edamame burgers but will also make them crispy and perfectly golden…. exactly what we want for our patties. This is the air fryer I have bought a couple of years ago, and I still love it!
Third, use some whole-grain sliders. The baguette of a traditional banh mi is usually made with refined flour and lots of preservatives. Therefore I suggest going with whole-grain buns or sliders: I love these ones from Whole Foods. If these are hard to find or you want to make them from scratch, you can follow my Everything Seed Whole Wheat Hamburger Roll Recipe. Just shape double the amount of buns specified in the recipe and top them with sesame seeds instead of everything bagel seasoning.
Finally, go ham with the veggies! The traditional Banh Mi is filled with pickled veggies and lots of cilantro. Here I opted for some carrots and cucumbers (discover all the benefits of cucumbers here), but feel free to choose what you like more. For a hands-down combination, try some pickled onion and beetroots… superlative!
Consider checking this article if you would like to find out more about the benefits of peanut butter!
Now it's your turn!
I hope you, your family, and your friends all love this vegan Vietnamese recipe! If you make these and love them, post a picture of your delicious edamame banh mi sliders and tag one of my social media sites linked below!
And don't forget to follow and sign up for my newsletter so you don't miss any future recipes!
Social Buzz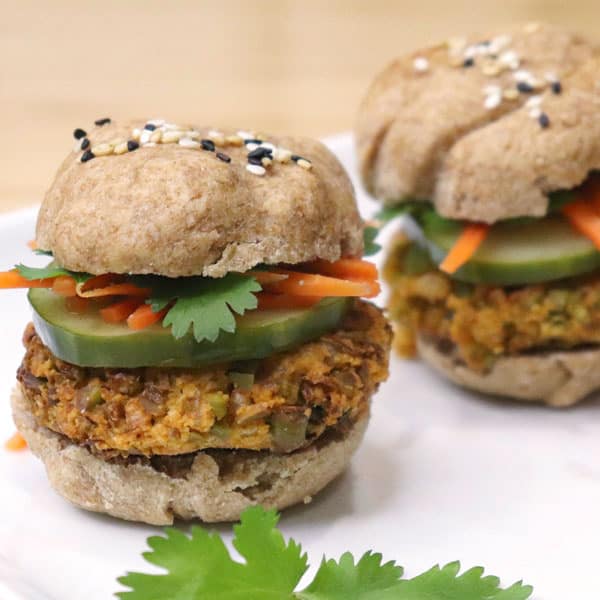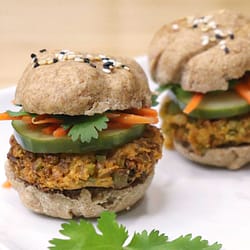 Edamame Banh Mi Sliders – Vegan Vietnamese Recipe
Yum
Make an impressive and easy vegan appetizer with these Vietnamese-inspired edamame Banh Mi Sliders! Filled with lots of veggies and plant proteins.
Instructions
Mix rice vinegar, water, lime juice, and sriracha in a bowl or jar. Add the julienned carrots and cucumber slices. Prepare 30 minutes to 24 hours ahead of time.

Combine edamame, rice, peanut butter, scallions, curry paste, soy sauce, and almond flour in a food processor. Pulse, scraping down the sides as needed, until coarsely chopped.

Shape the mixture and press into about a 2 inch wide slider. I find it easiest to use an ice cream scoop and press the mixture down in hard so it is packed well enough to not fall apart.

Cook in an air fryer for 10 minutes preheated to 400 degrees (healthiest method). Alternatively, you can brown in a pan with a couple tablespoons of sesame oil.

Drain the carrots and cucumber. Assemble the sliders with an edamame patty, pickled carrot, a slice of pickled cucumber, and fresh cilantro. Optionally, garnish with sriracha as well.
Nutrition
Nutrition Facts
Edamame Banh Mi Sliders – Vegan Vietnamese Recipe
Amount per Serving
% Daily Value*
* Percent Daily Values are based on a 2000 calorie diet.
❤️❤️Read About Me for details about my health journey; and, make sure you remember to sign up for my Newsletter and follow me on social❤️❤️!

Supporting me is appreciated as I create content to support your health journey.