Are you looking for a quick and simple way to boost your energy and relieve tummy bloating, but are sick of spending hundreds of dollars on store-bought "magic" juices and shots? I am here for you! Lately, I have been experimenting with making my own homemade detox drinks, and I am having lots of fun playing with different ingredient combinations!
Even though I do not believe in the concept of "detox" per se (I will explain more in detail why later), I find these drinks an incredible and easy way to load my body with precious antioxidants, vitamins, and minerals, which – in turn- assist the natural detoxifying processes already happening inside my body. Plus, they are all extremely refreshing and provide some much-needed relief from the scorching heat of the past few weeks.
Eager to learn more about the world of detox juices and start making your effective immune-boosting and debloating beverages in the comfort of your own home? Keep reading this article!
---
What is a Detox Drink? Does it Actually Work?
Detox drinks are -as suggested by their name- beverages that are promoted as a way to cleanse or detoxify the body. Some of them are just a combination of water, fruits, vegetables, herbs, and sometimes added vitamins or minerals, others can come in the form of juices, shots, and smoothies.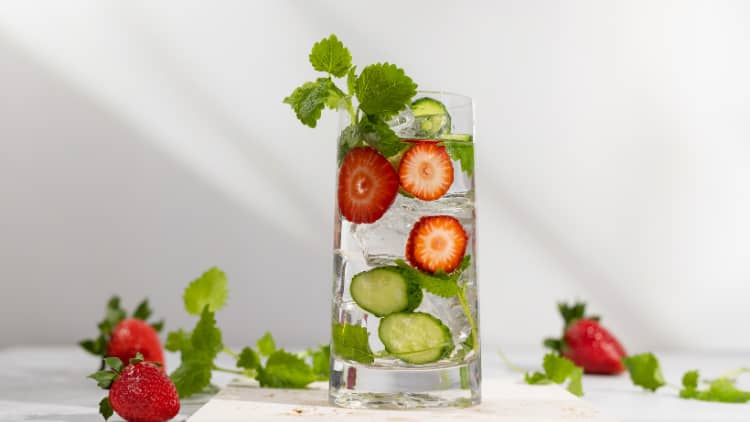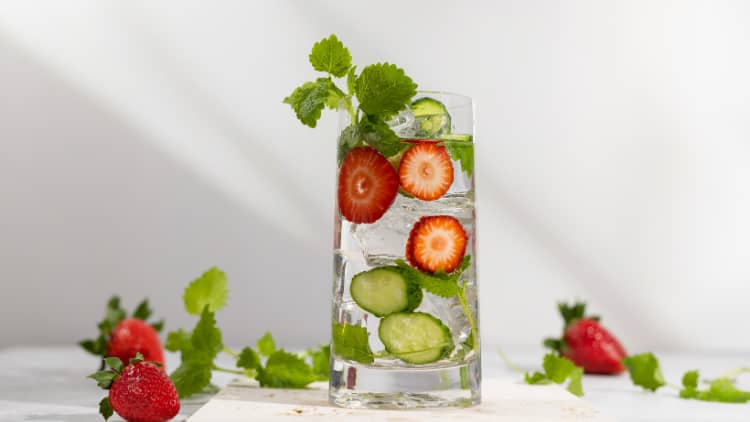 But do they actually work?
On one hand, it's undeniable that detox waters and juices can be extremely refreshing and provide essential nutrients to our bodies. On the other hand, it's important to note that the concept of "detoxification" through specific drinks is not supported by any scientific evidence.
The human body has its own natural detoxification system primarily carried out by the liver, kidneys, lungs, and skin. These organs work together to eliminate waste products and toxins from the body. While staying hydrated by drinking water or other fluids is beneficial for overall health, there is no specific beverage that can miraculously detoxify your body or instantly flush out toxins!
This is why I am generally quite skeptical when it comes to buying "miraculous" detox drinks or juices. Plus, they are often extremely pricy and way lower in precious micronutrients than freshly-made ones. Indeed, as nutrition experts highlight, it's imperative to drink your fresh juice immediately, to be able to absorb the maximum amount of nutrients and prevent their oxidation.
Hence why I love making my homemade detox drinks and drinking them straight away!
What are the Benefits of Homemade Detox Drinks?
Despite detox drinks might not act as magical "detoxifiers" as some marketing claims might lead us to believe, these can still contribute to improving our overall health when incorporated into a balanced and healthy lifestyle.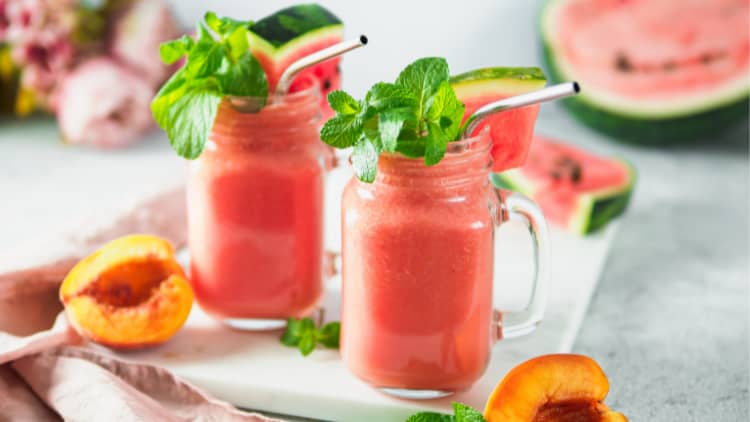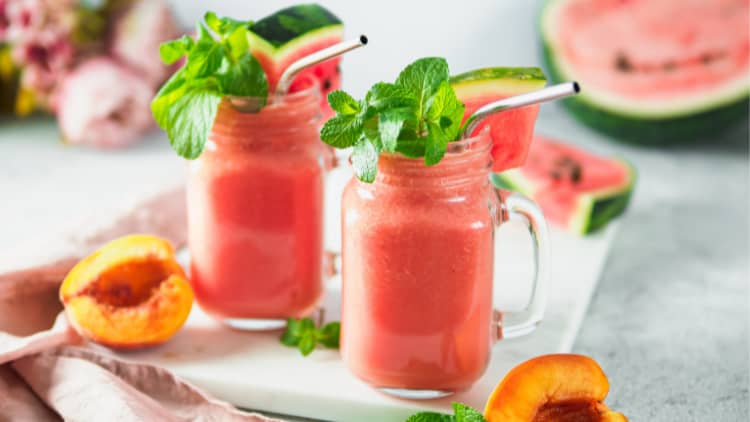 Among the benefits of homemade detox drinks are:
Extra-hydration.
Detox drinks often contain water or water-rich ingredients, which can contribute to overall hydration. As we all know, staying hydrated is extremely important during this time of the year, especially if we are feeling particularly bloated or low in energy!
Nutrient intake.
Homemade detox drinks are made with colorful fruits and veggies, rich in essential vitamins, minerals, and fiber. All of them are key to a strong immune system, and a fast digestive system. Similarly, ingredients such as berries, dark leafy greens, and citrus fruits are packed with antioxidants. These precious compounds can help protect the body against damage caused by free radicals. These are non-other than unstable molecules that can contribute to chronic diseases and aging!
A refreshing and flavorful alternative to store-bought drinks.
Detox drinks can be a flavorful alternative to sugary beverages or artificially flavored drinks. Plus, they encourage us to stay hydrated, especially when we find plain water boring or unappealing.
A stronger immune system.
Detox drinks that contain ingredients like citrus fruits (rich in vitamin C) and ginger (with anti-inflammatory properties) can support a stronger immune system by providing essential nutrients and antioxidants. Additionally, staying hydrated helps maintain proper fluid balance, which is essential for optimal immune function.
Weight management.
Homemade detox beverages -and in particular smoothies and infused water- are low in calories and high in fiber. Dietary fiber can help promote feelings of fullness, thus supporting our weight loss or management goals.
This is why I still love to find new creative ways to use my favorite fresh ingredients and make incredible detox juices and smoothies that can support my immunity, speed up my digestion, and give me an instant boost of energy!
Homemade Detox Drinks: my favorite recipes!
Finally, here are some of my favorite homemade detox drink recipes. During the past few months, I noticed that my digestion was extremely slow. In addition, I often felt sluggish and low in energy.
Since I started incorporating my detox juices, water, and smoothies regularly into my daily diet a couple of weeks ago, I quickly started to feel better. My tummy feels flatter, the usual bloat is only a distant memory, and I have never felt so focused, energized, and alive!
This is why I never stop raving about them, and I strongly recommend them to all my friends that are looking for a quick way to improve their overall health! All the beverages below are super quick to make, yet packed with flavors and nutrients.
(N.B. I've recently bought this juicer and cannot stop using it!)
Social Buzz
1. Strawberry Detox Lemonade 🍓
Strawberry Detox Lemonade
This strawberry detox lemonade is as delicious and refreshing as it is detoxifying for your body. Enjoy it on a hot summer Saturday, or whenever you need to detox from the night before!
Check out this recipe

2. Blackberry Mint Lemonade 🍋
Blackberry Mint Lemonade
Post-run cooling and carb-restoring homemade Blackberry Mint Lemonade 🍋 ! Are you hitting the streets and trying to beat the heat!? This refreshing recipe will cool you off and tastes like an amazing mocktail!
Check out this recipe

3. Blueberry Kale Smoothie 💜
Blueberry Kale Smoothie
Anti-inflammatory, high in protein, and energizing: boost your health with this Blueberry Kale Smoothie! A Pegan recipe (i.e. paleo plus vegan) with a great taste and all the micro and macronutrients that support our long-term health. 🌸
Check out this recipe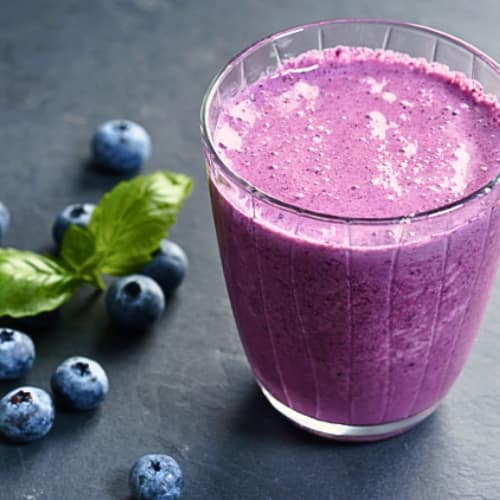 4. Jalapeño Pineapple Mocktail 🍍
Jalapeño Pineapple Mocktail
Are you ready to quench your thirst with a delicious homemade spicy pineapple mocktail? 🍹 A non-alcoholic beverage low in calories, kid-friendly, and way healthier than your store-bought drinks!
Check out this recipe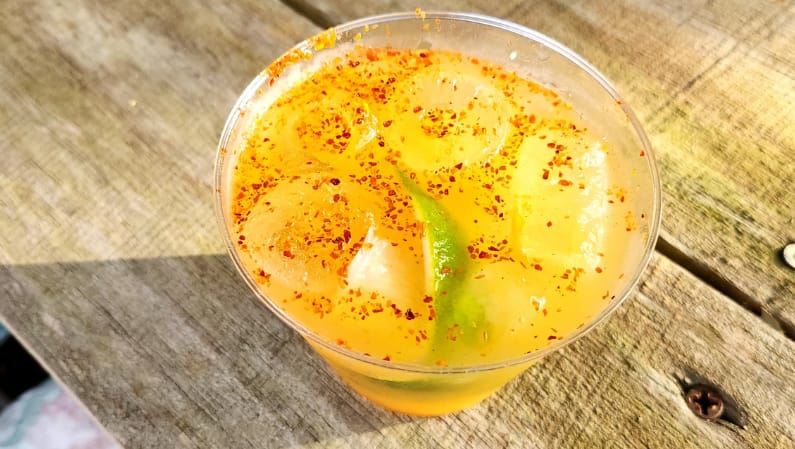 5. Berry and Beet Smoothie 💚
Berry and Beet Smoothie
This Berry and Beet Smoothie is Pegan-diet compliant, nutrient-dense, and great for weight loss. With minimal effort, you will have a healthy and delicious breakfast or snack!
Check out this recipe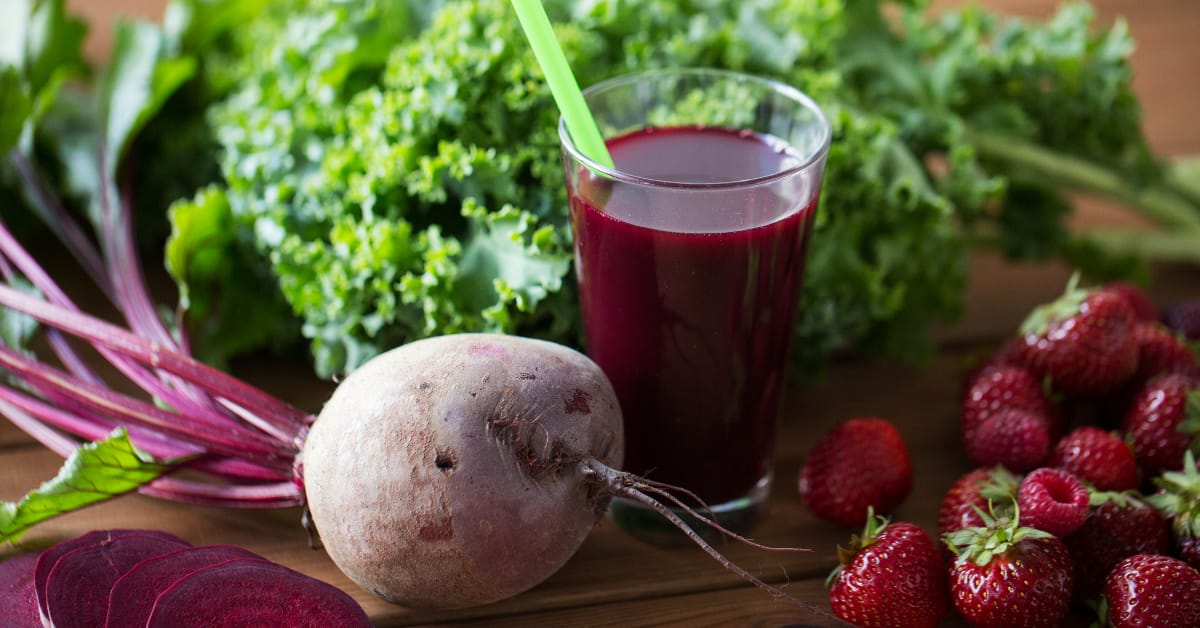 If you have tried these incredible detox recipes, don't hesitate to share this post with your family and friends! And let's connect over on my socials (all the links are down below)! 💗
❤️❤️Read About Me for details about my health journey; and, make sure you remember to sign up for my Newsletter and follow me on social❤️❤️!

Supporting me is appreciated as I create content to support your health journey.