Thi Strawberry Detox Lemonade is a refreshing and healthy way to detox your body naturally this summer! If you are wondering where you can buy detox drinks, then don't! This strawberry detox lemonade is so simple and quick to make in the comfort of your own home!
❤️❤️ Make sure you remember to sign up for my Newsletter and follow me on social ❤️❤️!
This Strawberry Detox Lemonade is one of my favorite summer drinks as it has naturally detoxifying and rejuvenating ingredients which help boost metabolism and make your skin glow. I have been trying some other detox drinks recipes as well, but this strawberry lemonade has some amazing and unique benefits. If that sounds too good to be true, then hear me out and see for yourself the list of all its super healthy ingredients: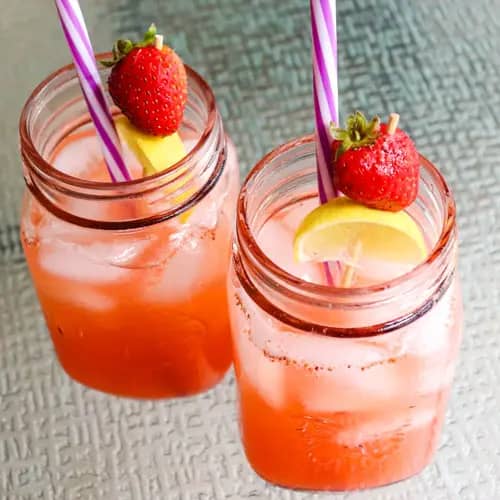 6 incredible Detox Ingredients
Strawberries – More than Just Tasty
The primary ingredient of this natural detox drink- strawberries, add great nutritional value to lemonade as this low-glycemic fruit is free from carbs but is at the same time packed with lots of vitamins- especially vitamin C. Vitamin C is particularly great for your skin and for boosting collagen production. In addition, strawberries are full of antioxidants, which are naturally detoxifying [1].
Want to know more about the amazing benefits of strawberries? Here is an article for you!
Lemons – In Most Detox Recipes
Adding lemon juice to a drink is perhaps the easiest way to make it detoxifying. Indeed, this citrus fruit is loaded with vitamin C and antioxidants, which are great to boost fat burning, speed up digestion, and improve skin health [2].
If you want to find out more about the benefits of incorporating lemon into your everyday diet, check out this article!
Honey – Anti-inflammatory and Antibacterial
Instead of using sugar or artificial sweeteners, I use honey for every detox drink recipe. This is because honey is not only less processed but it is also a great detoxifying ingredient. This is due to the precious flavonoids, ascorbic acid, and phytochemicals contained in it. These phytochemicals make honey also a great anti-inflammatory ingredient. Moreover, due to its antibacterial properties, honey prevents bacterial infections in the body [3].
Cucumber – Hydrate to Flush Toxins
If you want to make your detoxifying drinks more hydrating, add some cucumber. That's right! Cucumber is loaded with water and fiber, which is great for our cells and tissues. Moreover, its daily intake can increase your Vitamin C consumption by 4 percent. There are also several other essential minerals that are contained in cucumber flesh [4].
Find out more about the amazing benefits of cucumbers in this article!
Apple Cider Vinegar – Great for Weight Loss
Apple cider vinegar is mostly recommended for weight loss, to treat skin problems like eczema and dry skin, and to lower blood cholesterol and glucose levels [5].
Mint – Holistic Healing
That particular refreshing fragrance of mint leaves is enough to tell you how soothing and naturally healing these leaves are. Mint has been in use for centuries due to its healing properties; whether it is digestive problems, asthma, common cold, headache, bad breath, or even weight loss, mint leaves extracts are beneficial to treat them all. For these reasons, mint is often added to a number of home detox drinks as well [6].
Do Detox Drinks Really Work?
Unfortunately, there isn't much scientific evidence to confirm that detox drinks do actually work. If you're generally healthy, your liver should be able to remove toxins from your system without the necessity of any external help.
However, detox drinks do contain some health-promoting ingredients, so they generally don't hurt to consume and are an excellent alternative to a lot of other more sugary beverages. What are your thoughts on detox drinks? Let us know in the comments!
---
Strawberries – WebMD
Lemons – MedicalNewsToday
Honey – MedicalNewsToday
Cucumber – LiveScience
Apple Cider Vinegar – WebMD
Mint – FoodNDTV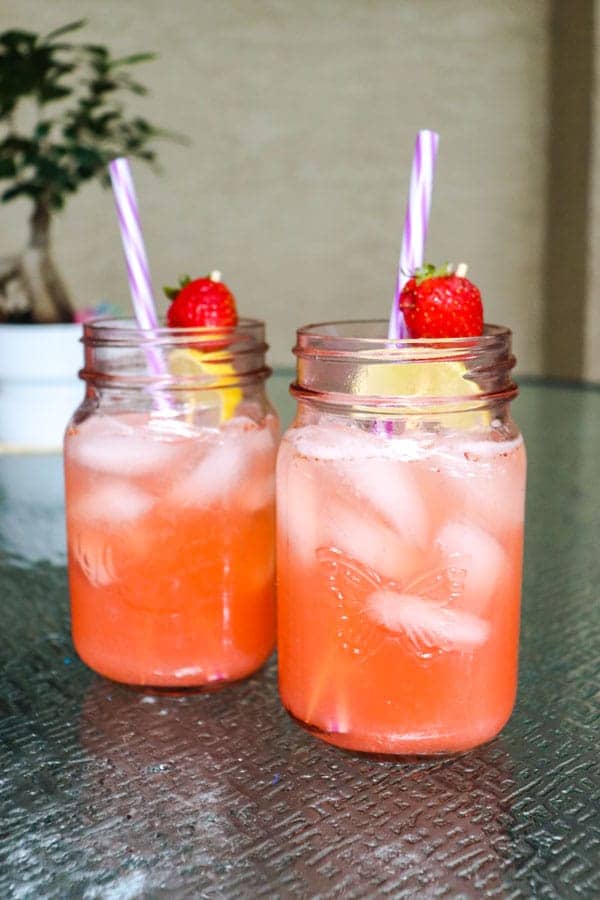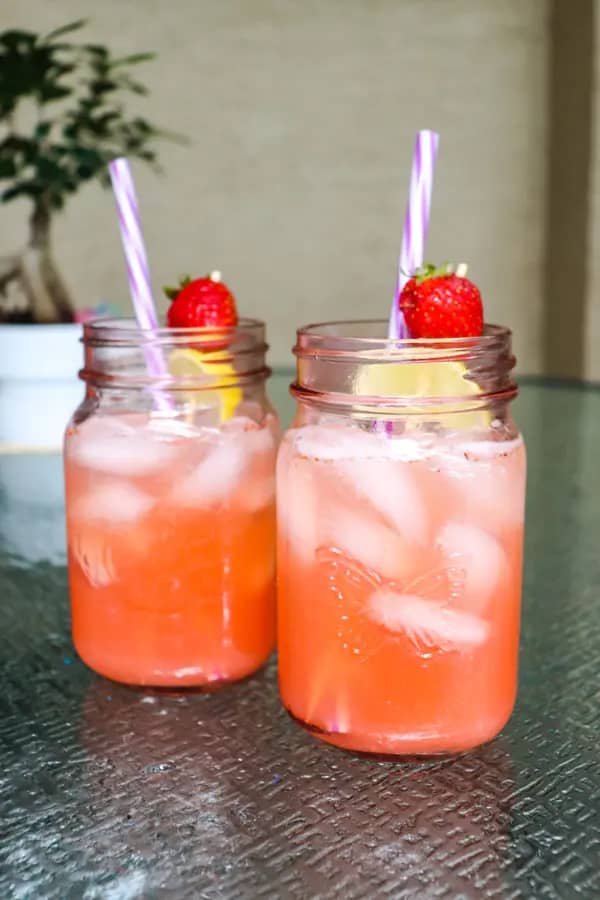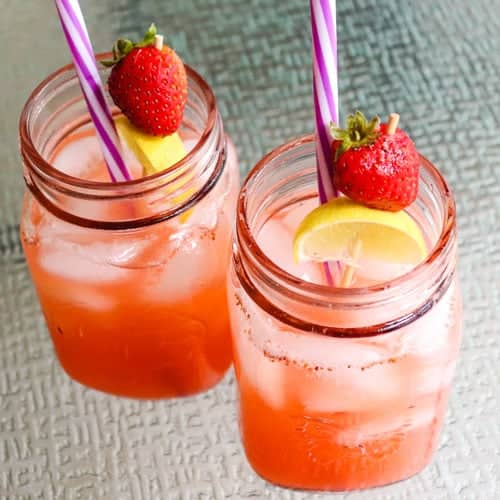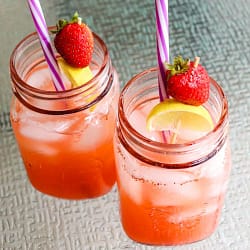 Strawberry Detox Lemonade
Yum
This strawberry detox lemonade is as delicious and refreshing as it is detoxifying for your body. Enjoy it on a hot summer Saturday, or whenever you need to detox from the night before!
Instructions
Add the strawberries, cucumber, honey, and apple cider vinegar to a blender with a cup of the water. Then blend until it is as thin as possible.

You may optionally choose to strain the juice with a cheesecloth to remove the strawberry seeds. Pour the juice mix into a two quart pitcher.

Add the remaining water and lemon juice. Stir with a long spoon.

To serve: Muddle fresh mint in a glass* (optional). Then pour some ice cubes and the strawberry detox lemonade.
Notes
Nutrition
Nutrition Facts
Strawberry Detox Lemonade
Amount per Serving
% Daily Value*
* Percent Daily Values are based on a 2000 calorie diet.
❤️❤️Read About Me for details about my health journey; and, make sure you remember to sign up for my Newsletter and follow me on social❤️❤️!

Supporting me is appreciated as I create content to support your health journey.


Enable Notifications
OK
No thanks