Easy peasy lemon squeezy…. just as drinking a glass of lemon water in the morning! This quick-to-make beverage could indeed be incredibly beneficial for your overall health. Let's discover why!
If you're antsy to jump right to a tasty recipe, check out my Strawberry Detox Lemonade!
Drinking a Glass of Lemon Water Every Morning: 7 Scientifically Proven Benefits
Drinking a glass of lemon water in the morning – better if warm – can positively impact our overall health in multiple ways. Besides being an incredible natural detoxifier, it can be a wonderful ally in helping our digestion, and in boosting our immune system.
And this is not all! From the most popular to the less well-known, let's discover all the amazing benefits of drinking lemon juice in the morning.
1. Balances the pH of our body.
First of all, lemon water helps to balance the pH value of the body. But what exactly indicates the pH? The potential of hydrogen (pH) is a value that determines how acidic or alkaline is a solution, on a scale between 0 to 14, where 7 is neutral, values below 7 are acidic, and over 7 are alkaline.
But how can lemon water help with regulating the pH of our body? Lemon water is great to help counteract overly acidic body pH. Indeed, this state can lead to inflammations, which in turn can contribute to the insurgence of several health conditions. On the contrary, lemon juice is very alkaline and can therefore aid the body's pH to become more alkaline, thus preventing potential damage to our body.
2. A great diuretic
Drinking warm lemon water can be a great natural diuretic! Even though going more often to the bathroom can sometimes be annoying, this is a great way of purifying our bodies! Peeing more means that toxins are released from the body at a faster rate, which in turn prevents urinary tract infections.
Even better, drinking lemon water may help prevent kidney stones. The reason is that the citric acid contained in lemons helps to break up or flush out small kidney stones, and it can even prevent stone formation altogether.
3. It helps with iron absorption
The vitamin C contained in lemons plays a vital role in iron absorption. Pairing food rich in vitamin C with iron-rich food accelerates the body's ability to absorb iron, thus preventing anemia (iron deficiency).
This can be particularly helpful when consuming a vegan or vegetarian diet, as non-heme iron (the iron contained in plants) could be more difficult for our bodies to absorb. But don't worry, plant foods can be a great source of iron as well. More on this in an upcoming article!
4. A glass of lemon water every morning to clear our skin
Sun exposure, pollution, age, and other environmental factors can lead to skin damage. And here is where the vitamin C – of which lemons are super rich – comes into action. Indeed, Vitamin C plays a crucial role in the formation of collagen, which supports the skin, and prevents it from any damage.
Drinking warm lemon water will therefore help to decrease wrinkles and blemishes, and can even be applied directly to our scars to help fade them.
5. It improves our digestion
One of lemon juice's most important benefits is the stimulation of bile production, an essential component of healthy digestion. Indeed, the citric acid found in lemon juice has been shown to boost gastric acid secretion, a digestive fluid produced in the stomach that enables your body to break down and digest food.
By drinking a glass of lemon juice and water in the morning, you'll guarantee easy and efficient digestion for the rest of the day!
6. Super hydration!
Drinking a glass of lemon water right when you wake can help you start the day with the right food! Indeed, after a night of sleep, our bodies need the right amount of fluids to kick-start their normal processes.
Consuming lemon water in the morning is helpful not only in reintegrating those liquids, but can also make drinking water more pleasant and enticing. Two birds with one stone!
7. An ally against respiratory problems
Drinking warm lemon water helps eliminate chest infections and stops annoying coughs! There are multiple reasons for this. First, as said above, the vitamin C in lemon juice can help to boost the immune system. Second, the compound limonene and the antioxidants in lemon juice can help the body resist asthma triggers and fight against allergens and irritants.
Last but not least, the antiseptic properties of lemon might help prevent mucus build-up.

The only thing you should be careful about with lemon water is to use a metal or glass straw when drinking it, as the acids contained in lemon juice could be damaging to your teeth.

The question now is… why are you waiting to enjoy the amazing benefits of lemon water in the morning?
Lemon: Some Nutrition Facts
As said above, lemons are rich in vitamin C, a powerful antioxidant, as well as several other minerals such as potassium, phosphorus, magnesium, iron, and calcium.
Here are lemon's nutrition facts of one lemon (without the rind):
Energy: 16.8 calories (kcal)
Carbohydrates: 5.41 g, of which 1.45 g are sugars
Vitamin C: 30.7 mg
Calcium 15.1 milligrams (mg)
Iron: 0.35 mg
Magnesium: 4.6 mg
Phosphorus: 9.3 mg
Potassium: 80 mg
Selenium: 0.2 micrograms (mcg)
Folate: 6.4 mcg
Choline: 3.0 mg
Vitamin A: 0.6 mcg
Lutein + zeaxanthin: 6.4 mcg
Fun Facts About Lemons
During the reign of King Louis XIV of France, ladies used lemons to redden their lips.
In the past, ships were equipped with lemons and limes to prevent the sailors from developing scurvy.
Lemon trees can grow for 150 years.
Arabs spread lemons throughout the Mediterranean area during the early 2nd century.
India is the largest lemon producer in the world with 3,482,000 tonnes of production per year.
How to Choose Your Lemons: Some Ingredient Selection Tips!
When choosing a lemon, make sure to check its appearance and color. A compact fruit, slightly soft to the touch, and strong yellow in color, is perfectly ripe. On the contrary, unripe lemons are light yellow in color and has a distinctly sour-bitter smell.
Moreover, any damage to the lemon's skin can lead to the rapid deterioration of the fruit, so make sure to store your fruits in a proper environment, far from excessive lights and temperatures.
How to Grow Your Own Lemons
Lemon is a tree that does not tolerate low temperatures, as these can cause a lot of damage to the plant. This is why if you live in colder regions, the plant should be protected during the winter, whether by placing it in a greenhouse or by covering it with a protective fabric. On the other hand, during the hotter summer days, lemon trees generally need more water.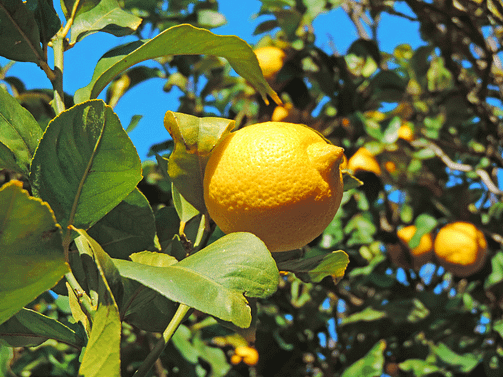 Also, make sure that the soil is light and well-drained: the most suitable types of soil are loamy or sandy-loamy fertile ones. Make also sure that the tree is in a sunny position, protected from the wind.
Want to incorporate more lemons into your diet? It's easy with these recipes!
Lemon is a very versatile ingredient, great in both salty and sweet recipes.

If you need a tasty recipe for a fancy dinner, try my Grilled Swordfish & Swiss Chard in a Lemon Dill Wine Sauce Over Wild Rice or my Balsamic Asparagus, and Mushrooms with Lemon & Thyme.
If on the other hand, you need some refreshment on a hot summer day, these Homemade Electrolyte Popsicles with Tropical Fruits are perfect for you! And if you want a tasty variant of your usual lemon water, try my Blackberry Mint Lemonade, or my Strawberry Detox Lemonade.


Strawberry Detox Lemonade
This strawberry detox lemonade is as delicious and refreshing as it is detoxifying for your body. Enjoy it on a hot summer Saturday, or whenever you need to detox from the night before!
Check out this recipe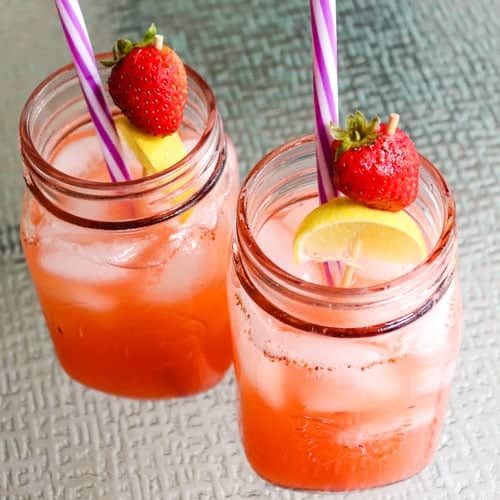 Balsamic Asparagus and Mushrooms with Lemon & Thyme
This savory plant-based dish can be made in one pot with chicken or tofu, asparagus, mushrooms, and a delicious balsamic lemon thyme reduction!
Check out this recipe

Grilled Swordfish & Swiss Chard in a Lemon Dill Wine Sauce Over Wild Rice
Grilled Swordfish and Swiss Chard with Lemon Dill Wine Sauce, served on a bed of Wild Rice: a healthy, easy to make, and macro-balanced recipe!
Check out this recipe

Homemade Electrolyte Popsicles with Tropical Fruits
It's getting hot in here … quench your thirst and rehydrate your body in this crazy summer heat with these Homemade Electrolyte Popsicles, a healthy popsicle recipe made with Tropical Fruits! Whether you are a child or an adult – you can certainly be a fan of these healthy summer treats.
Check out this recipe
Raspberry Lemon Bars
Need a quick, yet healthy treat to pick you up mid-afternoon? Try my delicious Raspberry Lemon Bars, a plant-based and gluten-free snack that will help naturally raise your energy levels! 🍋 Indeed, my lemon raspberry bars are made with just whole, natural ingredients, rich in all the minerals and vitamins that will help support the optimal functioning of your body. Plus, they contain a good amount of protein and healthy fats, both of which can help you curb any sugar cravings and help you feel fuller for longer!
Check out this recipe

Blackberry Mint Lemonade
Post-run cooling and carb-restoring homemade Blackberry Mint Lemonade 🍋 ! Are you hitting the streets and trying to beat the heat!? This refreshing recipe will cool you off and tastes like an amazing mocktail!
Check out this recipe
❤️❤️Read About Me for details about my health journey; and, make sure you remember to sign up for my Newsletter and follow me on social❤️❤️!

Supporting me is appreciated as I create content to support your health journey.