Summer is fastly approaching and you are willing to get back on track? You don't need to follow any overly restrictive diet or starve yourself! Aim to incorporate healthier, balanced meals into your diet, such as this scrumptious Chili Lime Salmon! 🍋 Ready in less than 15 minutes, this oven-baked salmon recipe is not only super tasty but also low in calories and completely gluten-free! You don't need to suffer to feel the best in your body! 💗
---
Almond flour, lime juice, pepper flakes, nigella seeds, and a bunch of aromatic herbs and spices: making some flavorful and wholesome salmon fillets has never been so easy! What I love the most about this recipe is that you can prep the fish coating in advance (just skip the lime zest), and have it ready for whenever you don't have time to cook an elaborate meal. I personally love to consume this chili lemon salmon at dinner, as it's very easy to digest, but at the same time, I don't go to sleep feeling ravenous!
Indeed, salmon is a great source of good fatty acids, and proteins, which help keep you fuller and energized for longer. For a complete meal, I suggest pairing this baked lime salmon with a good source of complex carbohydrates, such as wild brown rice or quinoa. On the side, a portion of raw or cooked veggies, such as these Mediterranean Brussel Sprouts, or Light Broccoli Salad.
This oven-baked salmon recipe is very kid-friendly as well: the sweet almond flour gives the fish a very nice creamy texture and perfectly contrasts the acidity of the lime and the spiciness of the pepper. Overall, the taste is very delicate and balanced! If you fancy a spicier fish, you can try to top it with this Garlic Habanero Hot Sauce! A wonderful, healthy dinner for all the family!
The Amazing Ingredients in this Chili Lemon Salmon recipe! 💯
Let's have a look at the incredible benefits of the ingredients used in this baked lime salmon recipe.
1. Salmon 🐟
Salmon is a fatty fish, rich in precious Omega-3, selenium, phosphorous, and protein. In particular, Omega-3 fatty acids play a pivotal role in supporting heart health. At the same time, they contribute to the reduction of inflammation levels in the body. In addition, they can help enhance cognitive function and strengthen our nails and hair. On the other hand, selenium is a key nutrient, involved in DNA synthesis, thyroid hormone metabolism, and reproductive health.
Salmon is also a very versatile fish, that can be used in multiple preparations, both cooked and raw. I recommend opting for wild-caught Atlantic salmon, as it is lower in both calories and fats!
2. Lime 🍋
Like the other citrus fruits, limes are particularly high in vitamin C and antioxidants. These are super powerful compounds that can fight the action of free radicals. These are responsible for oxidative stress and, in turn, cell aging. What's even more surprising is that pairing food rich in vitamin C -as limes- with iron-rich food -such as salmon- accelerates the body's ability to absorb iron, thus preventing anemia (iron deficiency).
In addition, lime juice is a great diuretic. This means that it can speed up the natural detoxification processes in our kidneys and liver. At the same time, they prevent the formation of kidney stones. Finally, limes are widely used for their immune-boosting properties. This is why drinking lemon or lime juice could help prevent the common cold or flu.
To learn more about the incredible properties of lemon (or lime) juice, click here.
3. Nigella seeds (black cumin) 🌱
Did you know that Nigella sativa seeds (the scientific name for black cumin) are packed with health-supporting properties? The seeds are renowned for their antihypertensive, diuretic, digestive, and anti-diarrheal properties, and can be even used as powerful analgesics in pain treatment. Due to their remarkable therapeutic properties, nigella seeds are among the top-ranked evidence-based herbal medicines.
In order to be able to reap all the precious nutrients in black cumin seeds, I suggest using grounded seeds, (such as the ones from Amazing Herbs). These are more easily absorbable by the body than whole seeds!
If you liked this Chili Salmon recipe, I suggest checking out also my Pan-Seared Salmon with Creamy Roasted Red Pepper Sauce, Grilled Swordfish with Lemon Dill Wine Sauce, and Almond Crusted Cod with Tropical Salsa. And don't forget to share this recipe on your socials. All my links are down below! 💗

Social Buzz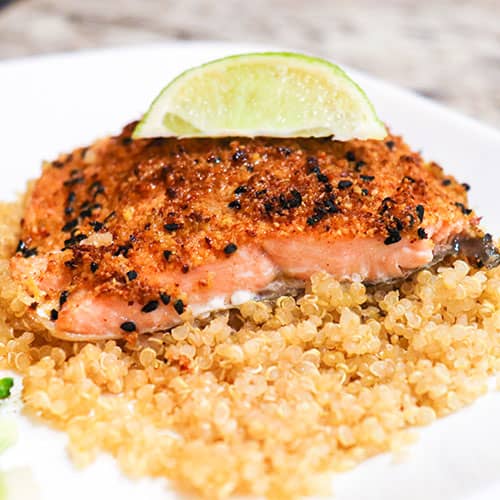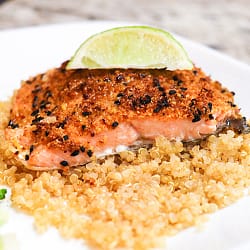 Chili Lime Salmon
Yum
Ready in less than 15 minutes, this Chili Lime Salmon recipe is not only super tasty but also low in calories and completely gluten-free! Great if you want to get back on track in the run-up to Summer!🍋
Instructions
Prepare the coating: add the almond flour and all the seasonings (minus the lime zest) to a plastic bag and mix everything very well.

Spray the salmon fillets with the extra-virgin olive oil and place them on a lined baking sheet.

Heat the oven on high broil.

Rub the ingredients in the plastic bag generously on top of the salmon fillets. Then, add the lime zest.

Place the pan in the oven and cook until the fish easily flakes. (Watch it carefully as it is ready in as little as 4 minutes!)

Top the chili lime salmon with some lime wedges, and serve it over brown, wild rice, or quinoa.
Nutrition
Nutrition Facts
Chili Lime Salmon
Amount per Serving
% Daily Value*
* Percent Daily Values are based on a 2000 calorie diet.