Grilled Swordfish and Swiss Chard with Lemon Dill Wine Sauce, served on a bed of Wild Rice: a healthy, easy-to-make, and macro-balanced recipe!
Lately, I am loving to eat this dish for dinner, as it is very quick to make, easy to digest, and a great way to incorporate more proteins into your diet. And the best thing is that your kids will love it too!
Grilled Swordfish: why is it such a perfectly balanced meal?
Why do I claim that this Grilled Swordfish is such a balanced meal? Simple: it contains all the proteins, carbohydrates, fats, and veggies our bodies need to thrive!
First, the swordfish is not only high in proteins, which are essential to build and repair our muscles but is also rich in Omega3 fatty acids. These have powerful effects on both our brain and body, which range from improving our brain functions to promoting our heart health and joint mobility. This is why it is fundamental to make sure to include them in our diet.
Second, I chose to serve the fish on a bed of wild rice. Remember: carbs should not be avoided! On the contrary, you should choose the best sources of carbohydrates, which will help you reach your goals and live a more energized life! Here I opted for wild rice, mainly for two reasons. First, it is less processed than white rice. And second, due to its higher fiber content and lower glycemic index, it will keep you satisfied for longer.
Last but not least, are the sauce and sides of the fish. I opted for some Swiss Chard, which is an amazing veggie full of properties (you can read some of them in the box down below), and for a Lemon Dill Wine Sauce (If you want to find out more about the benefits of incorporating lemon into your everyday diet, check out this article!). This sauce is lighter than the traditional butter sauce, but has way more taste! Indeed, I used some delicious herbs and spices, such as dill and mustard, that help enhance the flavor of the fish.
What are you waiting for? Try this amazing recipe and let me know how you liked it!
Social Buzz

Ingredient Selection Tips
Swordfish
Raw swordfish steaks should be firm and present with no discolored skin or brown stains, as these may indicate that the meat is old. On the contrary, fresh raw meat should have a bright tone, that can go from white-ivory to pink-orange.
Swiss Chard
The color and appearance of the Swiss Chard leaves are the main indicators of its freshness. Fresh chard should have a strong green color, and fleshy leaves with a striking stem that can be white, red, or yellow. The leaves should then be slightly curved at their ends.
Noteworthy Health Benefits
Swordfish
Swordfish is low in fats and calories and rich in Omega 3 fatty acids, selenium, niacin, and zinc. The Omega 3 found in swordfish has a beneficial effect on heart health, and blood pressure and may even help to keep cholesterol levels in check. In addition, the Vitamin D and selenium contained in this fish can help improve bone health, as they both play an essential role in bone formation.
Like in everything, we should be moderate in consuming swordfish, as it can contain high amounts of mercury, a heavy metal that can have toxic effects on the brain. Avoid giving it to babies. If you would like to replace it with some other fish, you can always use salmon, trout, herring, and haddock.
Swiss Chard
This veggie is an excellent source of vitamins K, C, and A, as well as magnesium, manganese, copper, iron, and calcium. Because of all these precious micro-nutrients and antioxidants, swiss chard may help prevent several chronic diseases, may lower blood sugar and cholesterol levels, and is also beneficial to heart health. In addition, due to its high content of fibers, swiss chard helps to promote good gut health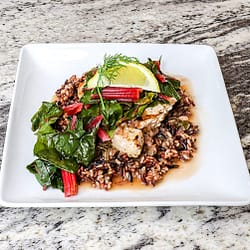 Grilled Swordfish & Swiss Chard in a Lemon Dill Wine Sauce Over Wild Rice
Yum
Grilled Swordfish and Swiss Chard with Lemon Dill Wine Sauce, served on a bed of Wild Rice: a healthy, easy to make, and macro-balanced recipe!
Instructions
Heat the grill over medium high (to about 400° F).

Brush some olive oil, salt and pepper the swordfish filets. Set aside.

Heat a pan over medium with oil.

Sauté the garlic and shallot until onion is translucent.

Bring down the pan to low.

Add the vegetable broth, lemon juice and zest, dill, mustard, and all the other seasonings.

Add the swiss chard and cook until it has wilted.

Make an arrowroot slurry by mixing the arrowroot in a small amount of water in a small bowl.

Remove the pan from heat and stir in the arrowroot slurry.

Keep it warm, but do not return to a simmer.

Add the swordfish filets to the grill. Grill them for about 5 minutes on each side, or until the fish is done. Thick filets will likely need more time.

To assemble: add some wild rice to a plate. Top it with a swordfish filet, and then with the swiss chard and sauce. Enjoy!
Notes

Nutrition
Nutrition Facts
Grilled Swordfish & Swiss Chard in a Lemon Dill Wine Sauce Over Wild Rice
Amount per Serving
% Daily Value*
* Percent Daily Values are based on a 2000 calorie diet.
❤️❤️Read About Me for details about my health journey; and, make sure you remember to sign up for my Newsletter and follow me on social❤️❤️!

Supporting me is appreciated as I create content to support your health journey.