Pan-Seared Salmon: a healthy, easy, and super delicious recipe! Plus, the Roasted Pepper Sauce to top it is so creamy without the need of using heavy cream (here is another great light cream sauce recipe)!
This Pan-Seared Salmon is also a great way to make your kids eat more veggies, and is ideal to prep in advance and enjoy later on. But this is not all! Serve it at a fancy dinner with your partner or friends and look at their reactions! Nobody would ever imagine that such a delicious and sophisticated dish is so easy to make!
Pan-Seared Salmon: fewer fats, more taste
This recipe is incredibly healthy and good for everyone. Let me explain why.
First of all, pan-searing your salmon help to preserve all the nutrients contained in the fish, while limiting the amount of oil needed to cook it. Salmon is indeed rich in healthy unsaturated fats. These are not only good for overall mental and physical health. Indeed, they will also help to cook your fish without the need to add unnecessary fats and calories.
Second, this dish is rich in all the essential micro and macronutrients that help your body to thrive: the healthy fats from the salmon and avocado oil, the proteins from the fish and the Greek yogurt, the carbs from the wild rice, and the fiber and vitamins from the veggies.
Last but not least, the mention of honor goes to the creamy roasted red pepper sauce! Made with only red peppers, low-fat Greek yogurt, and arrowroot powder. Low in calories and fats, it is the perfect alternative to the classic buttercream sauce if you are on a diet, or you just want to eat healthier!
Enjoy and let me know in the comments if you liked it!

Social Buzz

Ingredient Selection Tips
Salmon
When choosing salmon (or any other fish for that matter), make sure to pay attention to the following characteristics. First of all, the color of the meat: the flesh of freshly caught salmon is light pink, the color is uniform and does not present any darker spots or, without the characteristic smell of fish with a slightly moist appearance. Second, its odor: fresh salmon has a light and pleasant smell, which is different from the strong smell of badly preserved or old fish.
Parsley
Good indicators of fresh parsley are a bright green color and a nice and pleasant smell. If the ends have taken on a slight yellowish color, this is often an indicator that the parsley is not as fresh and high-quality as you would want.
On the other hand, if you want to prolong the parsley's life, it is necessary to store it in the refrigerator in a well-closed container, which will also prevent it from absorbing other foods' odors.
Noteworthy Health Benefits
Salmon
Salmon is a great source of animal protein and contains several important nutrients like selenium, phosphorus, and B vitamins. Moreover, salmon is loaded with omega-3 fatty acids, which are unsaturated healthy fats that help promote heart health and decrease inflammation in the body.
Regular consumption of salmon may benefit brain health, and promote thyroid hormone metabolism. It also supports the production of red blood cells and regulates the functioning of the central nervous system.
Parsley
Parsley is rich in vitamin K, C, and A, and contains also important antioxidants which help reduce the risk of several health conditions like heart diseases, and diabetes. It is also beneficial in supporting kidney, eye, and bone health.
Avocado Oil
Avocado oil contains beneficial healthy fatty acids, like oleic acids, a.k.a. monosaturated omega 9 acids, and omega 3 and 6 fatty acids. These are helpful in supporting heart health, and they may even reduce cholesterol levels, and improve eye and skin health.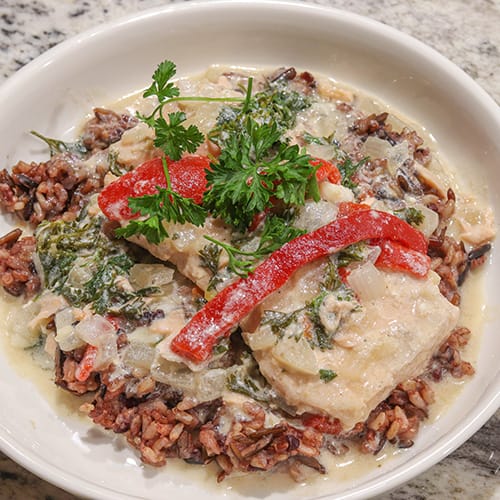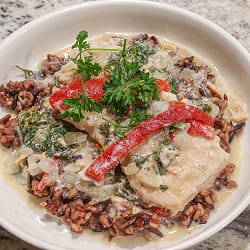 Salmon in Creamy Red Pepper Sauce Over and Wild Rice
Yum
Pan-Seared Salmon: a healthy, easy, and super delicious recipe! Plus, the Roasted Pepper Sauce to top it is so creamy and soft, without the need of using heavy cream!
Instructions
Heat the pan over medium-high to high with avocado oil.

Sear the salmon in a pan 1 minute each side. Remove and set aside.

Bring the pan down to low.

Add a little more olive oil. Saute the garlic and onion until fragrant.

Add broth, milk, seasonings, roasted red pepper and parsley. Bring to a simmer.

Add the salmon back to pan and cook until it is done (flip about half way).

Stir the arrowroot into yogurt (this prevents the yogurt from coagulating and thickens the sauce).

Remove the pan from the heat, and move the salmon to one side of the pan. Stir in the yogurt and arrowroot mixture.

To serve: add the wild rice to a plate. Top with the salmon and sauce. Enjoy!
Notes


Nutrition
Nutrition Facts
Salmon in Creamy Red Pepper Sauce Over and Wild Rice
Amount per Serving
% Daily Value*
* Percent Daily Values are based on a 2000 calorie diet.
❤️❤️Read About Me for details about my health journey; and, make sure you remember to sign up for my Newsletter and follow me on social❤️❤️!

Supporting me is appreciated as I create content to support your health journey.


Enable Notifications
OK
No thanks