This Light Cream Sauce is easy and so versatile in the kitchen. It is great for replacing any creamy sauces such as Alfredo in recipes.
Plus, it is delicious, and with very little fat like most shop-bought cream sauces which are loaded with dairy and heavy cream. This sauce works great in pasta dishes, or you can add the creamy white sauce to some chicken or fish such as salmon. It is also great in traditionally more elaborated dishes such as lasagne and baked pasta, or in casserole dishes.
The Light Cream Sauce is part of my Winter Meal Prep series. Check it out to find more healthy recipes!
❤️❤️ Make sure you remember to sign up for my Newsletter and follow me on social ❤️❤️!
Social Buzz

Ingredient Selection Tips
Cornstarch
Cornstarch is the starch extracted from corn, it's often used to thicken sauce which is why we're using it in this recipe. It's a fine white powder, you can find it in almost every supermarket, just look at the baking product aisle. Cornstarch is entirely gluten-free.
Look for an organic option, if possible as unfortunately, corn is one of the most common GMO plants.
Non-Dairy Yogurt
If you decide to use a non-dairy option for this recipe, choose almond or coconut Greek yogurt, with no added sugar.
Noteworthy Health Benefits
Cornstarch
Cornstarch doesn't have many nutritional benefits as it's just the starch extracted from corn but it isn't unhealthy either as it is used in such small amounts.
Greek Yogurt
Greek yogurt is high in protein and has a lower carb content than other yogurt products. Greek yogurt often referred to as "strained" yogurt, is made by fermenting yogurt in tanks and then straining whey and other liquids during the final processing steps. The process results in a thicker product with higher protein content.
It is also rich in carbs, fat, and many other nutrients as well, such as vitamin B12, B2, B5, vitamin A, Calcium, Phosphorus, Selenium, and Zinc.
Here are more health benefits of consuming Greek yogurt:
It may benefit bone health and may help with muscle recovery
Greek Yogurt may support gut health
It keeps you feeling full and helps with weight management
Thanks to healthline.com for information sourcing.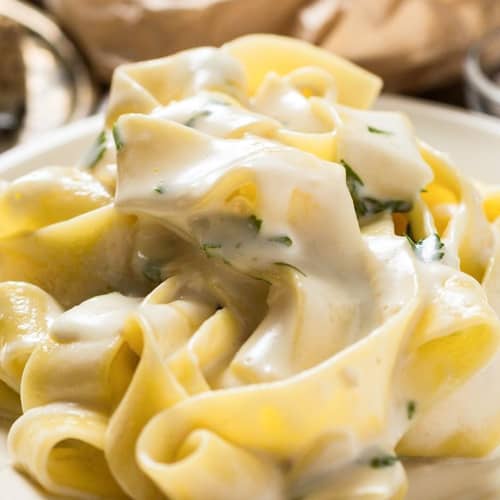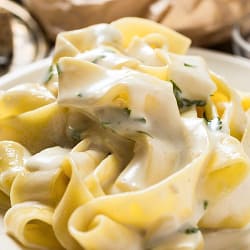 Light Cream Sauce
Yum
This Light Cream Sauce is very versatile in the kitchen, delicious, and low in fats. It is great for replacing creamy sauce in any recipe!
Instructions
Mix all ingredients in a bowl.

When ready to use in a recipe, make sure to cook low or the yogurt can coagulate.
Notes
Used with my Buffalo Chicken Casserole and Creamy Pesto Sauce Over Turkey Spinach Meatballs. 


Nutrition
Nutrition Facts
Light Cream Sauce
Amount per Serving
% Daily Value*
* Percent Daily Values are based on a 2000 calorie diet.
❤️❤️Read About Me for details about my health journey; and, make sure you remember to sign up for my Newsletter and follow me on social❤️❤️!

Supporting me is appreciated as I create content to support your health journey.


Enable Notifications
OK
No thanks