Light and refreshing, cucumbers are the kings of our summer salads… and are also a great addition to our drinks! Made of more than 95% of water, cucumbers help not only to hydrate our body during those hotter summer days, but are also great for our skin and hair health! And what is even greater is that the health benefits of cucumbers don't end there!
Curious to know more about all the amazing health benefits of cucumbers? Keep reading this article and discover why incorporating more cucumbers into your diet could be a great decision for your overall well-being!
The top 7 health benefits of cucumbers
Here are some of the amazing – and surprising – health benefits of cucumbers!
1. Help your body to stay hydrated!
Cucumbers are one of the most water-rich foods out there. Indeed, cucumbers are around 96% water. Consuming cucumbers add to the daily requirement of water for our body, which helps in keeping us hydrated. This is helpful, especially during summers when we tend to get dehydrated easily.
Indeed, maintaining a proper level of hydration affects not only our physical performance but also our metabolism and brain functioning. Cucumber also acts as a coolant, providing us relief from the summer heat.
2. Helpful in weight loss!
Cucumbers are a very low-calorie food, containing just 15 calories for 100 grams. The reason is again their water content, which bulks up the volume while keeping the calories to a minimum.
Consume them as a quick snack, or whenever you feel a little bit peckish! However, don't forget to include all the other essential macro-nutrients (carbs, proteins, and fats) in your other meals. In addition, if possible, pair them with a lean source of proteins for a more filling and satisfying snack! For example, I love to dip my cucumbers into some good homemade hummus (here is my Oil-Free Curry Hummus recipe).
3. No more constipation!
Cucumbers are rich in their soluble fiber content which prevents constipation and slows down our digestion, ensuring regular bowel movements. Moreover, they act as a coolant for our stomachs.
Plus, the hydration boost you get from all that water in cucumbers can prevent you from getting stopped up (i.e. constipated) and makes the stool softer.
4. Cucumbers for a fresh breath!
Hold a slice of cucumber on the roof of your mouth with your tongue for 30 seconds. The phytochemicals present in our cucumbers destroy the bacteria that cause bad breath in the mouth.
Alternatively, you can add some slices of this amazing vegetable to your water, and let it sit for a few minutes. Your water will not only taste great but your bad breath will also be gone!
5. Full of antioxidants and vitamins!
Cucumbers are an excellent source of antioxidants! These unique molecules help to block oxidative processes (i.e. free radicals), which are responsible for several types of chronic diseases.
Cucumbers have a unique set of antioxidants, including flavonoids, lignans, and triterpenes. These not only protect our cells from oxidative stress but also lessen inflammation that's linked to arthritis and other long-term conditions.
Moreover, they are super rich in vitamins. Among them are vitamin K, which helps in blood clotting and improves calcium absorption. Cucumbers are also good promoters of bone health, potassium, and magnesium, which are helpful in keeping the blood pressure stable.
6. Lower blood sugar
If you have ever wondered whether diabetics can consume cucumbers, the answer is yes! Indeed, cucumbers have a very low glycemic index (GI), as their carbohydrate content is fairly contained.
In addition, there is something even more promising with cucumbers and diabetics. Studies conducted on animals show that cucumbers could even be used to lower blood sugar levels in diabetic patients. Indeed, a 2014 research paper published in the Journal of Medicinal Plant Research demonstrated that cucumber pulp could be used effectively for the treatment and management of diabetes in rats.
However, more studies on people are needed to back up these results.
7. Glowy skin & healthier nails and hair
Cucumbers are a great source of vitamin C, which is essential in the production of collagen, and silica – which is excellent for hair and nail care. These essential micro-nutrients help strengthen the nails, prevent them from becoming brittle, and promote "glowy" and plump skin.
Besides eating them, cucumbers can also be used topically for our skin and hair care! For example, you can prepare a face mask using cucumber pulp to hydrate your skin, or a DIY face toner to soothe burnt or damaged skin (you can learn more here).
Cucumbers: the Nutrition Facts
Cucumber belongs to the Cucurbitaceae family, along with zucchini and various types of melons. Cucumbers provide a variety of nutrients and antioxidants while being low in fat, sodium, and carbs.
They are also low in calories and contain plenty of water and soluble fiber, making them ideal for promoting hydration.
A 300-gram unpeeled, raw cucumber contains :
Calories: 45
Total fat: 0 grams
Carbs: 11 grams
Protein: 2 grams
Fiber: 2 grams
Vitamin C: 14% of the RDI
Vitamin K: 62% of the RDI
Magnesium: 10% of the RDI
Potassium: 13% of the RDI
Manganese: 12% of the RDI
Did you know that you can eat cucumber skin? Some interesting facts about cucumber
Cucumber has been consumed since ancient times. It is believed they have been harvested and eaten in ancient India around 3000 BC.
C. Columbus brought cucumbers to Haiti in 1494. and started the distribution in "the new world".
World production in 2020 was estimated at around 90.000.000 metric tons, with China as the greatest producer.
There is a difference between the internal and external temperature of the cucumber. This difference can reach up to 20 degrees.
Cucumber peel is edible! In fact, it will add fiber and vitamin A to your diet. Just be sure to wash the cucumber first.
Although cucumbers have a high water content, they do freeze well. This is a great way to prevent food waste! Moreover, cucumbers can also be cooked as well!
How to choose the best cucumbers: some ingredient selection tips
As with other vegetables, the color and consistency of cucumber are the first indicators of its freshness. A strong green color, hard to the touch, is a good indicator that you have picked a fresh cucumber. On the other hand, if the cucumber is softer to the touch, it is probably already overripe and its taste is bitter.
Note also that a cucumber that was on the ground will probably be lighter green in one part, maybe even whitish. However, don't worry about that, as this may indicate that the cucumber has been recently harvested.
Cultivation
Cucumbers are usually sown as the main crop at the end of April, and as a side crop in June. However, don't worry if it's summer and you haven't already planted your cucumbers!
Indeed, you can still select cucumber varieties that are bred for heat tolerance, such as Marketmore, Spacemaster, Olympic, and Thunder. These are all excellent summer-growing choices, that have bred for both fast production and tolerance to higher temperatures.
Cucumbers are sown on larger areas using seed drills, and on smaller areas, orchards, and gardens by hand. Rows should be at 80-100 cm distance from row to row and 20-30 cm from plant to plant in the row.
It is also desirable to place irrigation pipes along the rows, as well as irrigate the vegetables regularly, around 2-3 times a week. When the plants develop, the soil can then be covered with some straw.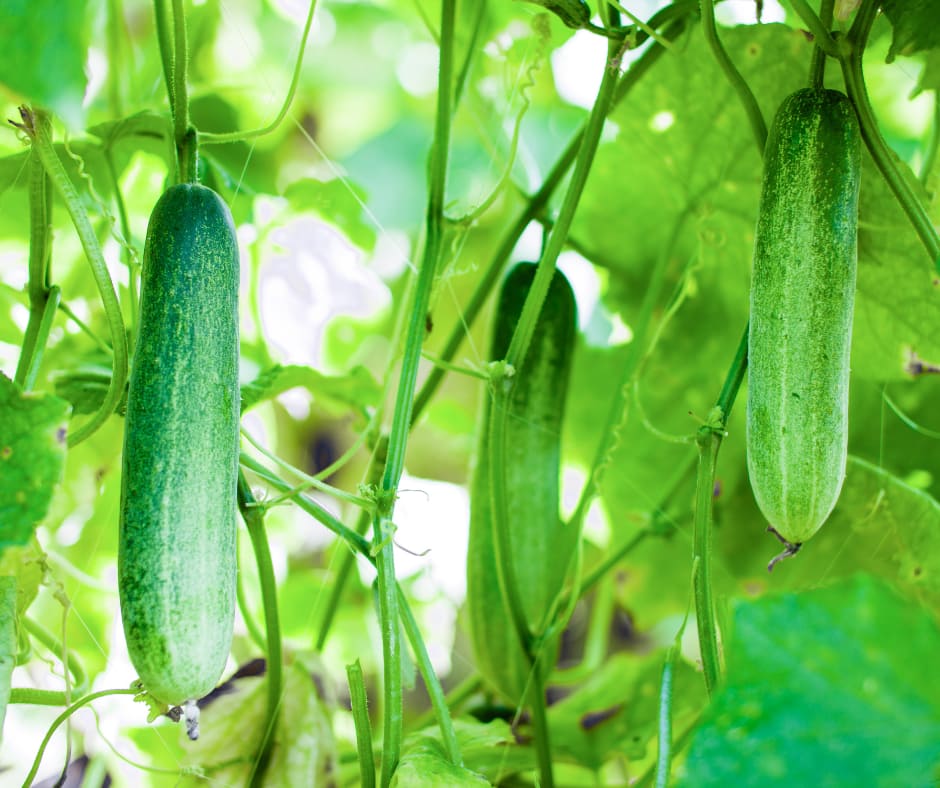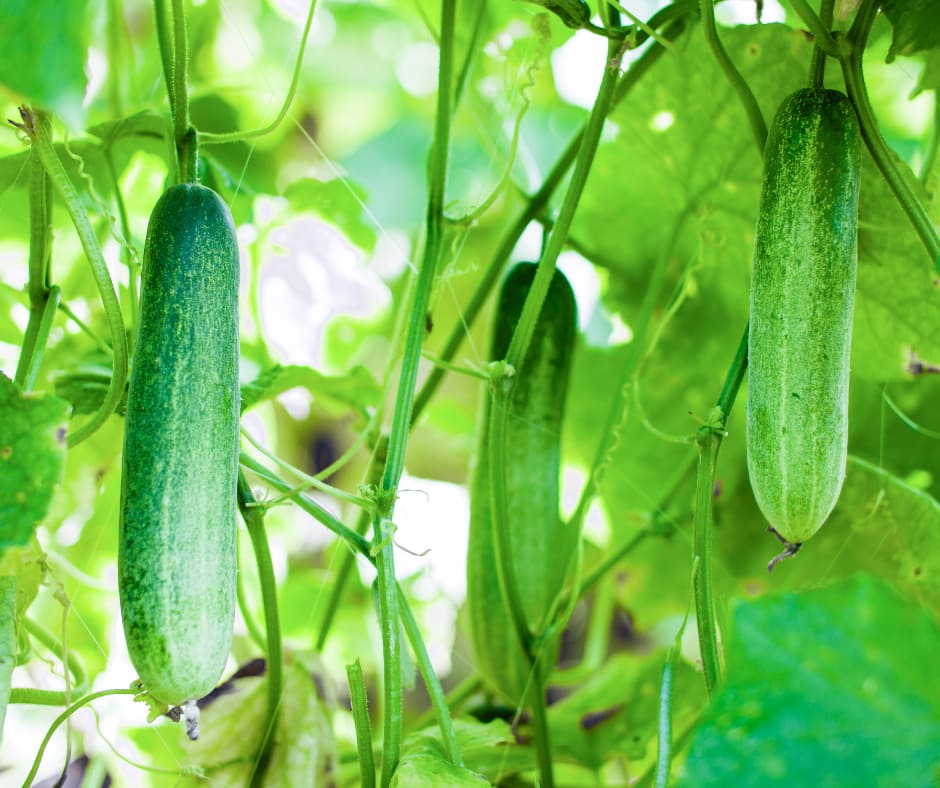 How to consume your cucumbers: some easy and refreshing recipes!
We have seen that the health benefits of cucumbers are incredible and that incorporating more cucumbers into your diet is great for your overall health. But how can we consume more of them?
The easiest way is to consume them in salads, or as a snack paired with some low-fat cheese or hummus. Alternatively, you can use some cucumber slices in your water, or directly drink some cucumber juice.
In addition, here are some easy and delicious recipes containing this amazing ingredient: my Strawberry Detox Lemonade, Edamame Banh Mi Sliders, and Grilled Cajun Chicken (or Tempeh) Salad.

Let me know in the comments if you already know all the amazing benefits of cucumbers, and how you like to consume them!
Social Buzz
Strawberry Detox Lemonade
This Strawberry Detox Lemonade is a refreshing and healthy way to detox your body naturally this summer! If you are wondering where you can buy detox drinks, then don't! This strawberry detox lemonade is so simple and quick to make in the comfort of your own home!
Check out this recipe

Edamame Banh Mi Sliders – Vegetarian Vietnamese Recipe
Make an impressive, easy, vegan and vegetarian appetizer with these delicious Thai and Vietnamese inspired edamame banh mi sliders!
Check out this recipe

Grilled Tofu Gyros with Vegan Greek Tzatziki Sauce
Grilled Tofu Gyros with a light homemade Vegan Tzatziki Sauce: one of my favorite Greek dishes, easy to make, and way healthier than the original recipe!
Check out this recipe

Vegan Tzatziki Sauce (dairy-free and creamy)
Try my vegan tzatziki sauce, completely dairy-free, yet creamy and aromatic as the original one! Perfect for your Greek-themed dinners!
Check out this recipe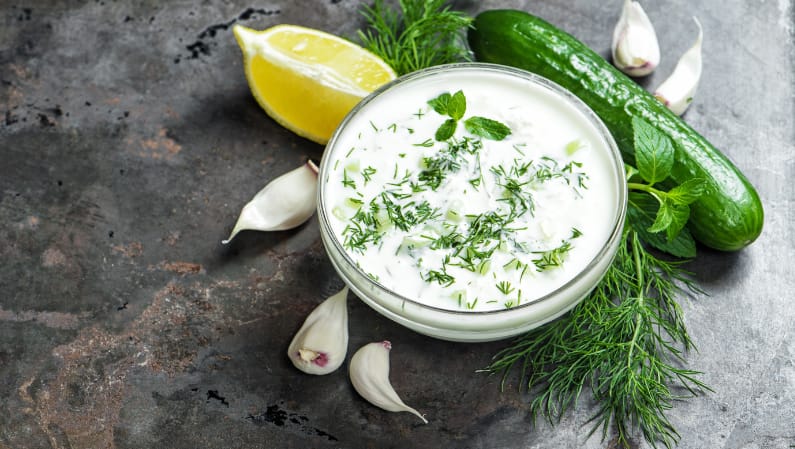 Grilled Cajun Chicken (or Tempeh) Salad
Healthy, whole food grilled Cajun Chicken Salad recipe with video! Great recipe for general health, weight loss, and kicking off your spring / summer grilling!
Check out this recipe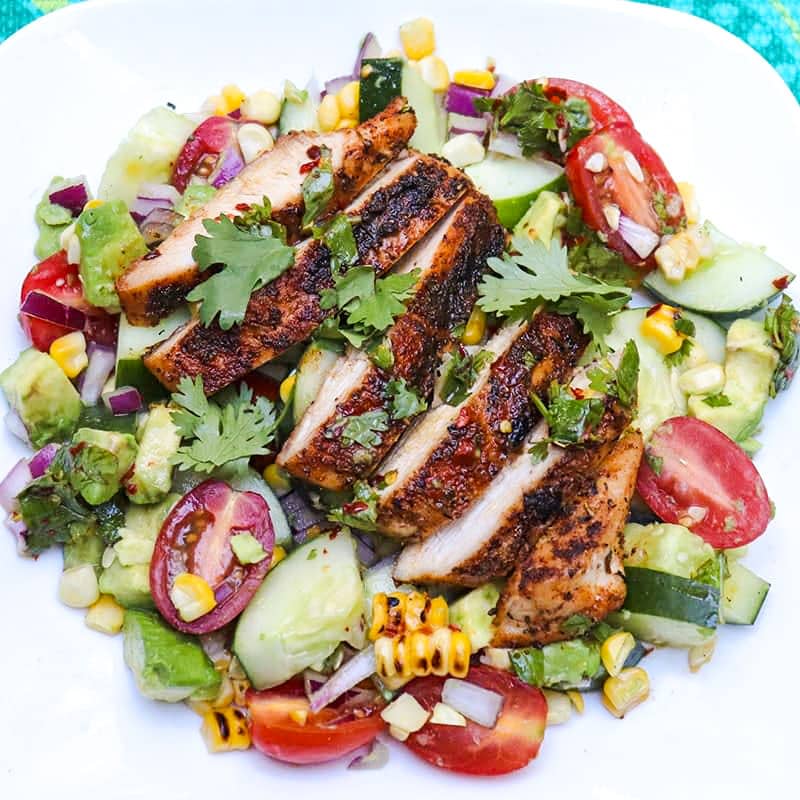 Salmon Kale Salad with Lemon Cracked Black Pepper Vinaigrette
My Salmon Kale Salad is made with the best whole-food ingredients, that will support your body and help you feel satisfied and energized. Not to mention my incredible Lemon Black Pepper Vinaigrette, a creamy and light dressing that can turn even the saddest salads happy.
Check out this recipe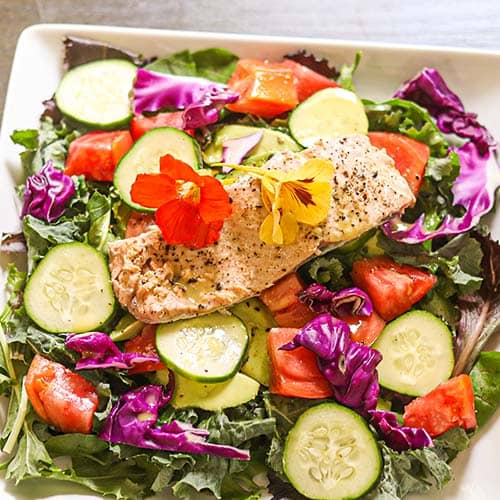 Easy Cucumber Appetizer Bites with Dill and Cherry Tomatoes
Light and fresh, yet bursting with flavor and visually appealing: these cucumber appetizer bites with fresh dill and cherry tomatoes are fastly becoming one of my go-to Summer dishes. I truly love them as they are both incredibly easy to make and they do not require any cooking. Plus, they are extremely versatile and perfect for various occasions, from casual get-togethers to elegant cocktail parties.
Check out this recipe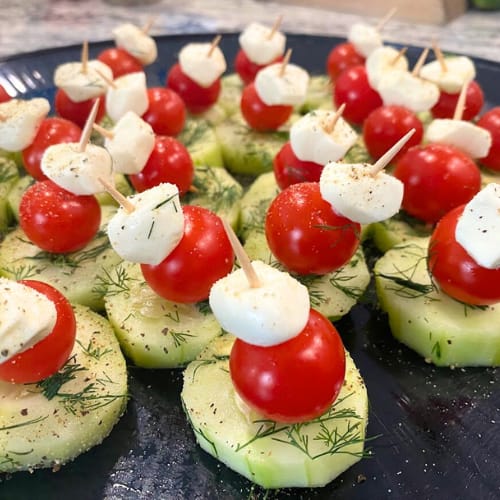 ❤️❤️Read About Me for details about my health journey; and, make sure you remember to sign up for my Newsletter and follow me on social❤️❤️!

Supporting me is appreciated as I create content to support your health journey.