This is a healthy, whole food Cajun chicken salad recipe you can make on the grill! It is mostly composed of plant-based ingredients (except for the chicken) but you can omit the meat or substitute with a plant protein! If you try a vegan version of this recipe, please share it and tag @cleancookingcaitlin on Instagram or "Clean Cooking with Caitlin" on Facebook!
Are you following any special weight loss diets? This recipe is excellent for weight loss. It can be classified as paleo and keto. Lower the amount of carbs more by removing the corn. I myself love carbs from whole foods and they are necessary for me to perform well when running. 🏃‍♀️
To Eat Meat, Or Not to Eat Meat
Admittedly, this recipe started out as a video on my YouTube channel months ago and made it to my blog recently. I have since pivoted from creating recipes specifically for endurance athletes to general plant-based cooking for all. I also have become far more plant-based myself and have seen many improvements. I do believe that plant-based recipes are the way to go for endurance athletes and the general population alike. However, implementing an all or none philosophy when it comes to meat and dairy is not always a popular or comfortably feasible option. While after some time my boyfriend and kids have warmed up to completely plant-based recipes, I still often cook half of a meal with a small amount of animal products for family. I more often than not abstain and load up on more fruits, veggies, and/or beans. More corn, avocado, cucumber, and tomato? Yes, please. 😋
This Grilled Cajun Chicken Salad is Healthy & Delicious!
Whether or not you like to include meat in your recipes, this cajun chicken salad recipe is hands down one of the healthiest grilling recipes you will want to make again and again! The fusion of the Cajun seasonings with the cilantro and lime complements and enhances the flavor of the chicken and vegetables perfectly. Just revisiting this recipe to improve this post has me daydreaming about the weather warming up for some grilling and chilling by the pool! 👙🌊Here in Florida, I will be making friends in northern states jealous posting photos by the pool in early April. 😉
This recipe has me daydreaming about some grilling and chilling by the pool!
Since a lot of herbs are required to make a Cajun seasoning blend, I do suggest multiplying the herbs in the recipe and making a bag of Cajun seasoning for later use. For those sensitive to spice, you can hold the red pepper in the dressing and go light on the Cajun seasonings. I just used up the rest of my Cajun seasoning blend with some shrimp and grits! There are Cajun seasoning blends you can buy too, but I have not tried them with this specific recipe. Let me know in the comments if you do and if it was good. Also, sign up for my newsletter and follow me on social media. There will be a lot more healthy grilling recipes in the future, and you don't want to miss them!
Please let me know how this recipe goes when you make it! Post a picture and tag one of the below social media accounts:
Don't forget to sign up for my newsletter so you don't miss any future posts:
Processing…
Success! You're on the list.
Whoops! There was an error and we couldn't process your subscription. Please reload the page and try again.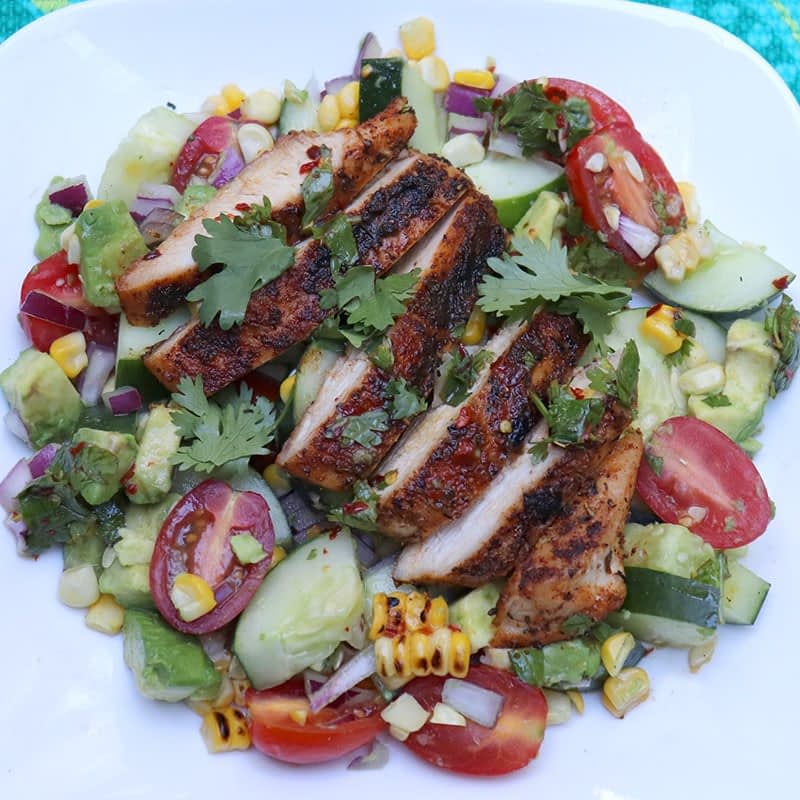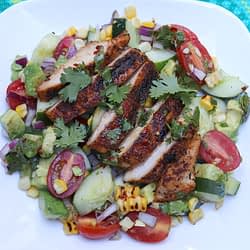 Grilled Cajun Chicken Salad with Cilantro, Lime & Avocado
Yum
Healthy, whole food grilled Cajun Chicken Salad recipe with video! Great recipe for general health, weight loss, and kicking off your spring / summer grilling!
Ingredients
1

lb

chicken

1

cucumber

1

cup

tomatoes

1/4

red onion

1

ear

corn

1

avocado

1

tsp

onion powder

1

tsp

garlic powder

1

tsp

dried oregano

1

tsp

dried basil

1/2

tsp

dried thyme

1/2

tsp

black pepper

1/2

tsp

white pepper

2 1/4

tsp

paprika

1 1/4

tsp

sea salt

4

tbsp

lime juice

or two whole limes squeezed

3

tbsp

olive oil

2

tbsp

fresh cilantro

1

tsp

red pepper flakes
Instructions
Preheat grill on high or nonstick griddle pan on medium (with olive oil)

Combine seasonings to form a Cajun blend

Whisk the following ingredients together to make the dressing: lime juice, 2 tbsp olive oil, fresh cilantro, red pepper flakes, and salt and pepper to taste.

Dice up vegetables and toss together in a bowl

Cut chicken breasts in half and lay in a pan or dish to season

Brush olive oil on both sides of the chicken and season with the Cajun seasonings

Lower grill to medium-high and cook chicken 3-4 minutes on each side or until internal temperature reaches 165 degrees. Cook corn as well on the grill without the husk, rotating often. It should be ready around or shortly after the chicken

Cut the corn off of the husk and combine with the other vegetables in the salad

Cut chicken into slices and serve over salad. Drizzle dressing on the top.
Nutrition
Calories:
438
kcal
Carbohydrates:
21.4
g
Protein:
36.7
g
Fat:
24.7
g
Saturated Fat:
4.7
g
Cholesterol:
87
mg
Sodium:
671
mg
Potassium:
877
mg
Fiber:
6.7
g
Sugar:
5.2
g
Calcium:
59
mg
Iron:
4
mg