This is a healthy, whole food Cajun chicken salad recipe you can make on the grill! It is mostly composed of plant-based ingredients (except for the chicken) but you can omit the meat or substitute with a plant protein. My favorite plant-based replacement for the chicken is tempeh! Below is my tempeh version: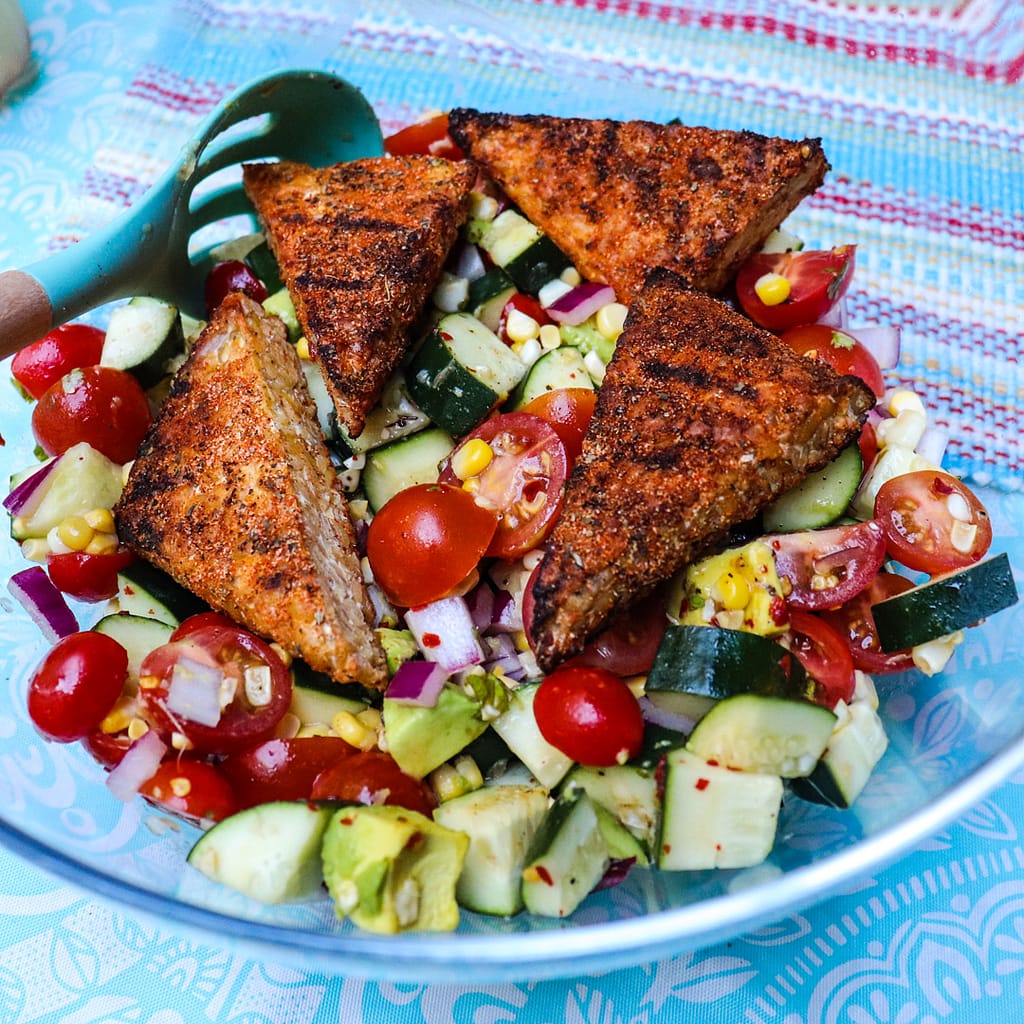 Are you following any special weight loss diets? This recipe is excellent for weight loss. It can be classified as paleo and keto. Lower the amount of carbs more by removing the corn. However, as a nutrition coach, it's my duty to tell you that carbs are not bad for you! Carbs are a macronutrient you can tailor up or down though to reach your goals. Contact me if you would like some help with your nutrition.
Try these other two BBQ salads, great to pair with this recipe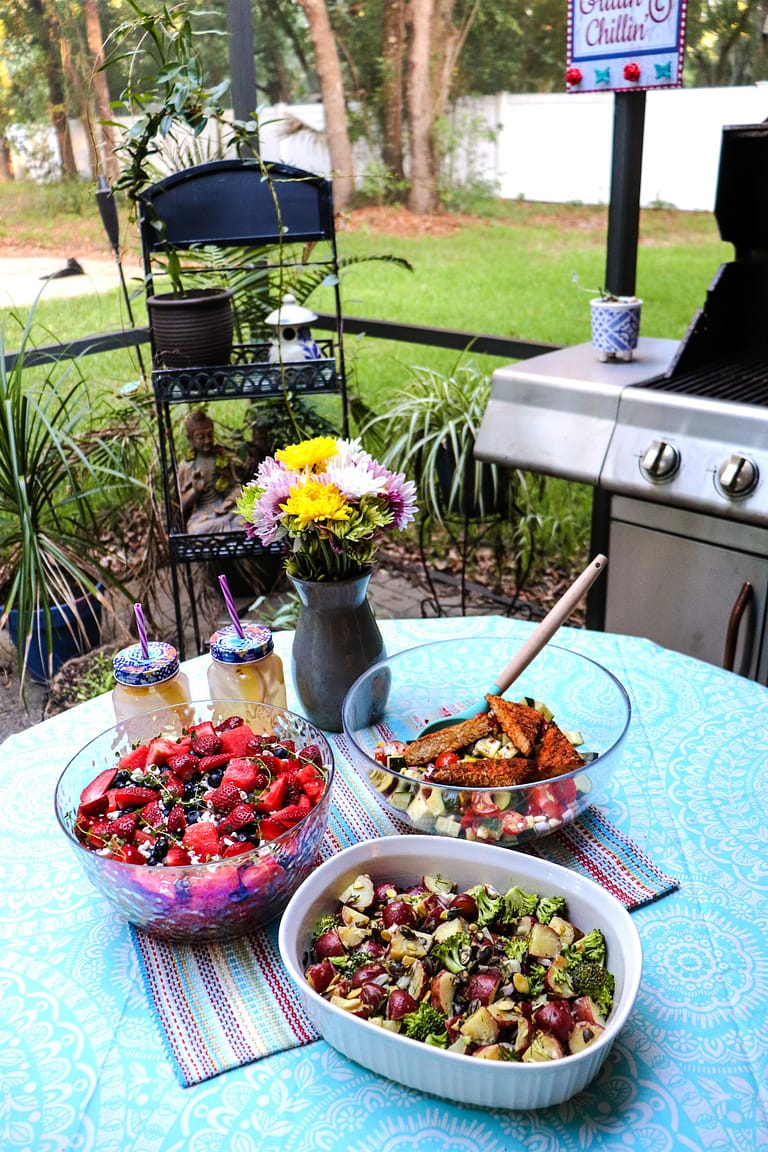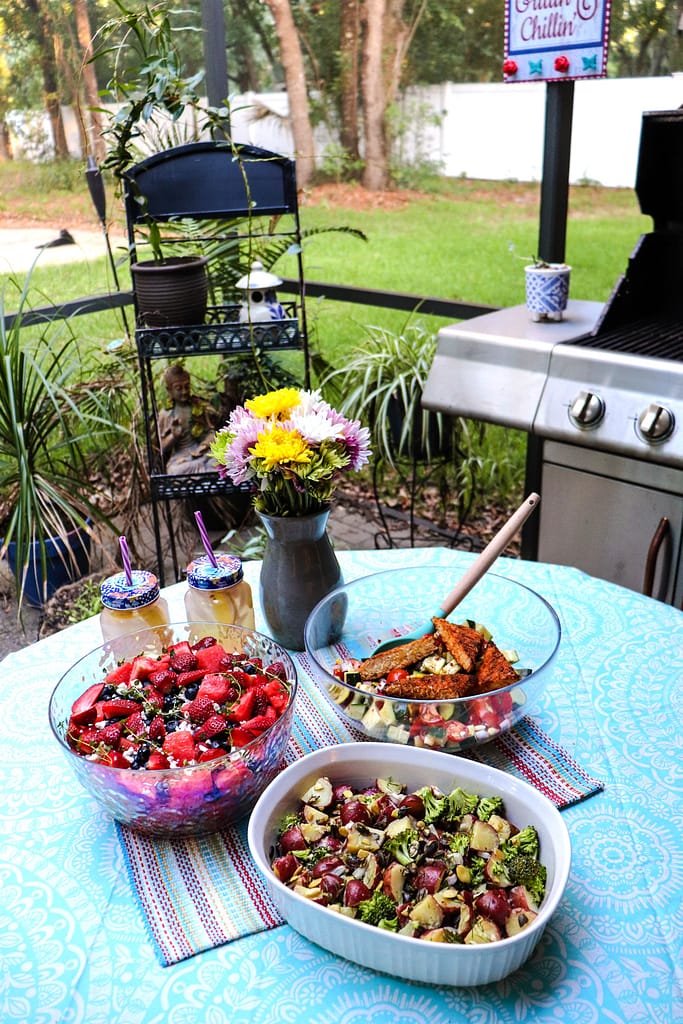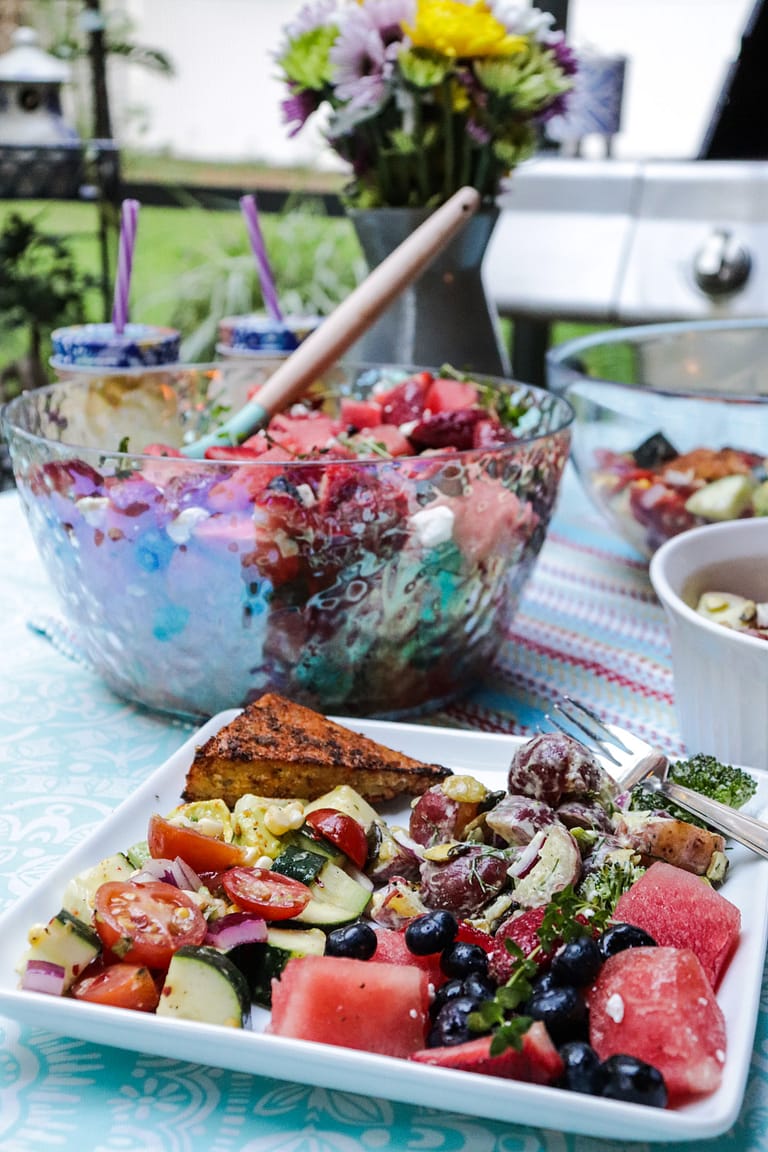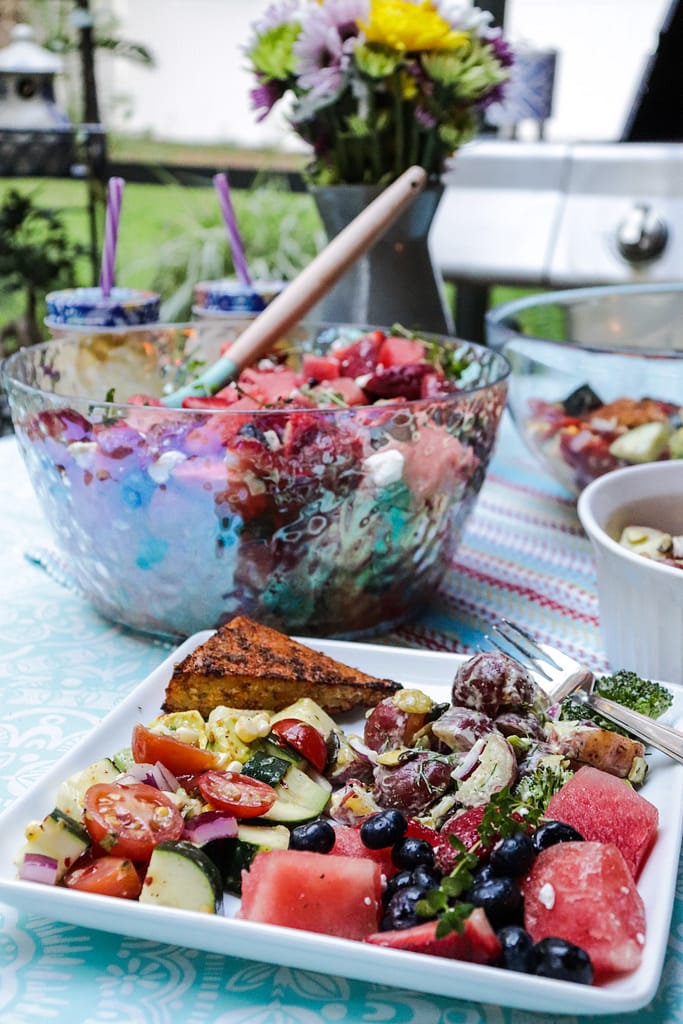 This Grilled Cajun Chicken Salad is Healthy & Delicious!
This Cajun chicken salad recipe is hands down one of the healthiest grilling recipes you will want to make again and again! The fusion of the Cajun seasonings with the cilantro and lime complements and enhances the flavor of the chicken and vegetables perfectly. Just revisiting this recipe to improve this post has me daydreaming about getting outdoors again for some grilling and chilling by the pool! 👙🌊
This recipe has me daydreaming about some grilling and chilling by the pool!
Since a lot of herbs are required to make a Cajun seasoning blend, I do suggest multiplying the herbs in the recipe and making a bag of Cajun seasoning for later use. For those sensitive to spice, you can hold the red pepper in the dressing and go light on the Cajun seasonings. I just used up the rest of my Cajun seasoning blend with some shrimp and grits! There are Cajun seasoning blends you can buy too, but I have not tried them with this specific recipe. Let me know in the comments if you do and if it was good. Also, sign up for my newsletter and follow me on social media. There will be a lot more healthy grilling recipes in the future, and you don't want to miss them!
If you want to know more about the amazing benefits of avocados, check out this article! Top 5 Benefits of Avocado For Women's Health -and Why Should Men Eat it Too!
And also find out more about the amazing benefits of cucumbers! Here is an article for you!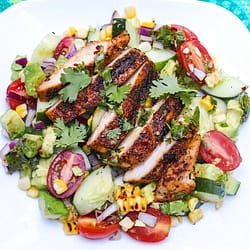 Grilled Cajun Chicken Salad with Cilantro, Lime & Avocado
Yum
Healthy, whole food grilled Cajun Chicken Salad recipe with video! Great recipe for general health, weight loss, and kicking off your spring / summer grilling!
Ingredients
Cilantro-Lime Vinaigrette
Instructions
Preheat grill on high or nonstick griddle pan on medium (with olive oil)

Combine seasonings to form a Cajun blend

Whisk the following ingredients together to make the dressing: lime juice, 2 tbsp olive oil, fresh cilantro, red pepper flakes, and salt and pepper to taste.

Dice up vegetables and toss together in a bowl

Cut chicken breasts in half and lay in a pan or dish to season

Brush olive oil on both sides of the chicken and season with the Cajun seasonings

Lower grill to medium-high and cook chicken 3-4 minutes on each side or until internal temperature reaches 165 degrees. Cook corn as well on the grill without the husk, rotating often. It should be ready around or shortly after the chicken

Cut the corn off of the husk and combine with the other vegetables in the salad

Cut chicken into slices and serve over salad. Drizzle dressing on the top.
Notes
Nutrition
Nutrition Facts
Grilled Cajun Chicken Salad with Cilantro, Lime & Avocado
Amount per Serving
% Daily Value*
* Percent Daily Values are based on a 2000 calorie diet.
❤️❤️Read About Me for details about my health journey; and, make sure you remember to sign up for my Newsletter and follow me on social❤️❤️!

Supporting me is appreciated as I create content to support your health journey.


Enable Notifications
OK
No thanks