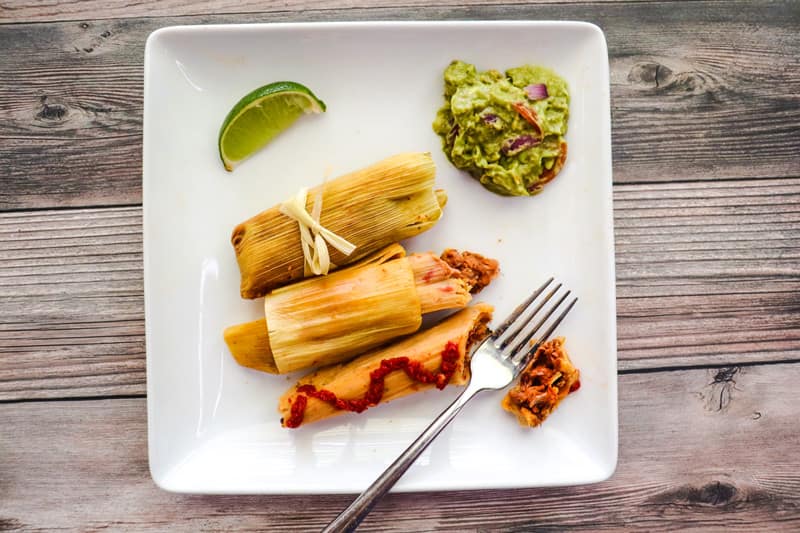 On Cinco de Mayo this year, I did a live chat with my Instagram and Facebook followers making vegan tamales for the first time and having a couple margaritas. I made this tasty guacamole with tomatoes before making these delicious plant-based tamales. This was a good idea because me + margaritas + cooking = very late dinner. I talked so much on the live and was pretty unorganized, to be honest, so they weren't done until 11 pm that evening and I never got to the tamale rolling part in live. However, I enjoyed them as a late-night snack, and they were quite delicious!
Have you tried the vegan jackfruit tamales before? Well, with this tamales recipe, you can learn to make all sorts of healthy tamales, whether stuffed with jackfruit carnitas or any other filling. I used to only eat tamales when dining out. I tried a couple vegan tamales recipes, and realized I could make healthy tamales at home. They taste delicious and are perfect for a fancy meal or awesome party snacks. If you are running out of fresh plant-based meal ideas, then these hot tamales will definitely help you serve novel flavors as well as nutrients at the table. Before we start with our easy carnitas recipe and the tamale assembling, let's review the major ingredients that are used to make these tamales healthy and nutritious.
Jackfruit: A Treat from the Tropics
Jackfruit is a juicy tropical fruit – full of water, juices, and fiber. It is used in a variety of meals due to its rich nutrients and tutti frutti-like flavor. To make the jackfruit carnitas for this recipe, we will use two cans of jackfruit, which are enough to make about 20 tamales. Jackfruit is rich in vitamin C, so it's good for your skin, boosting immunity, and quick healing of wounds. The fruit improves your digestion and helps prevent high cholesterol and blood sugar levels.
What does jackfruit taste like? What kind of jackfruit should I use?
Since jackfruit is a fruit, people are often skeptical about its flavor combination with other carnitas ingredients. Jackfruit tastes like a cross between pineapple and banana when it is ripe. For the filling to resemble "pulled pork", the jackfruit must be young green (unripe) jackfruit.
You can see the link to my recommended product in the recipe below. Trust me on this! I have tried cutting into a jackfruit I found at the supermarket and using it's "meat" for a meat replacement. The rough and sticky jackfruit is not only difficult to cut into, but also tends to be ripe when bought at the store. This makes the flavor too sweet to resemble meat. At a health food store or amazon, jackfruit tends to be expensive. A friend mentioned to me that you can find cans of jackfruit more affordably at an Asian supermarket.
Masa Flour: The Maize Ground
The masa flour, processed dry maize or corn, is full of minerals and vitamins. It is also a good source of complex carbohydrates and fiber. The protein present in one cup of masa flour is equal to 11 grams, and it has 4 grams of fat. According to the American Heart Association, potassium found in masa flour help to maintain fluid balance in the body and control blood pressure.
I am working on an amazing video for you to show you my vegan tamale technique! Follow my Youtube channel to stay current with my videos. In the meantime, I found Cowboy Kent's video quite entertaining to see the tamale rolling technique. Just follow the ingredients below for a healthy plant-based version instead! For guacamole on the side, check out my Tasty Guacamole recipe.
Want to try a sweeter sauce!?
If your not a huge fan of heat, switch up the traditional red chili sauce for something sweeter. One of my fellow recipe blogger friends has an amazing Chile Apricot Chamoy recipe. It is meant to be served with fruit, but it's also really good with these tamales. Check that out and let us know if you tried it!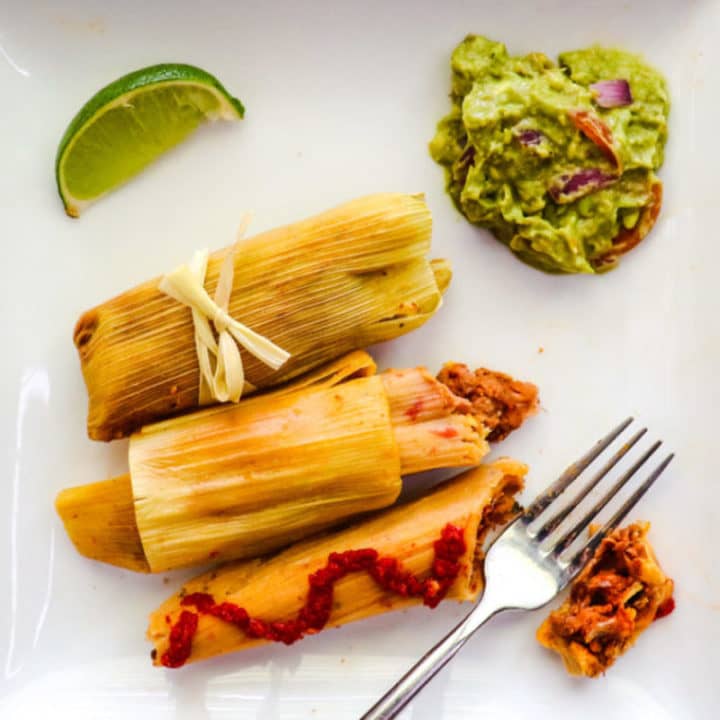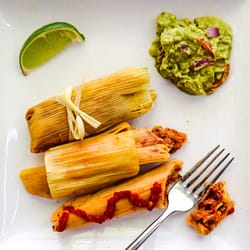 Vegan Tamales with Chili Lime Jackfruit Carnitas
Yum
This delicious chili lime jackfruit carnitas vegan tamales taste better than the traditional version and are whole food plant-based.
Ingredients
Chili Lime Jackfruit Carnitas
Instructions
Corn Husks
If you have dried corn husks, soak them in hot water. Place a plate over them so they are completely submerged, and let them soak for at least an hour.

If you do not have dried husks, you can cut the ends off the top inch or two of 4-6 fresh corn husks and then gently pull those off the corn.

If you use fresh corn husks, they are easier to work with (more pliable) if you blanch them for a minute.
Red Chile Sauce
To make the sauce, deseed the chiles* and place them and two cups of water into a small pot.

Add the cumin, oregano, and salt.

Bring to a simmer over medium-high heat and let cook for about 10-15 minutes.

Meanwhile, in a seperate pan saute the chopped onion and garlic in a little oil until onion is translucent.

Place the chiles with their liquid, garlic, and onion in a blender or food processor and process until smooth.
Chile Lime Jackfruit Carnita Filling
Drain the jackfruit. Cut out the core of the jackfruit and dice, if not already diced in the can.

Heat 1 tbsp. of oil in a large sauté pan on medium heat. Add the jackfruit, onion, garlic, and jalapeno and cook until jackfruit begins to brown and onion is translucent.

Add the lime juice, soy sauce, diced green chiles with their liquid, chili powder, cumin, paprika, and cilantro.

Simmer for 20 minutes or until jackfruit begins to break down and the sauce has thickened a bit.

Use a fork to shred the jackfruit, and season with salt and pepper to taste.
The Masa Dough
Drain the corn and add it to a blender. Puree on high until as smooth as possible (mine had some little chunks). You may need to add 1-2 Tbs of water to get it started.

Add the corn to a mixing bowl. Add Baking Powder, Salt, Garlic Powder, and 2 Tbs of the prepared red chile sauce. Mix well.

Slowly add 1 cup of the masa corn flour and mix. Add 1 cup of vegetable broth to thin and mix. Repeat with another cup of corn flour and broth.

Masa should have the consistency of peanut butter or a thick pancake batter. If it's too thin, add a little more corn flour.

Prepare your steamer or pressure cooker by filling the bottom with water just up to the trivet. Cover with corn husks or a cheese cloth if necessary to prevent tamales from falling through. This is highly recommended, they fell through in my pressure cooker the first time!

Take 3-4 smaller Corn Husks and rip them into long strings to be used as ties.
Tamale Assembly
Take a large corn husk and lay it down in front of you, smooth side up.

Spread 2 Tbs of masa in the center of the Husk leaving the edges clear as well as the bottom 2-3" about a quarter inch thick.

Lay about 2 tsp of jackfruit carnita filling down the middle of the masa and gently roll one side over and under the other side (like wrapping a burrito). Wrap the husk around and fold the bottom up to seal. Secure with a corn husk tie. This is important as they will fall apart without the tie. Leave the top open.

Place assembled Tamale in Steamer Pot vertically around the perimeter and repeat around and into the center until the pot is filled.

Attach the lid and steam for 45 minutes or until masa is cooked through. Instant Pot users make sure your lid is set to sealing and use the steam feature.

Tamales should be somewhat firm when they are finished. They become firmer as they cool. Unwrap, top with red chili sauce, and enjoy!
Notes
*Deseeding the chilies 
I tried this without deseeding the first time and the food processor does not break up the seeds well. It's a pain in the butt but you have to deseed the chiles or make the sauce thinner so you can filter them out. I deseeded them by breaking the end off each dried chili and slapping the open end against my cutting board. Most of them will just spill out. You can make a cut down the center of the chili and scratch most of the rest out. I wouldn't worry about getting every seed out.
For a sweeter tamale sauce alternative – try this Chile Apricot Chamoy recipe!
Nutrition
Nutrition Facts
Vegan Tamales with Chili Lime Jackfruit Carnitas
Amount per Serving
% Daily Value*
* Percent Daily Values are based on a 2000 calorie diet.
❤️❤️Read About Me for details about my health journey; and, make sure you remember to sign up for my Newsletter and follow me on social❤️❤️!

Supporting me is appreciated as I create content to support your health journey.


Enable Notifications
OK
No thanks