Trying to avoid butter and oil can be hard when you are trying to follow a whole food plant-based diet. Especially when avoiding it compromises having your favorite snacks, like tortilla chips and popcorn. Try this Spicy Nacho Doritos® seasoning recipe and you won't miss the junk food!
Spicy Nacho Doritos® Can Be a Healthy Snack!
We have a popcorn maker here at home which has been awesome because popcorn is a healthy whole grain snack3, if you hold the fat and some of the salt! However, what is one to do when avoiding both oil and dairy products? I like to avoid using cheddar cheese popcorn seasoning or any popcorn seasoning you can find at the store. They more often than not contain dairy and preservatives.
This homemade copycat Spicy Nacho Doritos® Seasoning is easy and light. What you spray on your snack to get it to stick is up to you. You can use a spray oil and try to keep it light, or you can spray it with diluted lime. I bought these small spray bottles and filled one with diluted lime juice and the other with vinegar for spraying on popcorn. With lime juice, you can make popcorn with absolutely no fat or oil!
You can also get creative with this seasoning and use it in beans for burritos or even sprinkle it over my Vegan Mexican Spicy Stuffed Peppers Recipe.
Ground Red Pepper or Cayenne?
I was a little confused when I went to the store to look for ground red pepper for another recipe I was making. Isn't Cayenne a ground red pepper? I found that the ground red pepper had a slightly less spicy taste and a little more of that roasted red pepper taste. I figured it would be perfect in this recipe, and I was right! Ground red pepper are made from a variety of different ground chilis in the capsicum family, whereas ground cayenne is just cayenne pepper.
Cumin and Pepper for Weight Loss
In addition to making a lighter, healthier snack, using these herbs can help you lose weight. Cumin has been proven to aid in metabolism, lower cholesterol, and decrease blood sugar 1. Cumin is also listed as one of Dr. Greger's 21 tweaks for weight loss, which you can read about in his amazing book – How Not to Diet. Also, capsaicin from peppers has been shown to aid in weight loss – by increasing your metabolism and suppressing appetite 2.
---
Can Cumin Help Me Lose Weight? – Healthline
Can Cayenne Pepper Help You Lose Weight? – Healthline
Is popcorn a healthy snack? – MedicalNewsToday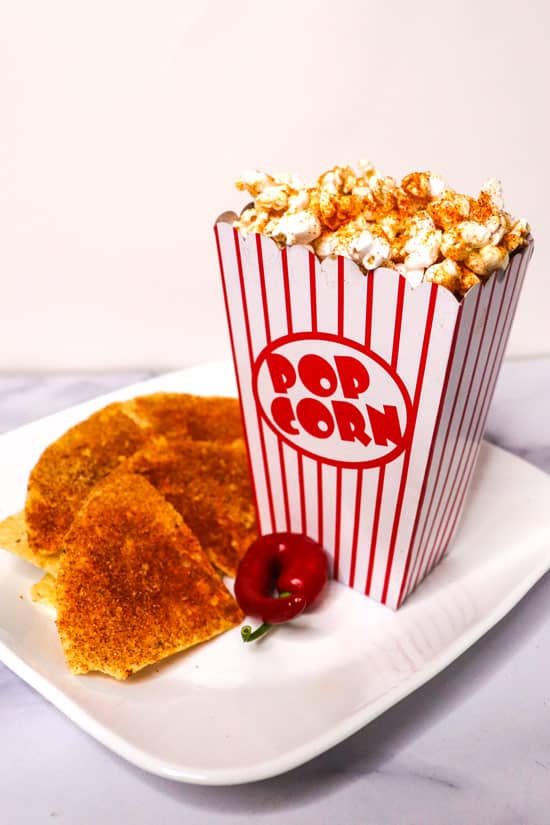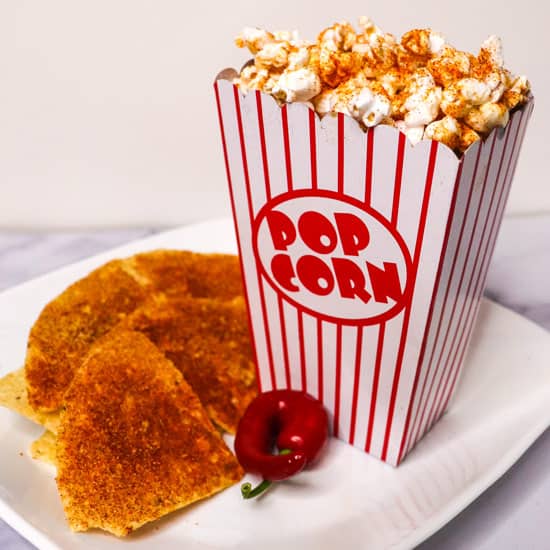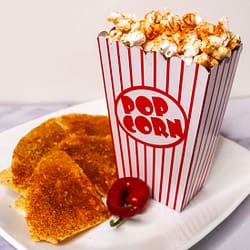 Copycat Spicy Nacho Doritos® Seasoning
Yum
This spicy and savory Mexican spice blend tastes just like Doritos®, but without the junk! Use it to spice up healthy alternative snacks, etc. Vegan, vegetarian, low calorie, gluten-free diet friendly.
Instructions
Combine all ingredients in a ziplock bag or bowl.

Shake or stir to combine.
Notes
To apply to popcorn, spray the popcorn in a bowl with diluted lime juice or oil spray and sprinkle some seasoning. Mix popcorn with a large spoon and repeat the spray, sprinkle, and stir process until popcorn is coated to your liking.
To apply to tortilla chips, spray chips with diluted lime and sprinkle with the seasoning. I don't recommend oil spray for this one since tortilla chips already contain oil.
To mix in with beans, sprinkle some seasoning in beans to jazz them up for tacos, burritos, etc! This is a great way to flavor canned beans.
Nutrition
Nutrition Facts
Copycat Spicy Nacho Doritos® Seasoning
Amount per Serving
% Daily Value*
* Percent Daily Values are based on a 2000 calorie diet.
❤️❤️Read About Me for details about my health journey; and, make sure you remember to sign up for my Newsletter and follow me on social❤️❤️!

Supporting me is appreciated as I create content to support your health journey.