Would you believe me if I tell you that a decadent chocolate dessert can also be healthy and high in protein, while also being super easy and quick to make? This dark chocolate hummus proves that eating healthy doesn't mean spending hours in the kitchen or giving up on your favorite treats!
Have you ever tried sweet hummus, but found it chalky, bland, or simply not satisfying enough? Well, this dark hummus recipe will change your mind. 🍫
Made with just four ingredients – cannellini beans, cashews, cacao powder, and date syrup – this healthy dessert hummus does not only have a creamy and rich texture but is also high in protein (a serving has more than 6 grams of proteins), and made with whole food plant-based ingredients.
In addition, this dark chocolate hummus is very versatile and ideal for every time of the day. Spread it over a slice of bread for a well-balanced breakfast. Alternatively, dip some fruits and pretzels in it for a healthy and tasty snack. Raspberries and strawberries are my favorites… after all, who doesn't like the strawberry-chocolate combo?!

And if you are craving a more decadent dessert to serve at the end of a family dinner? No problem! Drizzle some caramel sauce over the sweet hummus. Then top it with crumbled cookies and, why not, some whipped cream.
Finally, did you know that, with some tweaks, it's possible to cook this dark chocolate hummus in the oven, and create some fudgy and wholesome double chocolate bean cookies? All you have to do is add some oat flour, baking powder, and chocolate chips to the basic sweet hummus recipe. Et voilà some delicious and healthy chocolate cookies!
The Perfect Dark Chocolate Hummus: some tips and tricks
Here are some tips on how to make a healthier and creamier sweet hummus.
Choose low-sodium cannellini beans

Opting for some low-sodium cannellini beans is not only better in nutritional terms (we all know that an excess of sodium can cause the much hated water retention while increasing the risk of suffering from high blood pressure and other cardiovascular diseases). It is also the best choice when it comes to the taste of our dark chocolate hummus.

Indeed, cannellini beans have a less overpowering taste and a softer consistency compared to garbanzo beans (or chickpeas). This makes them a sort of "white canvas" to which you can add all the ingredients you like the most.


Add aquafaba for a smoother consistency

The proteins naturally contained in aquafaba – a.k.a. the juice from the can of beans – act as a sort of emulsifier, and help create a softer, mousse-like consistency.

Adjust the quantity of aquafaba you are adding into the blender according to the consistency you are striving to achieve. More if you want a smoother hummus, and less if a chunkier, richer hummus is what you are looking for.


Cacao powder over cocoa powder

Did you know the difference between cocoa powder vs cacao powder? Although these two products might seem very similar, their nutritional profile is not. Indeed, since cocoa is processed at a much higher temperature, it is lower in nutrients than cacao powder.

On the other hand, cacao is less processed, and one of the highest sources of antioxidants, iron, and flavonoids (powerful compounds that can help fight oxidative stress).

This is why I always prefer and suggest using cacao over cocoa powder! In addition, the hummus will have a richer, more intense chocolate taste. A real bang for the buck!


Add some melted dark chocolate for an ultra-chocolatey taste

This tip is for the true chocolate addicts out there! Adding some melted extra dark chocolate will not only make for a richer sweet hummus recipe. It will also enhance its overall creaminess and flavor profile.

N.B. If you are following a weight loss diet, be mindful that adding some extra chocolate will increase the overall number of calories and fats in the dark chocolate hummus. Therefore, tweak this recipe according to your specific dietary needs and requirements!


Cashews for a mouth-watering dark chocolate hummus!

Adding some soaked cashews (soaking the raw cashews for at least one hour will make them softer and more easily blendable), or even some tahini or nut butter of choice is a great way to round out the flavor profile of this dessert hummus. Plus, you are adding lots of healthy fats and plant-based proteins into this healthy dessert recipe!

Again, the only thing you have to be mindful of is that, in general, nuts are quite nutritionally-dense. Therefore, always practice moderation (which doesn't mean cutting them out altogether!).

If you recreate this recipe, make sure to tag me on your social!

And if you are looking for other decadent, yet healthy dessert recipes, these Beet Date Carrot Cake and Pumpkin Spice Oatmeal Cookies are perfect for you!
Social Buzz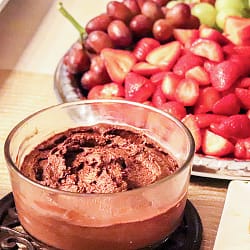 Dark Chocolate Hummus
Yum
Would you believe me if I tell you that a decadent chocolate dessert can also be healthy and high in protein, while also being super easy and quick to make? This dark chocolate hummus proves that eating healthy doesn't mean spending hours in the kitchen or giving up on your favorite treats.
Ingredients
1

can

Cannelini beans

low sodium

⅓

cup

Date Syrup

depending on desired sweetness, and diet allotted sugars

1

tsp

Vanila Extract

3½

tbsp

Cacao powder

2

tbsp

Aquafaba

(juice from the can of beans), more or less depending on desired consistency

1

cup

Cashews

raw

¼

tsp

Salt
Instructions
Soak the raw cashews for at least an hour, preferably overnight for a smoother consistency.

Drain the cashews and add them to a blender.

Add 1-2 tbsp of the aquafaba, reserving the rest if needed later.

Add all of the other ingredients and blend until smooth, adding more aquafaba if you want a thinner consistency. You will likely need to push the ingredients down the sides with a rubber spatula as they tend to ride up the side of the container during blending, and continue to blend.

Serve it with some fruit -or pretezels, crackers, sliced bread…
Notes

Nutrition
Calories:
213
kcal
Carbohydrates:
26
g
Protein:
6
g
Fat:
8
g
Saturated Fat:
2
g
Polyunsaturated Fat:
1
g
Monounsaturated Fat:
4
g
Sodium:
122
mg
Potassium:
400
mg
Fiber:
3
g
Sugar:
10
g
❤️❤️Read About Me for details about my health journey; and, make sure you remember to sign up for my Newsletter and follow me on social❤️❤️!

Supporting me is appreciated as I create content to support your health journey.