This month I was inspired to create a beet date carrot cake! There is something about Easter on the horizon that makes me start thinking about carrot cake. I think that's because bunnies like cake and spring is a popular time to make cake? 🌷🍰 Nevertheless, this past month was both the first time I've made carrot cake and subsequently concocted my own recipe doing what I do best – making recipes plant-based and as healthy as they can be!
Why this Beet Date Carrot Cake is a Delicious and Healthy Alternative
Oat Flour
I always try to avoid all-purpose flour and other refined flour unless I absolutely have to use them. I'll use a cup or so of it mixed with less refined flours to avoid a dense result in some baked goods. Luckily, carrot cake is meant to be somewhat moist and dense so I went with the oat flour.
Oat flour is a powerhouse of protein, fiber, and mineral contents, especially compared to refined wheat flour (click here to learn more). It also has a really sweet smell and taste that enhances the flavor of the carrot cake. If you don't have oat flour though, you can go with another gluten-free flour or whole wheat flour if you aren't gluten sensitive. I have only tested oat and whole wheat flour. If you try something else, let me know in the comments!
Dates & Date Sugar
The beauty of this cake is the method by which it is sweetened. A month or so ago, I had this delightful carrot cake smoothie bowl at Clean Juice with chopped dates and I realized how marvelous the combination was! Dates are a sticky-sweet fruit that has a high sugar content but a low glycemic index and are packed with nutrition, best to be consumed in moderation 3. They are fantastic in other bake and no-bake recipes as well, such as my Cherry Chocolate Date Energy Bars, as they both sweeten your dish naturally as well as help hold the other ingredients together.
While researching less processed alternatives to sugar a while back, I read that date sugar is the most nutritious alternative you can choose 2. I bought a bag of it to experiment with the taste, and honestly you tend to have to use a lot of it to get near the same amount of sweetness as you would with sugar. Therefore, most of the bag has been in my pantry eagerly waiting to be married into this delicious beet date carrot cake!
Beets & Carrots
It would be remiss of me to not mention the benefits of carrots and beets. Carrots, as many knows, are most notable for their vitamin A content. They have a lot of other benefits, such as their high fiber content and low glycemic index, as well as many other vitamins, minerals, and antioxidants4. Their sweet flavor and low glycemic index make them ideal for a healthier alternative dessert.
I enjoy cooking with beets as red beetroot often add a splash of fun color to a dish, from pink to red. However, in this carrot cake you can barely tell they are there. So for your picky eaters, it's easy to sneak in a little beet nutrition 😉. Among many other benefits, beetroots are packed with essential nutrients, fiber, folate (vitamin B9), manganese, potassium, iron, and vitamin C 5. If you want to make sure your carrot cake remains a more traditional orange color, you can use golden beets as opposed to red beets. If you really dislike even a hint of beets (how could you), you can replace the cup of beets with another cup of carrots.
Hey! What about the cream cheese icing!?
I have come up with a plant-based Protein Cream "Cheese" Frosting. It's delicious, vegan, and contains pea protein to slow the release of sugar into your bloodstream, which leads to a less dramatic blood sugar (insulin) spike. Let me know how both of these recipes went for you!
And also, if you want to know more about the amazing benefits of cinnamon, here is an article for you! 5 Health Benefits of Cinnamon, The Most Loved Autumnal Spice!
Want to know more about the fantastic benefits of apples? Consider checking this article!
Nutrition Facts

Servings

8.0

Amount Per Serving
calories

367

% Daily Value *
Total Fat

7

g

10

%

Saturated Fat

2

g

9

%

Monounsaturated Fat

1

g

Polyunsaturated Fat

5

g

Trans Fat

0

g

Cholesterol

0

mg

0

%

Sodium

176

mg

7

%

Potassium

323

mg

9

%

Total Carbohydrate

67

g

22

%

Dietary Fiber

4

g

16

%

Sugars

30

g

Protein

4

g

8

%

Vitamin A

232

%

Vitamin C

2

%

Calcium

28

%

Iron

2

%

* The Percent Daily Values are based on a 2,000 calorie diet, so your values may change depending on your calorie needs. The values here may not be 100% accurate because the recipes have not been professionally evaluated nor have they been evaluated by the U.S. FDA.
Notes
How long does carrot cake last?
Store leftovers at room temperature, covered for 2-3 days, or up to a week in the refrigerator. I'm freezing my second batch right now. Will let you know how that goes later!
Who invented carrot cake?
"According to food historians, our modern carrot cake most likely descended from Medieval carrot puddings enjoyed by people in Europe. No one really knows where carrot cake came from, It looks like it did evolve from the Carrot Pudding of medieval times, during the middle ages sugar and other sweeteners were difficult or expensive to come by in Britain and carrots had long been used as sugar substitutes." 6
How many calories are in this carrot cake?
1/8th of this cake (without icing) is 367 calories, which is a fairly large piece, so you could easily eat less. It's lower in sugar and more nutritious than most desserts, which makes it a tasty alternative. See detailed nutrition facts above.
References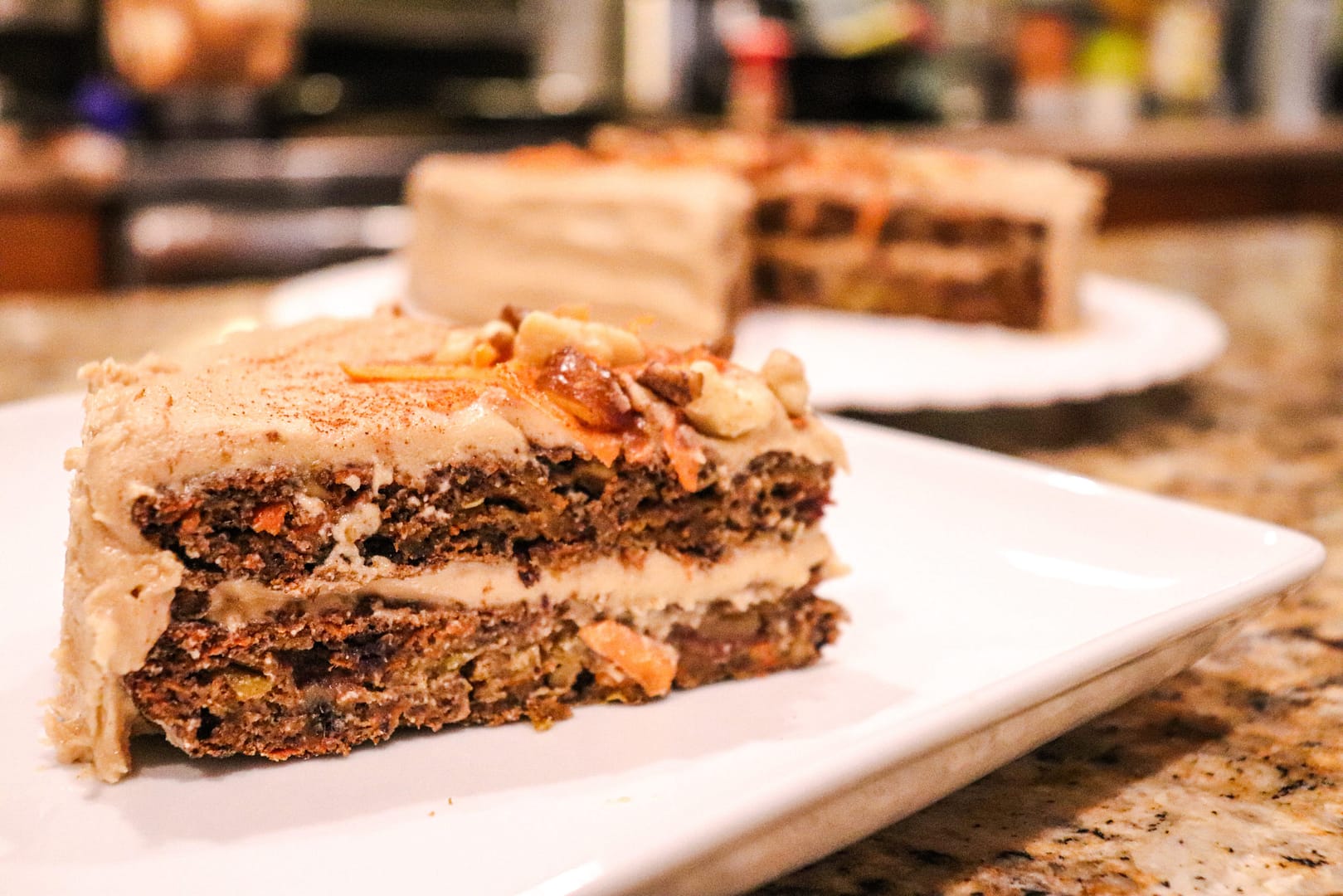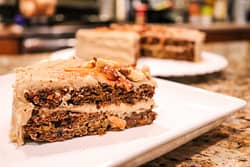 Beet Date Carrot Cake
Yum
You'll barely realize this decadent carrot cake is packed with nutrition and sweetened with a nutritious sugar substitute – dates!
Instructions
Preheat the oven to 350 degrees fahrenheit (176 celsius).

Grease and line the bottom of two 9 inch pans with parchment paper. Alternatively grease the pans and flour the bottom and sides.

Mix the ground flax and water in a bowl and set aside.

Add the carrots, beets, dates, and walnuts (if desired) and process until fine but still chunky. Alternatively, finely grate carrots and beets, and finely dice dates and walnuts.

In a large bowl, mix all of the dry ingredients: flour, baking powder, cinnamon, ginger, nutmeg, salt, and date sugar.

In a small bowl, mix all of the wet ingredients: apple sauce, vanilla, and soy milk. Add the ground flax and water mixture and combine.

Pour the wet ingredients into the dry ingredients and mix until batter is smooth. Stir in the carrots, beets, dates, and walnuts.

Divide the batter between the cake pans for a layered cake (layers are thin). Alternatively, you can pour it all in one pan.

Bake until the tops of the cake layers are springy when touched and when a toothpick inserted into the center of the cake comes out clean, about 30-40 minutes.

Allow the cake to cool for about 15 minutes, then gently turn the pan over and slowly release the cake from the pan.

Prepare icing from my Protein Cream "Cheese" Icing recipe detailed above! Frost generously between the layered cakes, on top, and around.
Nutrition
Nutrition Facts
Beet Date Carrot Cake
Amount per Serving
% Daily Value*
* Percent Daily Values are based on a 2000 calorie diet.