One of my latest obsessions: Peach and Pecan Smoothie! This delicious recipe is Pegan-diet compliant, super healthy, and great for weight loss!
Quick and easy to make, it is great both as a post-workout snack or an on-the-go breakfast. As a matter of fact, this recipe is complete with every macro-and micro-nutrients our body needs. This Peach and Pecan smoothie is ideal for those hot summer days as well, as I choose to use refreshing and energizing ingredients, like peaches and ginger.
How to make a good Peach and Pecans smoothie?
First of all, prefer ripe and soft fruits, which are naturally sweeter. In this way, you will add sweetness to the smoothie without the need for unhealthy and highly processed sugars or artificial sweeteners.
Moreover, for a Pegan- compliant smoothie choose a dairy-free, plant-based protein powder. Try then to avoid those with artificial flavors or ingredients. Your digestive system will benefit, and at the same time, your smoothie will have a more natural and earthy taste.
Last, I recommend adding a cup of ice to the smoothie. This is helpful not only to improve the texture and thickness of the beverage but also to preserve the fresh and vibrant colors of the fruits used in the smoothie.
See if the Pegan Diet is right for you, here. I did a 30-day challenge and you'll see my opinion on my experience as well!
Social Media Channels

Ingredient Selection Tips
Ginger
Choose ginger that is smooth and firm to the touch, with few or no blemishes. If the ginger has wrinkled skin, this may indicate that it is overmatured or has been too long on the shelf. On the contrary, brown outer skin and a smooth yellow inner flesh indicate that the ginger is ripe and ready to be used.
Pecans
Look for thick and plump nuts, with a uniform color. Store them in a dry and clean container, which protects the nuts from odors and insects.
Noteworthy Health Benefits
Ginger
Ginger is full of antioxidants, useful to prevent cellular stress, protect from heart and lungs diseases, and lower high blood pressure. The main active compound in ginger is gingerol, which may help lower cholesterol levels and blood sugar.
Pecans
Pecans are a good source of copper, zinc, fiber, and thiamine. They also contain magnesium, iron, and phosphorus. Pecans may improve neural functions, and speed up the production of red blood cells. The mono and polyunsaturated fatty acids contained in these nuts may benefit brain function and heart health.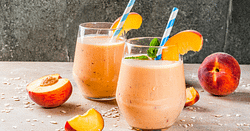 Peach and Pecan Smoothie
Yum
One of my latest obsessions: Peach and Pecan Smoothie! This delicious recipe is Pegan-diet compliant, super healthy, and great for weight loss!
Instructions
Put all the ingredients into a blender.
Notes

Nutrition
Calories:
375
kcal
Carbohydrates:
22
g
Protein:
31
g
Fat:
22
g
Saturated Fat:
1
g
Polyunsaturated Fat:
1
g
Sodium:
311
mg
Potassium:
435
mg
Fiber:
6
g
Sugar:
13
g
❤️❤️Read About Me for details about my health journey; and, make sure you remember to sign up for my Newsletter and follow me on social❤️❤️!

Supporting me is appreciated as I create content to support your health journey.