The ULTIMATE Tropical Green Smoothie recipe: Pegan-diet compliant, great for weight loss, and general nutrition! This smoothie will give you an instant natural energy boost, with only very few calories!
All the ingredients contained in this Green Smoothie will support your body in its natural detoxifying processes and are helpful in speeding your digestion and metabolism.
Among the most beneficial ingredients contained in this smoothie are spinach, kiwis, and spirulina. These are all superfoods jam-packed with antioxidants and minerals that can help prevent oxidative cellular stress.
Furthermore, adding protein powder to our smoothie will promote muscle repair and growth, while at the same time keeping us satisfied for longer, which is in turn great if our goal is weight loss.
How do you make a Tropical Green Smoothie taste good?
Finding a green smoothie that actually tastes good is not always easy, especially for those that do not enjoy the taste of dark leafy veggies.
This is why I have created the ULTIMATE Tropical Green Smoothie recipe: a combination of veggies and fruits that is at the same time thick, creamy, and simply delicious! Here is how you can make it too!
First of all, choose ripe and sugary fruits: here are strawberries and kiwis. Using frozen fruits can help with improving the smoothie's texture while adding half an avocado is great for creating a thick and creamy smoothie. The coconut flakes will then give the smoothie a tropical and exotic taste. If you are looking for some useful information -and delicious recipes- about coconut, here is something for you!
If you want to know more about the amazing benefits of avocados, here is an article for you! Top 5 Benefits of Avocado For Women's Health -and Why Should Men Eat it Too!
Second, don't exceed with the spirulina powder. Once again, little goes a long way, especially if you don't want a bitter-tasting beverage. With the right amount of spirulina powder, the smoothie will still taste good, and, most importantly, you will be able to rip off all the precious benefits contained in this superfood.
Lastly, make sure to use only high-quality protein powder. Indeed, nobody likes a smoothie that tastes chalky, or too powdery! If needed, you can also add more coconut milk.
In conclusion, these are all my tips for the Perfect Green Smoothie! I cannot wait for you to try it and enjoy all its amazing benefits!
See if the Pegan Diet is right for you, here. I did a 30-day challenge and you'll see my opinion on my experience as well!
Social Media Channels

Ingredient Selection Tips
Kiwi
Look for brown and slightly soft fruits: this means that the kiwis are ripe and fresh. If they are too soft, they are probably overmatured. On the other hand, if they are too hard they are probably unripe and have a sour taste.
Spinach
Look for spinach with green, fresh-looking, and crisp leaves, and to avoid yellow, loose, and faded leaves. Fresh spinach has thin stems, while thick, coarse stems mean that the spinach are old and overgrown.
Noteworthy Health Benefits
Kiwi
Kiwis are easy to eat, highly nutritious, and contain lots of vitamins and minerals. Among them are vitamin C, E, K, copper, potassium, and magnesium. Kiwis are also packed with antioxidants and carotenoids, which have several health-promoting properties. Some of them are the support of good heart and digestive health.
Spinach
Spinach contains vitamins A, C, K1, B6, B9, magnesium, calcium, and iron. The iron contained in spinach can help in creating hemoglobin, which in turn brings oxygen to cells. Among the other benefits of regular consumption of spinach are the promotion of good eye and heart health, the reduction of blood pressure levels, and oxidative cell stress.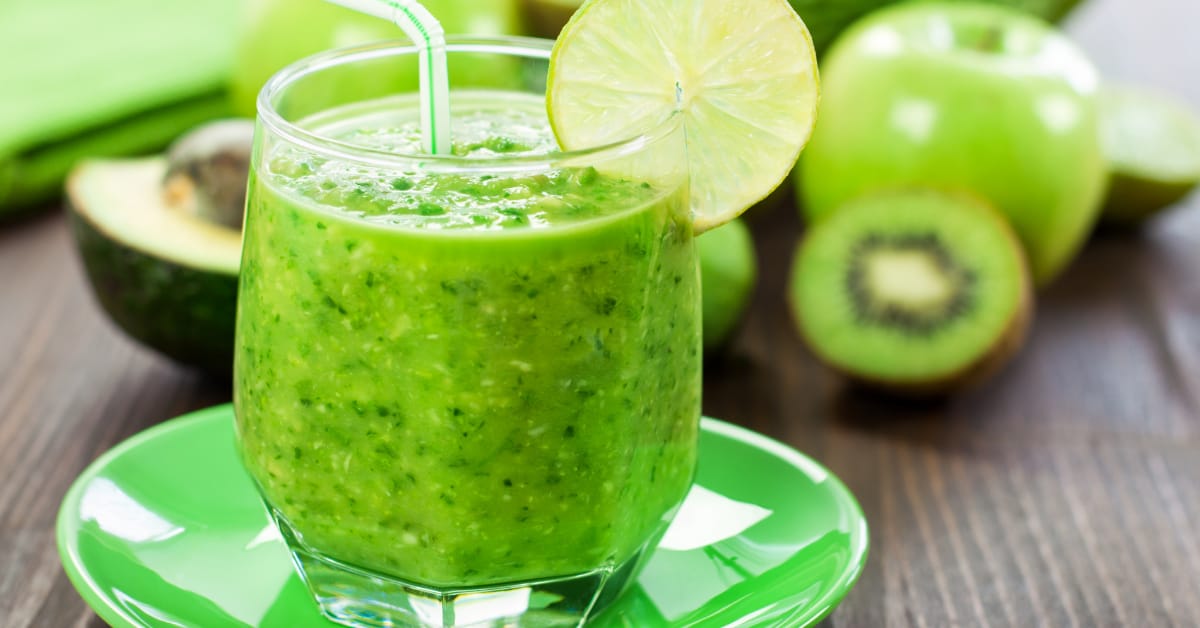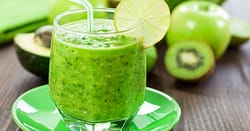 Tropical Green Smoothie
Yum
The ULTIMATE Green Smoothie: Pegan-diet compliant and great for weight loss. An instant natural energy boost, with only very few calories!
Instructions
Put all the ingredients into a blender.
Notes


Nutrition
Nutrition Facts
Tropical Green Smoothie
Amount per Serving
% Daily Value*
* Percent Daily Values are based on a 2000 calorie diet.